It's the fall of 2007 on the Lower East Side. My Betterment clock starts not when we launch in 2010 but as I hash out the concept in conversations with roommates and friends. I have a crazy idea: to pursue my happiness via helping Americans pursue their happiness. I write a mission statement: empower customers to do what's best with their money so they can live better.
Investing feels complicated to most people, but the best practices are known and straightforward. Why not take the smart services used by the wealthy and institutions and make them accessible to every American? People like this crazy idea, some join me, and with sweat and sacrifice, a tiny, hungry, customer-impact-obsessed company is born.
I pursue Betterment's mission doggedly. My wife (whom I met in 2006—not coincidentally—her encouragement begets a startup) calls Betterment my "first child." I say often (usually sincerely): "I'm the luckiest person, I have the best job in the world." At times, it feels like all of my being, every waking hour, every dream, is intertwined with my company. I am Betterment. There is nothing else.
Teammates become best friends (and each other's family: I officiate weddings of Bettementers who later have Betterment babies). I star in TV ads—never imagined that career turn. Early customers email me personally for support (and some still do—love y'all, customers). We grow to $25B AUM, more than 500,000 customers, a team of more than 300, and we move the industry forward. And yet, I know we can achieve more; we have millions more Americans to reach.
The Pursuit Of Our Potential
For some time, I look to bring in an experienced, dynamic operating leader to help drive the company forward. The search is not initially focused on one specific role to fill; it is about finding amazing talent that could help lead Betterment to realize our full potential.
The time at home this year affords more time to devote to the search process, to talk to senior operating leaders and to think about what might be needed for the next leg of the journey. I spend time with hundreds of diverse candidates. I realize that the best way to achieve our mission might be to invite a successor to lead Betterment in the next phase of growth.
Due to good fortune and intense effort in a most challenging year, the company has never been in a stronger position. Each line of business is reaching new heights in 2020. We're beating targets, well-capitalized, with wind at our backs. It's a good time to hand over the reins.
Over the summer, I connect with Sarah Kirshbaum Levy. There is something enthralling about her. I don't want to jinx or overload it, but outside of meeting my wife, it's hard, at present, to think of a more consequential introduction. And this is over video conference!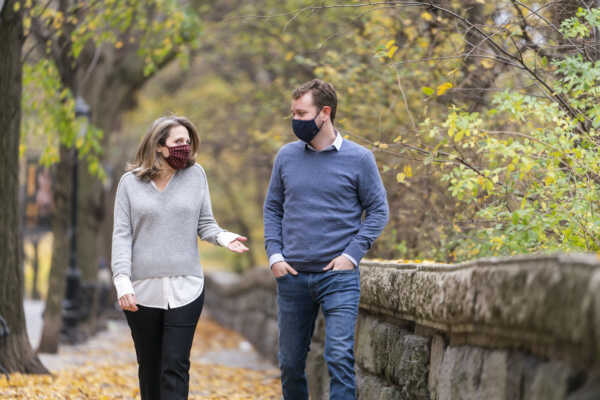 The Pursuit Of The One
Over the next few months, I spend more time with Sarah and she begins engaging with members of the team and our board. I bring her in full-time as a consultant in a trial run. What a privilege not only to recruit my successor, but to observe her building relationships, to work side by side with her as she iterates on her plan, and to see her making every meeting more open and efficient.
I give her my authority to work with the team to architect plans for 2021 and beyond, and she excels. My admiration grows as she starts effectively running the company, with my proxy. My execs tell me they have so much to learn from her. The only thing that is missing is the title—and today, we give her the title.
Sarah's Pursuits
Sarah started out at Disney and spent the last 20 years at Viacom, home to beloved brands including Nickelodeon, BET, MTV, and Comedy Central. Through a series of senior leadership roles, culminating in Chief Operating Officer, she's shepherded global phenomena, from SpongeBob to The Daily Show with Trevor Noah, connecting with audiences in meaningful ways.
With her experiences leading large public companies, Sarah is the right executive to lead Betterment now, as we contemplate a transition from private to public in the coming years. For someone with a "big company" pedigree, she's remarkably down to earth and scrappy. She's launched and grown businesses, bought and sold businesses, managed the bottom line, and driven consumer brands to win.
I appreciate her "outsider" perspective. Betterment is a unique company—not just finance, not just tech, 100% customer-impact obsessed. Take it from one who's looked: It'd be hard to find someone who's both spent a career in financial services and can credibly lead the change we envision: to empower customers to do what's best with their money, so they can live better.
The Pursuit Of Happiness
I've done the best work of my life at Betterment, and I have worked too hard to stop giving it my all to realize this company's mission, whatever form those efforts may take. From my role on the board, I'll be supporting Sarah and her team, whether it be via recruiting, investor relations, telling our story, or upholding company culture and values.
A dream for me since that Lower East Side fall in 2007 has been to build a sustainable institution, to build something that will outlast me. I've never taken a larger step toward that accomplishment than I am today in passing the torch to Sarah.
I asked Sarah what mattered most to her in her next role, and she said, without hesitation, "A brand and mission I believe in." She's evidenced this for me in every interaction since. I believe that she'll more fully realize the vision I laid out years ago, and make Betterment the most beloved, most essential financial brand for this generation. And in so doing, she'll power the pursuit of happiness for millions of Americans.