Growing and giving with Betterment.
Invest and grow your money for a year.
Giving shares held for more than a year has the greatest tax benefit, so get started now.


Choose from our partner charities.
We've partnered with highly rated charities across a range of causes.


Donate through our secure platform.
Donating through Betterment means you ensure the charity keeps 100% of your gift.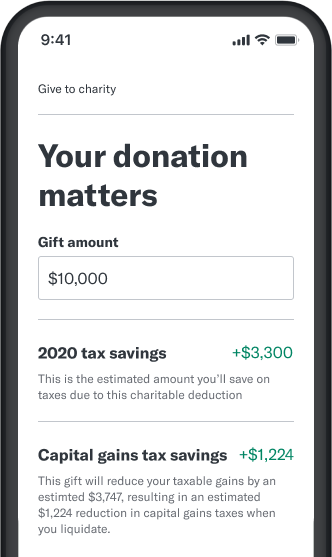 "Having 100% of donor contributions go directly to our organization means we can serve more families who need and deserve our help."

John Folsom, President
Wounded Warriors Family Support
Maximize your impact—and your benefits.
Save more on your taxes.
When you give shares, we make sure to choose the ones with the highest long-term capital gains. This helps you reduce your portfolio's tax liability.
Easily access your donation receipts.
Tax receipts for your donation are always available through your Betterment account. Plus, charities don't have to fill them out and send them to you.
Charities keep every dime.
By donating shares from a Betterment account, you help charities avoid processing fees so they can keep 100% of your gift.
Keep your information secure.
When you donate directly through our platform, you won't have to enter additional financial information on third-party sites.