In 2020, we first shared our employee demographics and commitments to doing better and promised to make public reporting on our progress at regular intervals. A lot has happened at Betterment since then: Sarah Levy joined us as our new CEO, we raised our Series F to continue our mission of Making People's Lives Better, acquired Makara to fast track a cryptocurrency offering, and grew our team to over 400.
We've been focused on our Diversity, Equity, Inclusion and Belonging (DEIB) strategy to drive sustained change for our employees and our broader community. We want to highlight some of the tangible outcomes we've created through community, hiring, retention, and training efforts. We're grateful for the dedication from all of those at Betterment who have made these outcomes possible, and recognize that our work is ongoing, and always will be.
Betterment's Employee Demographic Data
We used 2020 as a call-to-action and reviewed our People strategy to make a significant impact on the diversity of our workforce. We implemented a multi-pronged approach focusing on:
Recruiting and retention
Goal setting and measurement
Community-building and engagement, enhanced by creating and supporting ERGs (Employee Resource Groups)
Full Time Employees 2020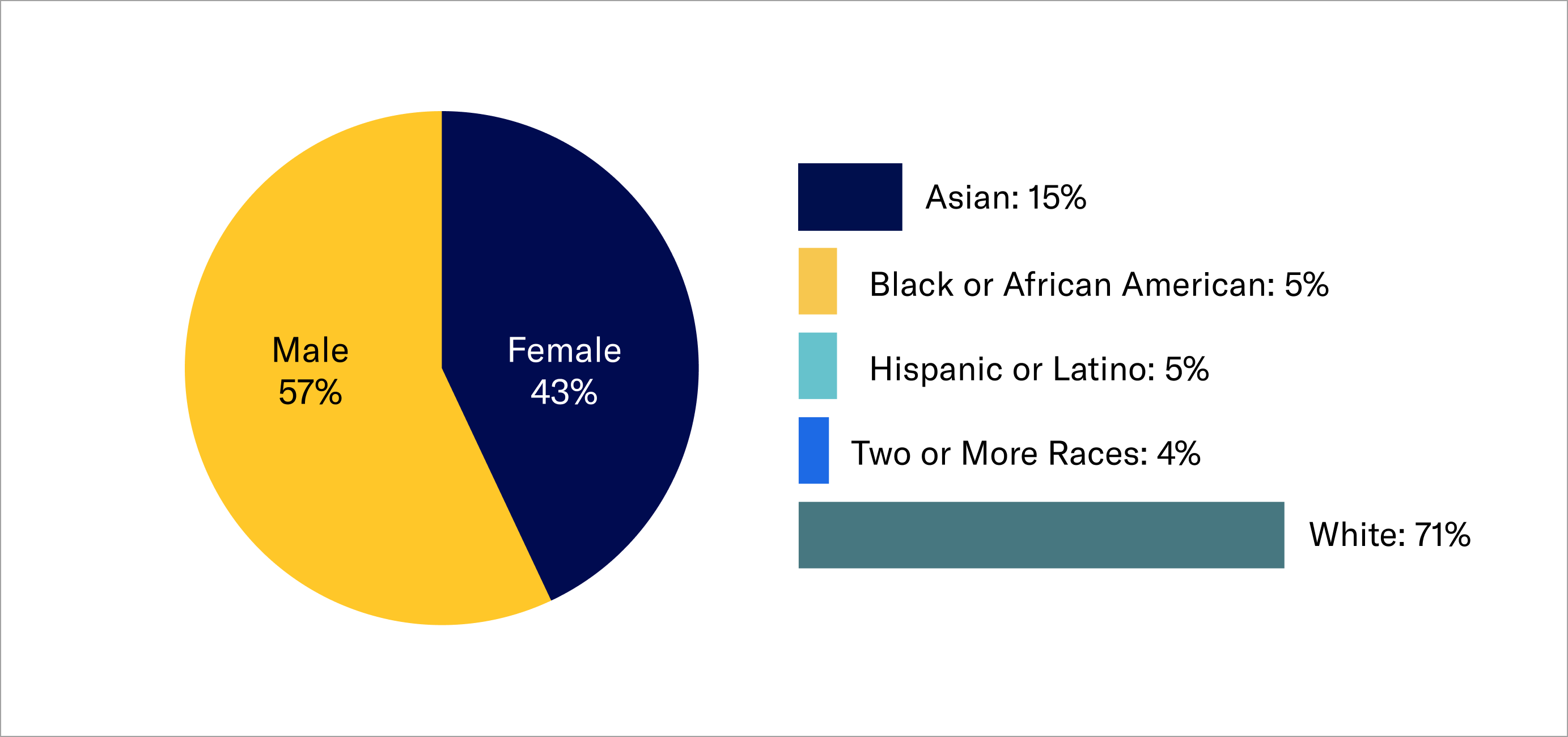 Full Time Employees 2021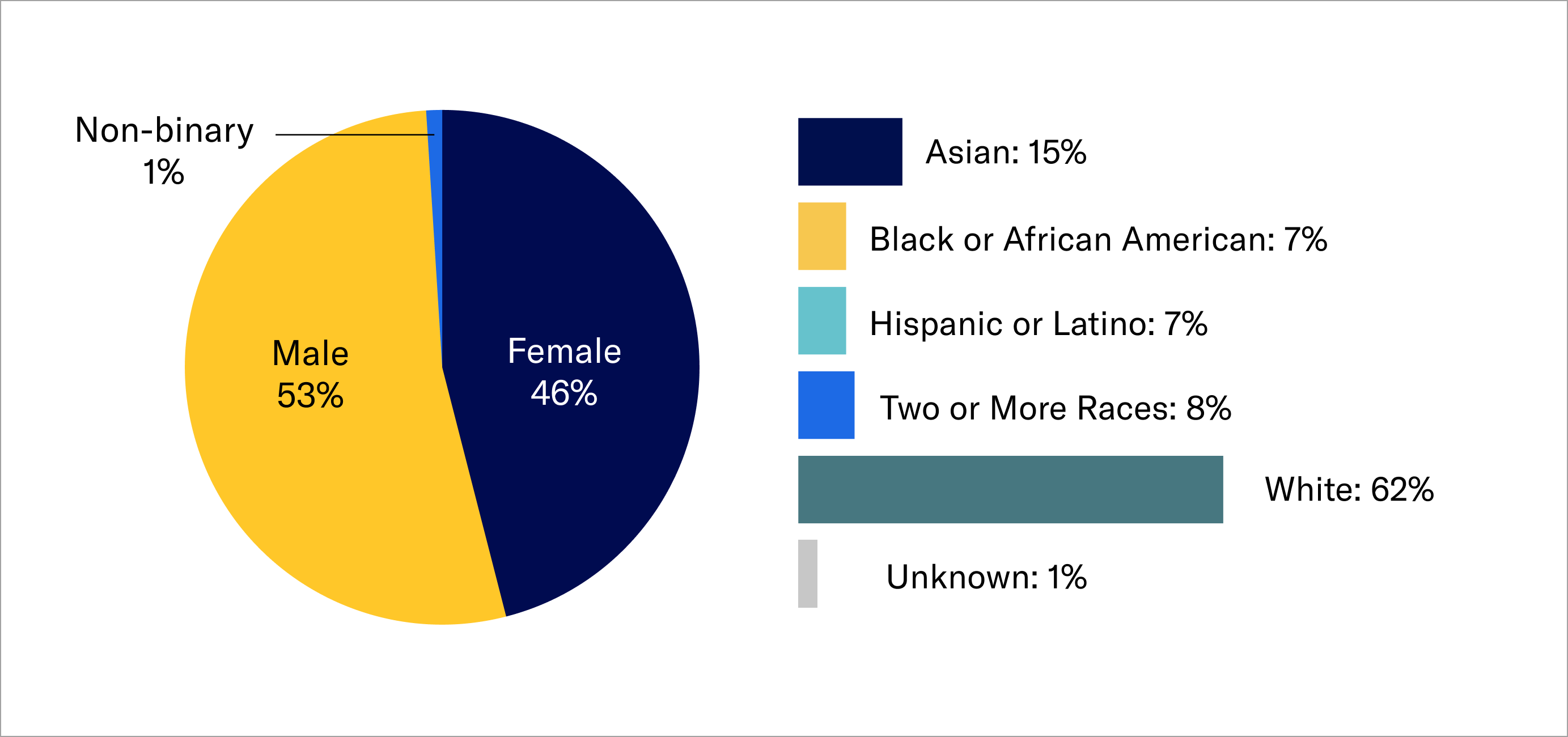 Leadership 2020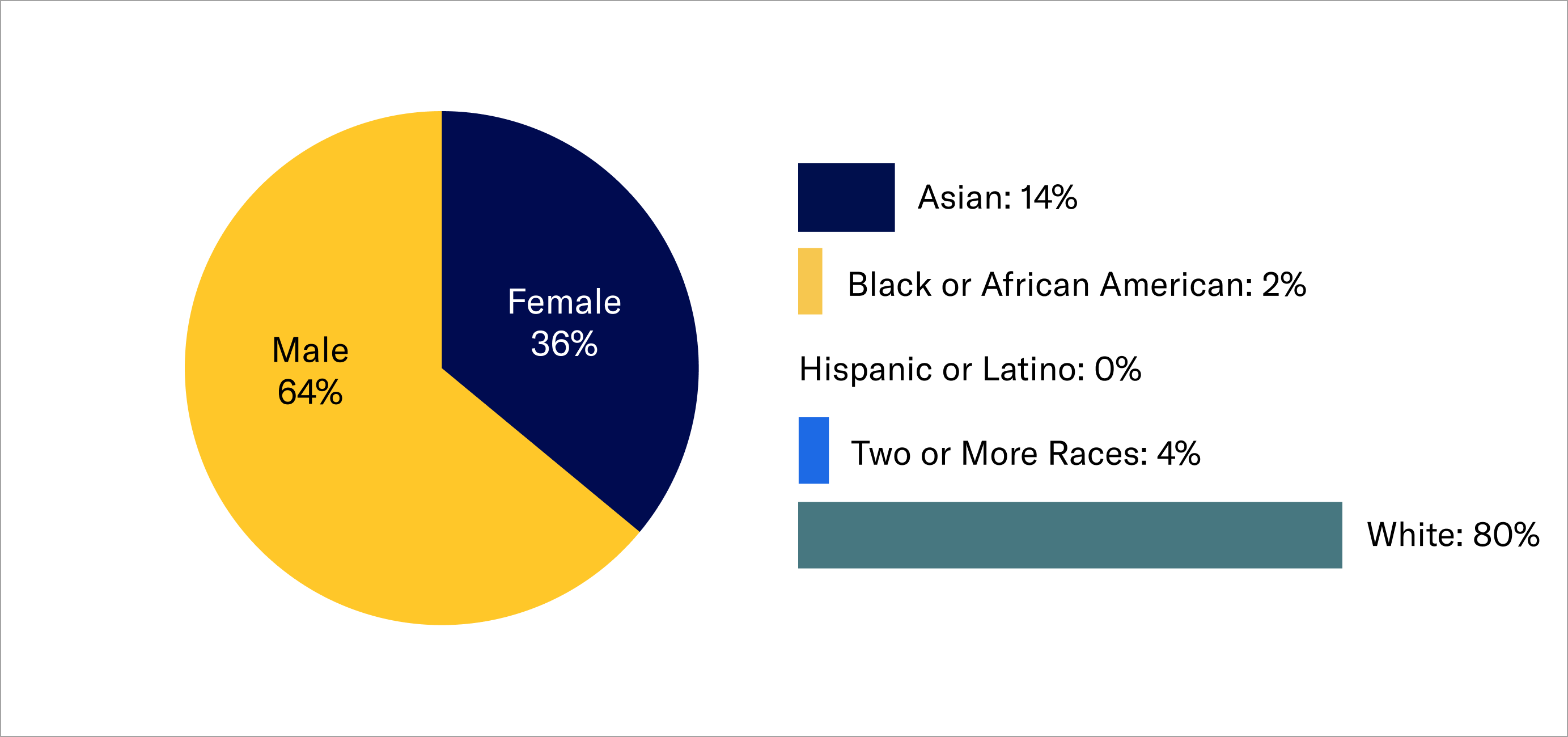 Leadership 2021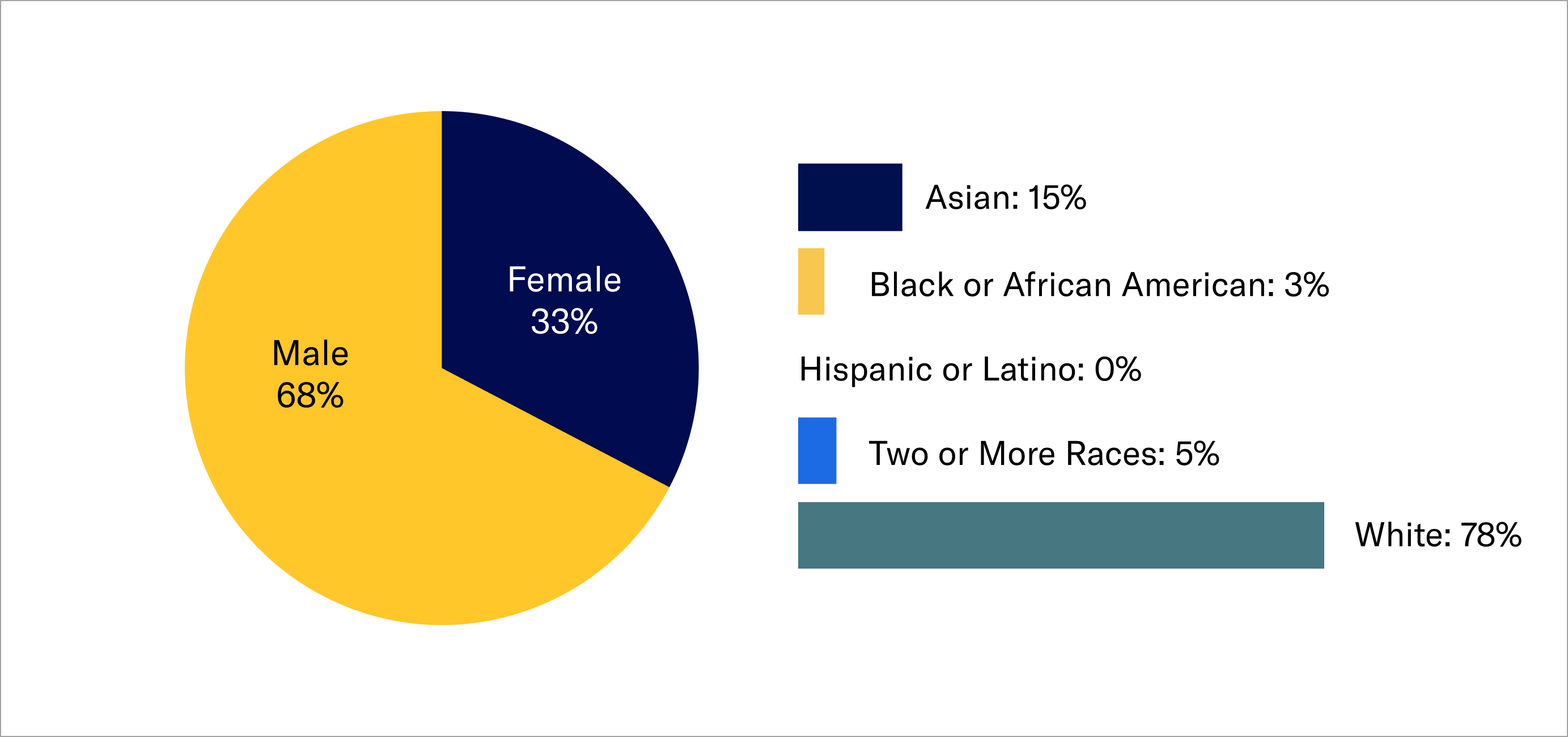 Recruiting and Retention
A deliberate expansion of our candidate sourcing was a critical component of our strategy. We expanded our reach for potential candidates through various sources that are known for diversity hiring and were able to make significant progress, increasing representation of People of Color by 8 percentage points company-wide, with gains in our Black, Latinx, and Two or More Races populations. We also increased representation of women by 3 percentage points. Our Leadership Team is 33% women and 23% People of Color.
We attribute much of our progress to our hiring outreach as well as our conscious efforts on inclusion and belonging. In 2021, 52% of our hires were People of Color, 46% were women, and 1% were non-binary. Our internal programming and ERG initiatives (more on these later) have also helped to build community and increase retention.
Goal Setting and Measurement
A strategic initiative we implemented at the start of 2021 was to incorporate DEIB progress into our company goals, performance metrics and bonus targets.
Our bonus targets prioritized employee education and engagement in our DEIB curriculum to build cross-company awareness as well as for personal development. Bonus achievement required meaningful DEIB engagement at all levels of the organization:

100% of all employees participating in our DEIB core education

100% of the Executive Team and 65% of all other employees participating in at least one DEIB event or initiative per quarter

A semi-annual qualitative assessment on representation efforts that is reviewed by the Executive Team and shared with the entire company

In 2021, we achieved 100% of our bonus targets and we have set the same DEIB bonus weighting for 2022.
To support our desire to drive both engagement and education, we refreshed our approach to DEIB education and made it a core pillar of our Talent Development offerings. We provided four streams of programming:
All employees, including new hires, completed our online learning course: Inclusion and Belonging in the Workplace.

Our Executive Team, People team, and all people managers attended bespoke trainings focused on building psychological safety and inclusive leadership provided by Merging Path & Collective DEI Lab.

All employees were encouraged to attend our DEIB Learning Hours, featuring keynote speakers.

Employees took advantage of counseling, support and facilitation resources to reflect on bias in the workplace, personal safety, how to overcome barriers and ways to foster support and allyship.
Community Building and Engagement

A big focus of 2021 was to build community and engagement via our Employee Resource Strategy Groups ("ERSGs"). We believe that the ERSGs are a great vehicle to support inclusion and for employees to develop a sense of belonging here at Betterment. A few facets of the program that contributed to its success included electing leadership for each of our 8 groups; pairing ERSGs with Executive Champions; and providing mentorship and support to build out roadmaps, goals, and budgets for the year.
Each ERSG met monthly to build community, produced quarterly events to raise awareness and celebrate recognition months, and flexed their leadership skills working with our CEO, Exec Champs, and the People team.
We are pleased with the engagement and the development opportunities the ERSGs have afforded our employees:
"AoB provided a safe space to embrace our identities, celebrate our cultures, bring awareness to issues in our communities, and empower us to speak up and share our perspective and experiences with the company - something I used to shy away from or dismiss. It was powerful to connect with peers in this way, and to see people across the organization listen, support, and participate in the unique and diverse cultures we shared."
- Pamela Do, Senior Manager Talent Development who served on the leadership team for Asians of Betterment
"Being the President of Black at Betterment was one of my greatest opportunities at Betterment. At a time when the rest of the world was really opening their eyes to the daily experiences of BIPOC—and we ourselves were being pushed to our limits—Black at Betterment was able to provide community, solace, and celebration of our collective and individual identity. Being able to advocate for Black employees and knowing we had voices, empathy, and understanding in the rooms where change happens is something I am constantly grateful for."
– Dan Bound-Black, Black at Betterment, President '21
"This experience was a wonderful way to create and strengthen relationships with a diverse group of employees across the Betterment organization. I found it to be a valuable exercise in helping grow and nurture a team of leaders that was facing many of the typical challenges one would expect on any team trying to get things done. I am grateful to the entire team for welcoming me into their conversations and both taking my feedback seriously and also pushing back when they disagreed. I believe they helped me grow as a leader and equipped me to help ensure Betterment continues on its journey to becoming a more inclusive organization."
- Mike Reust, President of Betterment who served as Exec Champ to Black at Betterment

Conclusion
We're proud of the progress we've made over the past 18 months to scale our diversity and inclusion efforts and increase representation of People of Color and women at Betterment. Our journey is a testament to the commitment and focus across the team and our community. We're looking forward to building on the strong foundation we've laid so far to continue to make Betterment a place where everyone can do their best work and where all identities are reflected and appreciated. If this sounds like a place where you'd like to work, check out our careers page!