In March, Betterment surveyed a group of investors to examine how the COVID-19 crisis has impacted their financial security and spending habits, as well as gauge their reactions to the market turbulence.
In part two of our three-part series, we surveyed that same group to see how investor sentiment has evolved. Four months into a nation-wide lockdown and record unemployment, we looked for whether people executed on the savings and investing actions they previously indicated, or if the impact of the virus has only caused investors to dig deeper into emergency funds and retirement accounts.
---
Methodology
An online reconnect to a similar survey conducted 7 weeks prior took place with a panel of potential respondents. The recruitment period was June 3 to June 16, 2020.
A total of 2,450 respondents, who took both surveys, living in the United States, who are invested in the markets, completed the survey.
The sample was provided by Market Cube, a research panel company. Panel respondents were invited to take the survey via email invitation and were incentivized to participate via the panel's established points program.
---
COVID-19's Financial Impact Over Time
As COVID-19's impact continues to be felt, we wanted to see how investors are reacting over time as we all adapt to the "new normal" that has consumed our daily and financial lives. The good news is that respondents seem to have a better grip on their finances since we last asked.
Since March, investors feel less stressed about their financial situation. More investors have added to savings and fewer people have taken out debt.
At least somewhat stressed out when it comes to their financial position and outlook:

Took money out of the market in the last two weeks:

Have no plans to tap into their long-term savings:

Added to savings:

Increased debt:

---
Emergency funds are growing.
When the financial impacts of COVID-19 first hit in March, 34% indicated they did not have a sufficient emergency fund in place.
Since then, many investors looked to increase their financial buffer. A third of respondents indicated that since the first survey in March they have started an emergency fund and in the past few weeks, 39% of all respondents have either added to or opened a new savings account.
Those who have kicked off an emergency fund in the past few months aren't just those with the luxury to save. In fact, this group is more likely to say their income was impacted by COVID than those who still don't have an emergency fund in place: 59% of those with new emergency funds reported having their income impacted by COVID in some way, vs. 49% of those who still don't have an emergency fund.
The stimulus check may have been a jumping-off point. Of those receiving a stimulus check, 41% indicated in March that they planned to put the check toward an emergency fund, and nearly everyone carried through on that plan. In June, 40% indicated that they did indeed put stimulus check funds toward their savings.


---
How Investors Used Their Stimulus Checks
In our first survey, investors who expected to receive a federal stimulus check outlined a variety of ways they planned to use that money.
In part two, we asked how they ultimately did spend their checks. While most stuck to their word, by saving or stashing their check away in a safety net fund (40%), the data shows that investors who said they planned to invest it, pay off debt, or put it toward retirement may not have followed through on those intentions.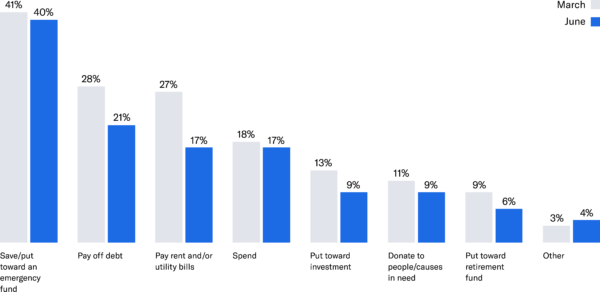 Investors were also asked how they would primarily use a second check, should the government announce another stimulus package. Similar to how they used their first check, over a third of respondents (34%) indicated they would save it or put it towards an emergency fund.