In March, Betterment surveyed a group of investors to examine how the COVID-19 crisis has impacted their financial security and spending habits, as well as gauge their reactions to the market turbulence.
In June, after stimulus checks had been sent out and the markets continued to react to the news cycle, we followed up with those investors to look at whether people executed on the savings and investing actions they previously indicated.
In the last of our three-part series, we return to those same investors to see how their sentiment and actions have changed since March, their thoughts on the upcoming election, as well as what the future might have in store for them financially.
---
Methodology
The third installment was an online reconnect to a panel of potential respondents that completed the two previous surveys. The recruitment period was 9/22 to 9/29.
The survey was completed by a total of 1000 respondents who took all three surveys, are living in the United States and who are invested in the markets.
The sample was provided by Market Cube, a research panel company. Panel respondents were invited to take the survey via email invitation and were incentivized to participate via the panel's established points program.
---
Investors are smarter and savvier than when COVID-19 began.
With our third checkpoint, we wanted to again see how investors' sentiments and actions are evolving over recent months. Encouragingly, more investors have an emergency fund in place than the last two times we checked in. They also continue to be less stressed and are less likely to take money out of the markets or tap into their long-term savings.
Changes in investor sentiment as a result of COVID-19

Betterment's Take
"Investors seem to be settling into this "new normal." It is great to see the number of people removing money from the market in the face of volatility trickling downward. But ideally, the number of people withdrawing from the market should be even lower: investors who react to volatility this way may be doing themselves a disservice in the long-run, potentially costing themselves gains by waiting for the market to recover."
Political beliefs and the potential impact of the election on investors.
With the presidential election on the horizon, markets are gearing up for a myriad of potential results and almost guaranteed turbulence. As a result, we wanted to see if there were any changes investors might be making to their portfolios. The good news is investors seem to be looking past the short-term noise and volatility, and plan to stick to their long-term saving and investing goals.
Do you plan to take any action in anticipation of the November 2020 election?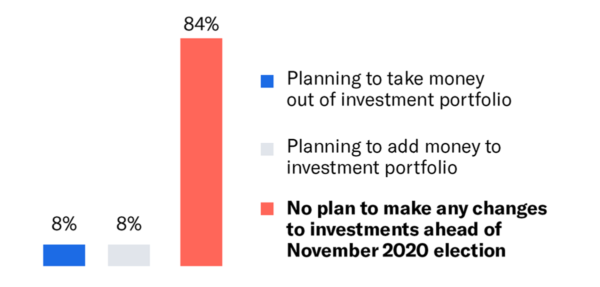 Do you anticipate taking any actions after the election results?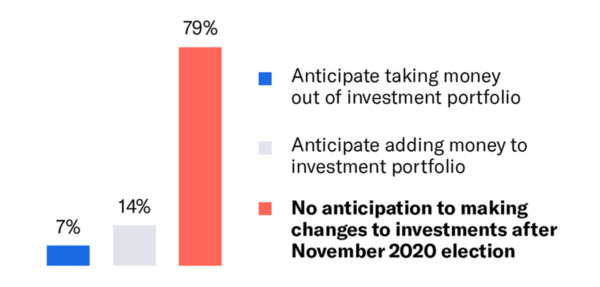 Betterment's Take
"With so much uncertainty surrounding the general election, it is encouraging to see investors taking a wait and see approach.
To add, it's even more encouraging to see that if they anticipate making any changes, it is to add money to their investment portfolios after the election."
We also asked investors for their thoughts on the government's stimulus program. Overall, 71% indicated they were either unsatisfied or neutral on the government's handling of the stimulus program. Only 15% of Democrats indicated they were satisfied, while 51% of Republicans were satisfied.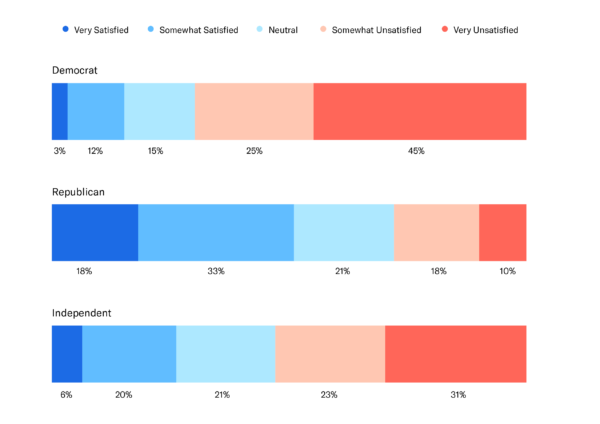 Changing Perceptions Of Universal Basic Income (UBI) And Retirement
How has the pandemic changed your perception about a universal basic income (UBI)?
Following the national stimulus program, we were also interested to see if investors' perception of a universal basic income (UBI) shifted in any way. Nearly one in five (18%) said they are more in favor of UBI than they were before the pandemic, while just 3% are less in favor of UBI.

How has the COVID-19 pandemic changed investors' approach to saving for retirement?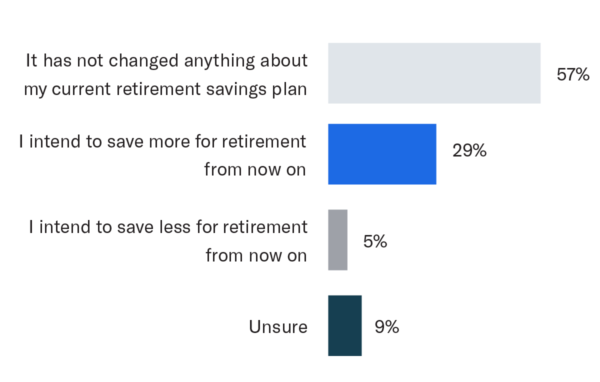 While 35% indicated that they have added to a savings account recently—and this number trended up across our three surveys—we also asked investors how the pandemic has changed their approach to saving for retirement.
The majority intend to keep saving as they have been, and only 5% of respondents indicated they intend to save less from now on, while 29% said they'd save even more.
Betterment's Take
"Seeing more investors adding to their savings while mostly leaving their approach to retirement unchanged is exactly the balance we would hope to see. Having accounts to meet short-term goals means that accounts to fund longer-term goals—such as retirement— can remain untouched and continue to grow. While short-term volatility caused by the pandemic can feel hard to stomach, ultimately investors are weathering the storm and setting themselves up for long-term gains."
What are investors' most popular investment products during this time period?
The most popular investment our respondents had was an IRA, at 66%. More than half (56%) of respondents have individual stocks but only 16% indicated they invest in ETFs outside of or in addition to their 401K. And despite having higher expense ratios, mutual funds (46%) are a more popular choice than ETFs.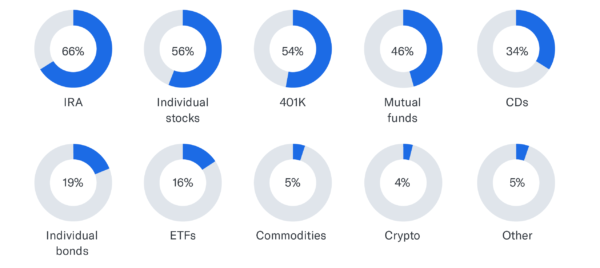 Betterment's Take
"It is great to see the diverse vehicles that our respondents are invested in, beyond just a traditional 401K or IRA. We would encourage more investors to look at ETFs though, as they are typically cheaper than mutual funds. Investors pay, on average, 0.35% more for an index-tracking mutual fund than for an index-tracking ETF, based on the expense ratio. Any savings that accrue from owning vehicles with lower expense ratios like ETFs are more likely to provide a persistent boost in returns."
More respondents are invested in individual stocks than a 401K or IRA.

Investors have adjusted to the "new normal" we live in today.
Over the last six-plus months and three reports, we've tracked how investor sentiment has evolved during the COVID-19 pandemic, whether people executed on the savings and investing actions they initially outlined, and how it has changed their perception of retirement, finances, and more.
Although this is the last of our three-part series tracking investor sentiment, the COVID-19 pandemic is far from over and its impact on many investors will likely be felt for years to come. It will be interesting to watch the long-term effect it has on investors, but for now we're encouraged to see so many sticking to their long-term goals.
From a financial markets perspective, smart investors know to keep their head down and focus on the long term rather than short term volatility.
At Betterment, we're here to help investors stay the course. Founded in the wake of a major financial crisis, Betterment believes financial institutions should work harder for you. Learn more about our commitment to putting your money to work for you.