Over the last several weeks, we at Betterment have been vocal about our decision to support the Department of Labor's (DOL) proposal to extend the fiduciary standard to anyone offering advisory services for retirement accounts.
We submitted the below official comment, and I wanted to share it with our customers and others interested in the conversation.
Everyone is entitled to unconflicted fiduciary advice, and at Betterment, we are hard at work building the next-generation service that is making this possible. We support the DOL's proposal because we believe it will accelerate a shift toward an unambiguous public good.
Betterment's Letter to the Department of Labor
Ladies and Gentlemen,
We are writing on behalf of Betterment LLC, an SEC-registered investment advisor, in support of RIN 1210-AB32. Much commentary has already been publicly submitted in response to Department of Labor's proposed rulemaking change published in the Federal Register on April 20, 2015 ("Proposed Rules"). As an automated investment service that provides fiduciary advice to more than 110,000 clients, we have closely followed the debate.
The main argument against the proposal seems to be that forcing those who provide services to retirement accounts to abide by the fiduciary standard will make servicing lower-balance accounts economically unappealing. As a result, given that such investors do not meet the minimums of traditional fee-only fiduciary advisors, they will have no access to "advice" at all.
We take issue with this misleading characterization of the status quo. The implication that "suitability"-governed salespeople are giving investors "advice" deserves forceful and repeated debunking. Conflicts of interest should be prominently disclosed, and investors should be made fully aware of how their service providers are actually compensated.
Meanwhile, the rapidly growing category of automated investment advice is emerging as a clear rebuttal to those who worry that small accounts will be left unserved. Modern technology allows for fiduciary advice to be delivered at unprecedented scale, with the expected quantum leap in affordability. We believe that these services, offering lower, transparent prices, fiduciary advice, and superior experiences, will prevail in the market against heavily conflicted, legacy business models.
Behind all the rhetoric is an age-old dynamic; there are those who are busy building innovative services to better serve consumers, and then there are the rent-seeking incumbents who are busy deploying their formidable resources lobbying to preserve the status quo.
On a recent visit to Washington, D.C., a team from Betterment had the opportunity to witness this propaganda offensive. We were struck by the deep cynicism of these efforts, and we feel compelled to weigh in, for the public record.
We join the chorus of voices in support of expanding and strengthening the fiduciary standard. More specifically, services such as ours have been pulled into the conversation, and we want to take the opportunity to address some misrepresentations being leveled at automated advice.
Fiduciary Advisor Is to Doctor as Stockbroker Is to Pharmaceutical Rep
One opposition talking point that has gotten traction is that the DOL's proposal is akin to Obamacare for retirement savings. Rep. Sean Duffy, R-Wis., who ran a recent House subcommittee hearing on the proposal, made the explicit comparison, arguing that the proposal "is yet another attempt by the administration to perpetuate a 'government-knows-best' regime," adding that "Americans should be able to make the investment choice that is right for them."
Leaving aside the merits of the Affordable Care Act, we happen to agree that when it comes to the modern retirement landscape, the health care comparison is apt. By relegating the majority of Americans over to a defined contribution model for saving for retirement, we've given them full responsibility for determining how much to save, and how to invest their savings. This is not unlike telling them: "Here is every medicine ever made. You decide which ones to take, and how much." No doctors included.
What's worse, we've allowed the securities industry to fill the void, by essentially letting pharmaceutical representatives to masquerade as doctors. Over the decades, stockbrokers (i.e., salespeople) have increasingly adopted the "advice" label, and consumers simply do not understand that there exists a higher standard for fiduciary advisors.
Most consumers cannot rationally choose a fiduciary advisor over a salesperson because they do not know there is even a choice to be made. Research shows that more than 75% of investors are not aware that two different standards exist for those recommending investments. They often assume that all service providers (including those under the "suitability" standard) have their best interests at heart.
A recent report issued by the PIABA demonstrates this point succinctly. The authors contrast the language used by major national brokerages in their marketing, with the positions these brokers take in arbitration proceedings when sued for losses caused by their misconduct.
Broker A's marketing: "Until my client knows she comes first. Until I understand what drives her. And what slows her down. Until I know what makes her leap out of bed in the morning. And what keeps her awake at night. Until she understands that I'm always thinking about her investment. (Even if she isn't.) Not at the office. But at the opera. At a barbecue. In a traffic jam. Until her ambitions feel like my ambitions. Until then. We will not rest."
Broker A's position in arbitration proceedings: "[A] broker does not owe a fiduciary duty to his customer in a non-discretionary account."
Broker B's marketing: "It's time for a financial strategy that puts your needs and priorities front and center."
Broker B's position in arbitration proceedings: "Respondents did not stand in a fiduciary relationship with Claimants."
These brokers are household names: institutions that radiate trust and security through decades of shrewd marketing. The DOL's proposal has already done a tremendous service to the public interest, simply by elevating this issue to prominence. In our experience, many observers have only become aware of the distinction between the "suitability" and "fiduciary" standards because of this debate.
Services to Qualified Plans Are Uniquely Broken
Those saving in employer-sponsored retirement plans are especially vulnerable, because a principal-agent problem prevents better outcomes. The decision makers (e.g., plan sponsors' human resources executives) are not the ones bearing the full cost of suboptimal choices. Accordingly, brokers structure their offerings to target the incentives of the decision makers—lower upfront cost to the company—while making money in less apparent ways off the participants.
That often leaves participants captive to a limited selection of overpriced (but still "suitable") funds that charge several times what a comparable index fund should cost in the open market. This is classic market failure, potentially costing investors hundreds of thousands in excessive fees over their lifetimes. Smaller plans are particularly affected.
While Betterment has offered automated investment advice to individual IRAs under the fiduciary standard for more than three years, we always intended to tackle the unique challenges of qualified plans.
Accordingly, we recently launched Betterment for Business, a turnkey 401(k) offering, extending Betterment's fiduciary advice to employer-sponsored plans of all sizes, at industry-leading low fees. This makes Betterment the first automated investment service to offer its services to the full range of accounts used by most Americans to save for retirement. It is also the first affordable 401(k) plan that includes personalized fiduciary advice for all participants.
What "Robo-Advice" Is, and Isn't
These developments have been noted by policymakers at the DOL, who have rightfully pointed to offerings such as ours to rebut arguments against the proposal. This recognition has given entrenched industry opposition an opening to launch a concerted effort to spread misinformation about the nature of automated fiduciary advice.
Until automated investment services were pulled into the discourse, lobbyists largely resorted to vague protestations, calling the proposal "unworkable." The term "robo-advisor," often used by the press to describe services such as ours, has given opponents an easy path to mischaracterize the nature of the rapid innovation taking place in the industry. Bereft of intellectually compelling arguments, and given a clear target, lobbyists have jumped at the opportunity to play on the fears of the public.
The reassuringly named lobbying organization Americans To Protect Family Security, Inc. has been running a television campaign featuring a couple lamenting that "these new regulations they're pushing in Washington" will make it hard to get help from "Anne," their "financial advisor." The alternative will be "to pay a lot more," or alternatively, "we'll be talking to a robot on the phone."
The juxtaposition of the familiar and human "Anne" (who is not obligated to put her clients' interests first) and the unmistakable reference to cold and impersonal "robo-advice" is effective. But what's striking is how little resemblance the allusion bears to the automated advice offerings actually serving clients today.
Casual observers can be forgiven for assuming that algorithmic advice cannot possibly involve interaction with a human being. At Betterment, precise, consistent and unconflicted algorithms make recommendations to clients on how to reach their goals, tailored to each client's personal circumstances. Incorporating insights from behavioral finance, our award-winning user interface surfaces only the most relevant data to clients, mitigating human tendencies to make poor decisions.
Yet from its inception over five years ago, Betterment has always featured live, human customer support. In 2015, Consumer Reports named Betterment in its top five for customer service, alongside industry giants that have been around for decades. Far from being mutually exclusive, technology and customer experience go hand-in-hand. The algorithmic advice is efficient, scalable, and unbiased, but should they choose to call, our clients will speak only with a human.
Observers have also speculated that automated investment services are for the young, and therefore cannot serve as the panacea for retirement savers at large. This has not squared with our experience; more than 25% of Betterment's business comes from customers over the age of 50, and the segment is growing fast. While younger investors tend to be earlier adopters of new products, we have observed no generational preference for the convenience and value of better technology.
How Clients of Automated Investment Services React to Volatility
A related anti-robo shibboleth has opponents bemoaning the inevitable demise of "hand-holding" during market downturns, ostensibly available to clients to "suitability"-governed brokers. This benefit is sure to be lost as clients migrate over to automated fiduciary advisers, the argument goes.
Color us skeptical as to the extent and value of any "hand-holding" actually offered by commission-driven salespeople. These professionals are not inherently bad people, but they are incentivized to encourage you to "do something" as often as possible. One should expect their "advice" during a downturn to result in unnecessary trading, rather than doing absolutely nothing, which is what long-term investors should be doing.
What we can offer to the debate is empirical data on how 110,000 clients of an automated investment service actually react to volatility.
On Monday, Aug. 24, markets opened 5% down from their Friday close, and over 10% down from recent peaks. While this is far from the worst drawdown investors have, or eventually will experience, it was significant nonetheless, and press coverage through the day was pervasive. The markets recovered somewhat by Friday, but the week continued to see substantial volatility.
The chart below shows movement of the S&P 500 spanning these seven days.
S&P 500 Movement During Market Volatility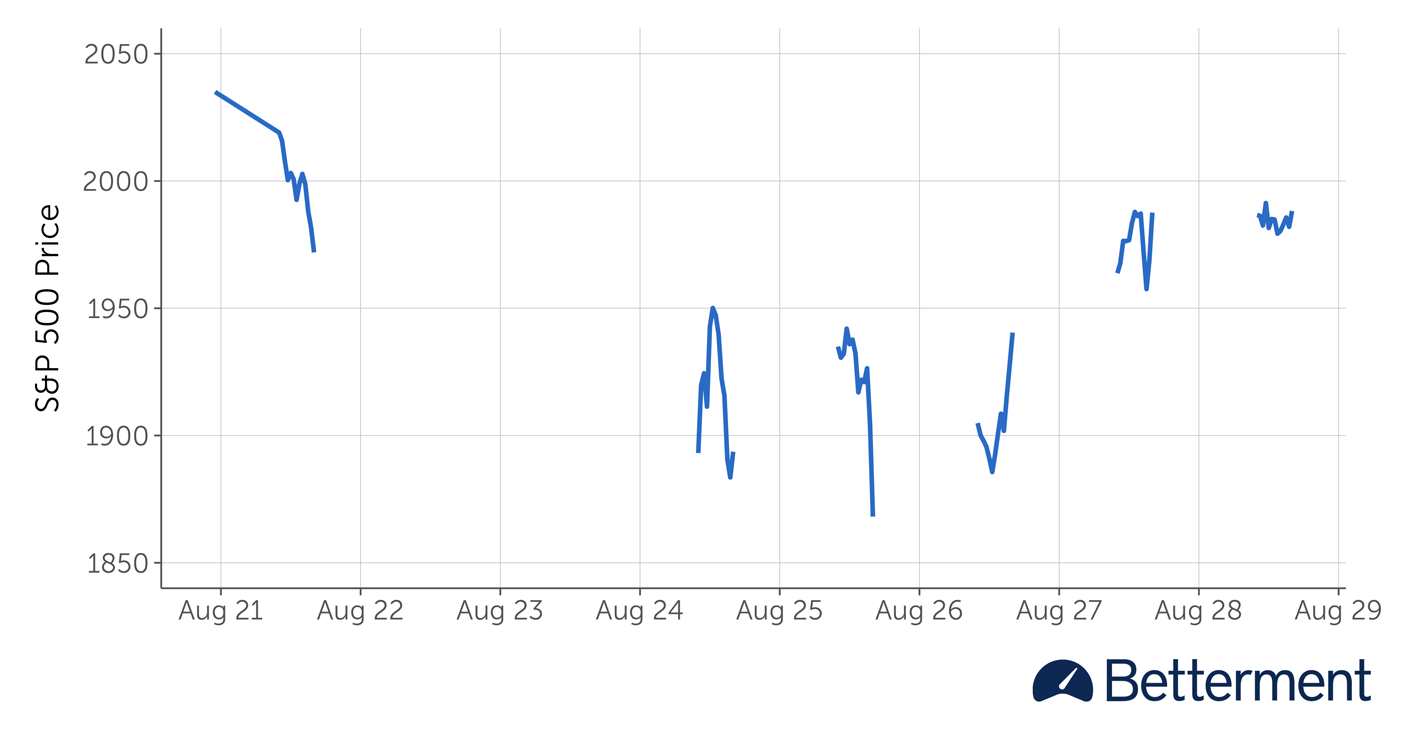 We did experience a small increase in customer logins during the market volatility. Betterment's approach during periods of volatility is to proactively communicate only with clients who log in, rather than to contact all clients indiscriminately.1 Those who did log in were presented with advice which put the volatility into context, and encouraged them to focus on their long-term goals. The data show that less than 1% of our customers reacted to the market activity with an allocation change or withdrawal.
As discussed above, Betterment clients can contact customer service by phone or email, each of which results in the creation of a case in our CRM system. Betterment's customer service saw a pretty typical Monday, with just 5.58% more cases than usual. Tuesday was actually considerably slower, 25.6% below normal volume.
Betterment Customer Service Activity During Market Volatility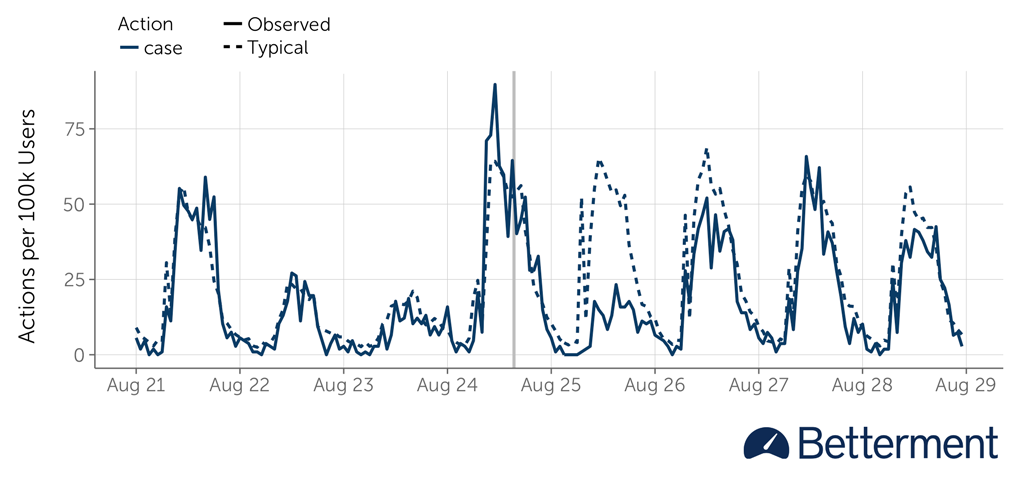 Everyone Deserves Unconflicted Retirement Advice
We do not blindly support regulatory changes that are certain to have a disruptive impact on the industry. But the opponents of the proposal have an intellectually weak position. And there is so much badly in need of disruption when it comes to helping Americans reach their financial goals.
Everyone is entitled to unconflicted fiduciary advice, and at Betterment, we are hard at work building the next-generation service that is making this possible. We support the DOL's proposal because we believe it will accelerate this shift toward an unambiguous public good.
Sincerely,
Jon Stein, Founder and CEO
Eli Broverman, Co-Founder and COO
1 Behavioral research shows that bringing anxiety-inducing events to the attention of those who might otherwise ignore them is expected to lead to worse decisions.