To our customers:
Thank you.
You amazing pioneers. You sent us 160 million of your hard-earned dollars last month, and it looks like you'll send us even more this month. Don't you know we're just a bunch of data nerds and coding geeks? Yes, and a few cool designers, some of the country's most impressive PhDs, CFA® charterholders, and CFP® professionals, and maybe a couple of Kanban masters and growth hackers. But why do you have so much faith in us?
Oh, you trust our transparency and algorithms, you say? Do you really trust a computer to manage your money for you? Will the computer hold your hand when the market drops?
Well, not literally, but it'll give me useful feedback and help me make better objective decisions, you say. And it might harvest some choice tax lots.
Oh, you Betterment customers. You're so smart.
Have you read the investment industry press lately?
In case you don't follow it closely, I'll tell you: They're either loudly dismissing us as irrelevant and destined to fail, or they're praising us as the future, the inevitable, the what-we've-been-waiting-for technology. But they're all talking about us.
The attention is flattering, whatever they say, even when they deride us as "robo-advisors." We've created a whole new way to invest and a derogatory nickname! Every inventor faces this. I believe our automated investing service will someday be as ubiquitous as automobiles are today—and calling us "robo-advisors" will sound as antiquated as calling cars "horseless carriages."
Today, we manage nearly $1.5 billion for almost 70,000 of you. I love you—I hardly know you, and I love you. I think about you every waking minute of every day. I answer all your emails personally, still (with help). Thank you for having confidence in me and my team to better manage, grow, and protect your wealth. I promise that we are doing the hardest and highest-quality work of our lives, building the best team ever assembled, and engineering the smartest and most secure financial technology imaginable to keep delivering more value to you.
Why? Because we want this awesome service for ourselves, for our families, for our loved ones. Because it feels good to build something good for the world. Because from those to whom much is given, much is expected. It's our privilege to serve you.
I started Betterment to better align with customers. In my prior career working with the largest banks in the country, I saw generic and thoughtless products being cranked out by aging financial institutions that had lost touch with their customers. They encouraged complexity when it led to higher fees because customers made mistakes. The best strategies were only accessible to a few, and they weren't scalable.
The legacy platforms make money when you generate a lot of trading commissions or simply buy and hold their funds, even when neither of those strategies is optimal for you. They are doing that today even though we live in a world of zero trading costs and cheap, personalized diversification. They play games with fees, making money on you in ways you don't understand. They're no longer aligned with you.
The old-guard behemoths are full of bright and well-meaning people, but their innovative years are behind them. Now, it's our turn and responsibility to press forward, to apply smart technology, for the good of you, our customers.
Seven years ago, virtually everyone I told about Betterment advised me to try something less ambitious. Today, we are the leader in a category. As I like to say to the team, "Clear eyes, hot space, can't lose."
Today, we are the leader in a category. As I like to say to the team, "Clear eyes, hot space, can't lose."
What's next?
The question I hear most often from the press today is, "Congratulations, now what are you doing with the money you raised?" This is what we're doing:
Saving you time: Give us five minutes and we'll give you complete financial peace of mind. That's our promise. The hard part is engineering everything faster and with more automation. And now doing all that on mobile, because that's where so many of you are.
Personalizing your investment strategy: Each Betterment customer has a unique portfolio that is personalized and optimized for maximum expected returns, net of tax, net of costs, net of risk, and dynamically adjusted for your situation. We are building more ways to personalize your strategy as you tell us more about your assets and life.
Saving you taxes: We have one of the most tax-efficient portfolios and trading platforms ever created. We're making the tax-reduction strategies once only available to the wealthiest available to all.
Creating more financial security: We are bringing back the comfortable feeling of defined benefits, in a dog-eat-defined-contribution world. You can rely on evidence-based investment strategies to grow your money—and when it's time, provide you with income—and eliminate any doubt about whether you're on track.
Expanding Betterment for Advisors: We've seen great early results from enabling registered investment advisors (RIAs) to make Betterment's smarter technology accessible to millions of additional clients. It's time to double-down.
To our financial advisor partners: Welcome aboard.
For those who are unsure of what we do: We're not replacing advisors; we often work with advisors. We are enabling financial advisors to make Betterment's smarter technology accessible to millions of additional clients with Betterment for Advisors.
What we are replacing is the old way of individuals doing lots of frustrating, expensive busy work to manage investments. We replace the do-it-yourself "discount" brokerages that cost more and don't let you implement all the clever trading techniques and tax-reduction strategies we do automatically for our customers.
We compete with Schwab, E*TRADE, and the like, as well as some of the business-side platforms that advisors use to perform the same tasks on your behalf. An advisor is useful for when your financial situation becomes complex—for estate planning, alternative investments, and more. You simply don't need to hire an advisor for portfolio management—savvy advisors and investors use Betterment for that.
The Big Picture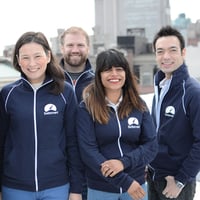 These days, we're all living a lot longer than we did a few decades ago. But, as humans, we aren't well equipped evolutionarily to think long-term and save for our old age. And yet, because it's extremely expensive for governments or companies to provide for our future comfort and if we want to have comfortable, long lives, with time for family and friends and money for schools and travel—we have to save. A lot.
Investing is something we're all required to do, in the absence of good public or private pensions, and yet there hadn't been an obvious best way to do it. There was no great product that would tell you how much to save, in what accounts, and whether you're on track. It's as if there's no public transit, and we all have to walk farther and farther to get to work, because no one has built cars.
Until Betterment. Betterment is the more comfortable, more efficient, increasingly self-driving car. That's how I see it.
You're going to love the ride.
If you haven't already, join us.
P.S. Some members of the Betterment team encouraged me to share the email I sent to the office last night, after we closed our recent round of funding:
Today didn't feel different from any other day, for most of us.
Big (record?) day for net deposits, solid day for signups, meetings meetings meetings, little bit of work, tasty team lunch, trivia night @ Storehouse.
But something big happened today, something great for our company.
There was the material impact: Our bank account grew 4x in a day. $60mm is a big score - even for a professional crew. Although it's almost impossibly large in human terms, difficult to fathom ($3mm seemed like a lot when we raised our first round in 2010... $60mm doesn't seem 20x more significant), and more than I imagine I could spend in 3 lifetimes - I do have some means by which to measure it - my own recent past - the best 5 years of my life. To those remaining on the 3rd floor after dinner this evening, I joked, "We now have 4x more money in the bank than we have spent building this company over the past 5 years... Should we start 4 new companies?"
But the bigger deal than the new funds in our account is that we're now poised to build a transformative and influential company, to give form to our visions and dreams, and to improve millions of lives. We've long thought that we were up to the task, and reveled in the challenge - why else do we work long nights and weekends to make this company grow faster - but now we have validation, support, and materiel to make the world as we want it to be.
We don't make a big deal out of fundraising at Betterment, because fundraising is not an end in itself, but a means to an end. Raising money is never our goal. But raising money is necessary work to attain our goal: to help present and future generations of our families, peers, and compatriots live happier lives. To align with our hard-working, smart customers and give them the kinds of advantages previously only afforded to the privileged. To give peace of mind and financial security via providing an all-encompassing, best answer to the question, "What should I do with my money?"
I believe it is important to mark occasions, to recognize the milestones we pass, to take a look back as we travel and see how far we've come. So we will celebrate this milestone next Friday. Remember that what we are celebrating is the opportunity to do more, to work harder, to push faster, to build a better company. As I said to you in team meeting last week - now we have to EARN IT.
...
It is such an enormous privilege, building this fine company with all of you fine folks for five years, and we're just getting started.