I'm going to let you in on a Betterment secret. People are always asking me for our secret sauce—read on and you'll learn about a key ingredient.
From the beginning, technology has been a big part of the story behind our mission. It's a critical part of how we've built our company—to do the things we do for customers requires better technology than what the incumbents can offer. Our technology is why the term "robo-advisor" has pervaded the space we created, and why stock photos of literal robots appear in just about every article that mentions our name.
Unbeknownst to those who would portray us as robots (often disparagingly), we've always had a secret powering our success, the less-talked-about reason for our recognized, industry-leading service: our people. (Shhh, don't share it, everyone will want them.) Yes, our living, breathing human experts.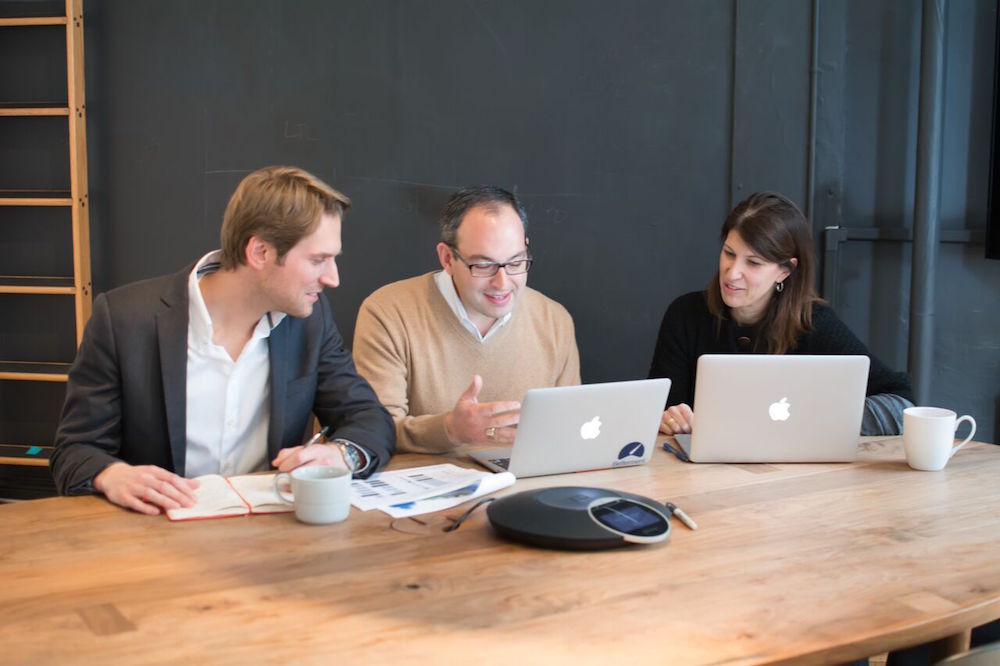 While our shiny tech pleases crowds and wins awards, over the years, our human Investment Committee has carefully personalized our investment portfolios, our Investment and Advice teams have written algorithms and moonlighted by counseling tens of thousands of customers, and our Customer Support team is available to talk. Real people, real talk. Now you know.
Starting Jan. 31, we'll be offering access to our team of CFP ® professionals and licensed financial experts to help customers monitor their accounts, answer their financial questions, and give them advice.
Now, our financial experts are going to play an even bigger role in our service for customers. Starting Jan. 31, we'll be offering access to our team of CFP ® professionals and licensed financial experts to help customers monitor their accounts, answer their financial questions, and give them advice.

For all of us who work here, Betterment has always been a no-brainer. We believe, and vote with our livelihoods, that Betterment is the right place to invest your money if you care most about long-term returns. Our digital advice has made us the largest independent automated advisor—and now we are proud to launch our digital advice with access to our advisors, who have always been the driving force behind Betterment.

There has never been anything like this in financial services. There have been brokers, who have wanted to sell something. There have been advisors, who haven't always had the best technology or capabilities (and were often expensive, given these limited capabilities).
We believe we are the only company you can be sure is constantly working to make the most of your money.
Now, we've brought together technology and unbiased human advice, because sophisticated investors require both high-tech and high-touch forms of advice to satisfy their increasingly complex financial needs. We believe we are the only company you can be sure is constantly working to make the most of your money.
Betterment gives customers the best of both worlds: modern investment technology, plus the reassurance of a trusted financial expert who can help them plan and keep an eye on their money. Now, our customers can have peace of mind knowing there's a financial expert who is looking out for them—monitoring their money and ready to talk about it.
Read about all of the offerings.
Customer-First, Always: A Brief History
We've always built what our customers have asked us to prioritize, and what would have the biggest impact for them. We believe we've crushed that, and then some—every feature we've built has been designed to put even more money back in your pocket.
We built Tax Loss Harvesting+™ as well as tools, which advise you on your family's holistic retirement picture, including how much to invest and what types of accounts to open.
We started to hear that our customers wanted to see their wealth in one place, so we gave them the ability to sync their non-Betterment financial accounts. This enabled us to give our customers even better advice, because we were able to identify high fees and idle cash that was losing the long-term potential of being invested in the market.
Then, most recently, came Tax Coordination— the most important breakthrough in investing since the index fund. We built this to be the most advanced money management system available on the market. It automatically shields your dividends from taxes. Experts have called it the "closest thing to a free lunch" in investing.
As we've improved our customers' net returns with these new features, we've started to attract a more diverse set of customers, who have financial situations in all shapes and sizes, with varying levels of complexity.
We've learned that many customers want to talk to an advisor. At first, we let them call us ad-hoc, and we allowed our advisor partners to add their clients to the Betterment for Advisors platform. We heard from some customers that they wanted more, and we want to give them the flexibility to manage their money as they want.
We Can Manage Your Money How You Want It To Be Managed
For many customers, that means continuing to use our digital-only platform, which will now be called Betterment Digital. It's for customers who want to continue connecting with Betterment primarily through our website and mobile apps. Betterment Digital includes all of the investing strategies and account services that make Betterment the better way to invest today: our intelligent investment portfolio, automatic rebalancing, Tax-Loss Harvesting+, Tax Coordination, retirement planning tools, the ability to sync external financial accounts, and excellent customer service.
For other customers, who want a partner to help proactively review their accounts, help answer their questions, and act as another set of eyes to make sure their money is in order, we'll have a new offering: Betterment Premium will include unlimited access to our team of CFP® professionals and licensed financial experts.
Of course, each of the new options will be rooted in our self-service, personalized advice, available 24/7 through our digital tools.
See more details about each of the offerings.
Your Satisfaction—Guaranteed
Everything we do is for you, our customers, so it's important to us that you're happy with our service. If for any reason you are not completely satisfied with your Betterment account, we will do everything we can to make it right, up to and including waiving Betterment's management fees for the next 90 days.
I've never been more excited about the future of Betterment. As we look to the next five, 10, or even 50 years, we'll always continue working for you. We'll evolve as you evolve. We'll grow as you grow. And we'll always empower you to do what's best for your money, so you can live better.