We're excited that your company has chosen to help you prioritize your financial wellness with us, starting with your 401(k) plan. Betterment's goal-based investing approach is designed to help you feel confident that the money you need will be there when you're ready. Let's get started.
TABLE OF CONTENTS
---
Importance of saving for retirement now
Retirement is a significant, long-term goal. That's why, no matter where you are in your career, it's never too soon to start saving in your 401(k). The sooner you start, the more you're likely to have when you do retire, whenever that may be. And, of course, it's never too late to start saving either.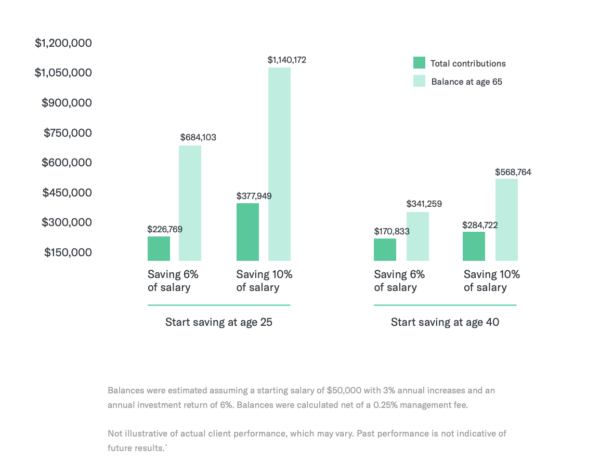 There are several advantages to saving for retirement through a 401(k):
You can save on taxes
Contributions (also called deferrals) made through payroll deduction are convenient and automatic
You can legally save more than you can in other retirement vehicles, like an individual retirement account (IRA)
In addition, your employer may make contributions to your 401(k) account on a matching (or other) basis. To find out if your employer makes contributions to your account, log into your account, click on "Documents" in the left-hand menu and choose "401(k) documents" to download your "Summary Plan Description" and read about "Contributions to your Plan."
How much to save
Whether you decide to contribute to your 401(k) as a percentage of your paycheck or a flat dollar amount, the amount you put aside now is a big factor in how much you'll have at retirement. Most experts recommend saving 10%–15% of your annual income. We can help you figure out how much you should be saving depending on when and where you want to retire. And, even if you can't save that much now, save as much as you can every pay period, and commit to revisiting your contribution amount in the future.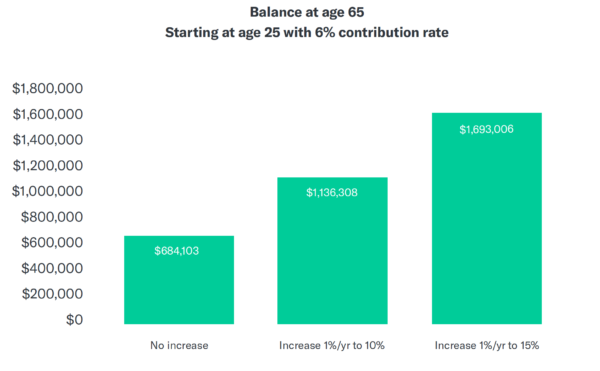 IRS rules determine how much you're able to save in your 401(k). For 2022, you can save as much as $20,500 in your 401(k). Those aged 50 and older can save an additional $6,500.
How Betterment makes saving easy
Our approach uses low-cost exchange-traded funds (ETFs) so more of your money stays invested in your account.
Betterment makes saving easy in other ways as well, all at no additional cost to you:
Your Betterment dashboard allows you to see all of your financial goals—not just retirement—in one place
We automatically incorporate sophisticated investment features that make your money work harder. For example, portfolios are automatically rebalanced, are automatically adjusted over time, and can benefit from tax coordination strategies
We offer personalized advice that takes into consideration everything you tell us about you and your situation, including any other accounts you may have
Getting started with your Betterment 401(k)
Once you become eligible to save in your 401(k) plan, Betterment will create an account and send you a welcome email inviting you to start contributing and to establish your retirement goal.
Were you automatically enrolled into your plan?
By now, you've been notified that your employer is going to help get you started by automatically enrolling you into your 401(k) plan with a specific percentage of pay going toward your 401(k) account. Keep in mind that this default amount, which you see when you first enter your account, is just a starting point. You can increase or decrease this amount at any time.
Set up or update how much you save
You determine how much to contribute to your 401(k) account each pay period, either as a percentage of your paycheck or flat dollar amount. To set or update how much you're contributing:
Log into your account and choose your Retirement goal from the left-hand menu. Under "Accounts", locate the contribution type (Roth or traditional) you'd like to update, and click on "edit" within the "Automatic Deposit" column
On the next screen, toggle between "% Percent" and "$ Amount" to input the new desired rate or amount you'd like to save. Here, you'll also see how much you have contributed to your account year-to-date and how much you have remaining before you reach the maximum allowable contribution amount
Click on "Update setting" and your new contribution amount will be reflected in your next paycheck (or the next paycheck, if your change was made too close to deadline for payroll changes)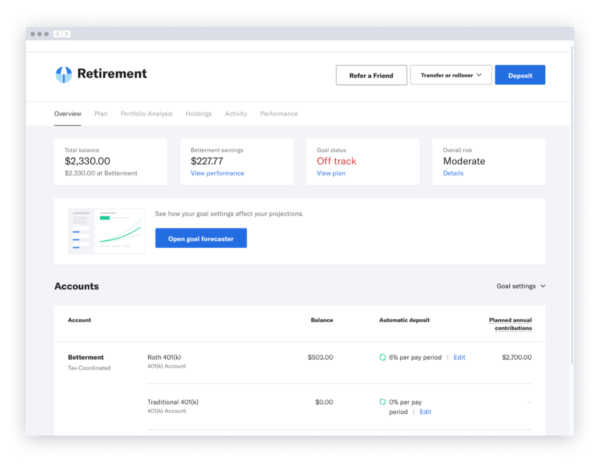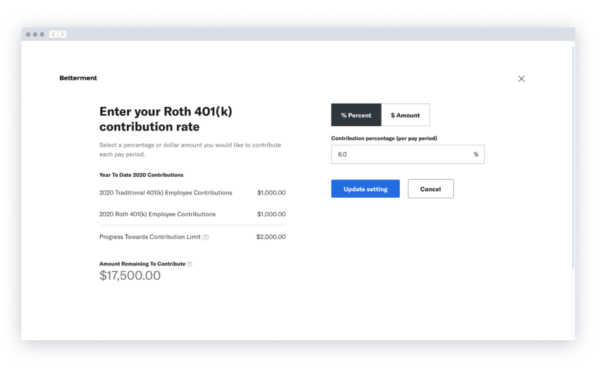 Traditional and Roth contributions
Since they are part of your compensation, 401(k) contributions are taxable, but the IRS provides flexibility in letting you choose when to pay those taxes: now (Roth) or later (traditional).
Roth 401(k): Taxes are paid up front before contributions to the plan are made. The advantage of making Roth contributions is that withdrawals—both the contributions and earnings—are tax-free once you hit age 59½, as long as you've held the Roth account for at least 5 taxable years.
Traditional 401(k): Contributions are deducted from your paycheck before any taxes are withheld and will therefore lower your taxable income. Both the contributions and associated earnings are "tax-deferred" until you withdraw the funds, when taxes will be due.
You can choose to make Roth contributions, traditional contributions, or both. Read more about how to decide what's right for you.
Customize your retirement plan
Planning for retirement may seem overwhelming, but Betterment makes it easy. When you create a personalized retirement plan:
You'll get our recommendations on how much to save, and in which accounts
You can see whether or not you're on track to meet your goal every time you log into your account (and take steps to get on track if needed)
You can input personal information like income and retirement age so that the advice is customized to your needs
You can sync other accounts so our advice takes your entire financial picture into consideration
To set up your personalized retirement plan:
Log into your account and choose your Retirement goal from the left-hand menu
From the "Plan" tab, click on "Get started"
Follow the prompts and click "Finish setup" at the bottom of the "Review Allocation" screen. Don't worry, you can always change your inputs!
Next, track your current savings and sync any outside accounts you're using to save for retirement
Finally, click on "see your plan" to receive Betterment's recommendations for how much you should be saving (and in which accounts) this year
From the left-hand menu, you can also add other financial goals, like building an emergency fund or a vacation fund, and you can even open a cash or checking account.
Your investments with Betterment
Your retirement account is designed as a long-term investment. Market ups and downs along the way are a normal part of the process. We encourage you to maintain a long-term perspective and to avoid making rash decisions, like removing investments, based on events in the market. Read more about our investment approach.
To get started, you'll be defaulted into our Core Strategy, with a globally-diversified portfolio that's built based on how long you have until retirement. Betterment will automatically rebalance and adjust your portfolio over time.
As an alternative to your default portfolio, you may customize your investments at any time with our Flexible Portfolio option or by choosing one of our Socially Responsible Investing Portfolio strategies, the Goldman Sachs Smart Beta Strategy, or the BlackRock Target Income Portfolio for those in retirement. To learn about these options or to change your portfolio, go to the "Holdings" tab of your Retirement account, and click "Edit" underneath "Portfolio Strategy".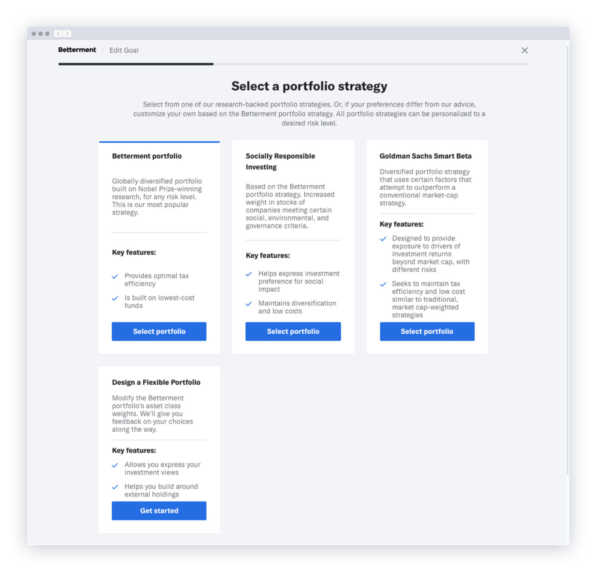 Rolling over an old 401(k) to Betterment
When you roll over (or move) other accounts to Betterment, you could lower your investment fees and get personalized advice. Having your retirement accounts in one place can make it easier for you to keep track of your savings. Plus, you'll be invested in a diversified portfolio and can take advantage of our tax-smart features, which could mean more money in retirement.
Start your rollover now to move your 401(k) over from another provider. Questions about whether you should roll over to your 401(k) plan or a Betterment IRA? We've got answers.
Access to your 401(k) funds
Your 401(k) account is designed for retirement, so access to your funds is limited. Keeping your retirement savings invested, even when you change jobs, means that it can continue to grow for the benefit of your future.
Generally, you cannot withdraw your 401(k) savings before turning 59½, unless you leave your employer (or become disabled or pass away).
If you are still working for your employer, your plan may include provisions that allow you to access funds in a couple of ways:
Loans may enable you to borrow a portion of your 401(k) account and repay it over time with accrued interest. This does not impact your credit score because you are borrowing from your own account.
Hardship distributions. According to IRS rules, this type of distribution must:
A hardship distribution to an employee younger than 59½ often includes a 10% early withdrawal penalty. The money you withdraw may also be taxable.
In addition, if you were impacted by COVID-19 and your plan adopted certain provisions, you may qualify for special distributions and/or loans in 2020.
If you have left your employer, learn about your options with respect to your 401(k) account.
Information on the withdrawal and loan provisions can be found in the "Summary Plan Description" (SPD), available within your Retirement account by clicking "Documents" on the left-hand menu and navigating to "401(k) documents", or within your 401(k) account as part of the withdrawal menu.
Didn't find what you were looking for?
If you're looking for more in-depth advice or to feel more confident about your financial decisions, consider our advice packages.
Our Customer Support Team is available five days a week to help answer questions about your account. Reach out here.
Want to educate yourself on retirement planning and financial wellness? Check out our employee resources for more articles and videos.