There is a lot of talk in the finance space about 401(k)s. While corporate employees are typically the beneficiaries of these plans, those who work for non profit organizations, hospitals, or educational institutions may be more familiar with a similar retirement savings plan, the 403(b).
Just as a 401(k) does, a 403(b) provides you with a tax-advantaged way to save for retirement. You benefit from tax-free growth over time and depending on the options your employer offers, you'll also get a tax break on either current contributions (traditional) or future withdrawals (Roth).
When Switching or Leaving Jobs, Don't Forget Your 403(b)
When you leave a job where you have a 403(b), you have a few options for what to do with your retirement savings:
Leave it in your old employer's account.
Roll over your 403(b) into your new employer's 403(b) or 401(k) plan.
Roll over your 403(b) into an Individual Retirement Account (IRA).
Rolling over your 403(b) into an IRA can be a good choice because it gives you more control over your investment options, tends to have lower fees, and can ultimately hold funds from all of your previous work retirement accounts.
At Betterment, your IRA is invested in our diversified, globally diversified portfolio of 12 asset classes. The portfolio is made up of index-tracking exchange-traded funds (ETFs), and you can personalize your own level of risk.
How to Roll Over a 403(b) to Betterment
Rolling over your old 403(b) is free.
The first step is to create a Betterment account. Then, you can start your rollover online by clicking "Transfer or Rollover" at the top right-hand side of your home page.
Complete Your Rollover Online
It's easy to start your rollover online.
After clicking "Transfer or Rollover" at the top right-hand side of your home screen, answer simple questions about your 403(b) provider, the type of funds held in your account and their estimated values.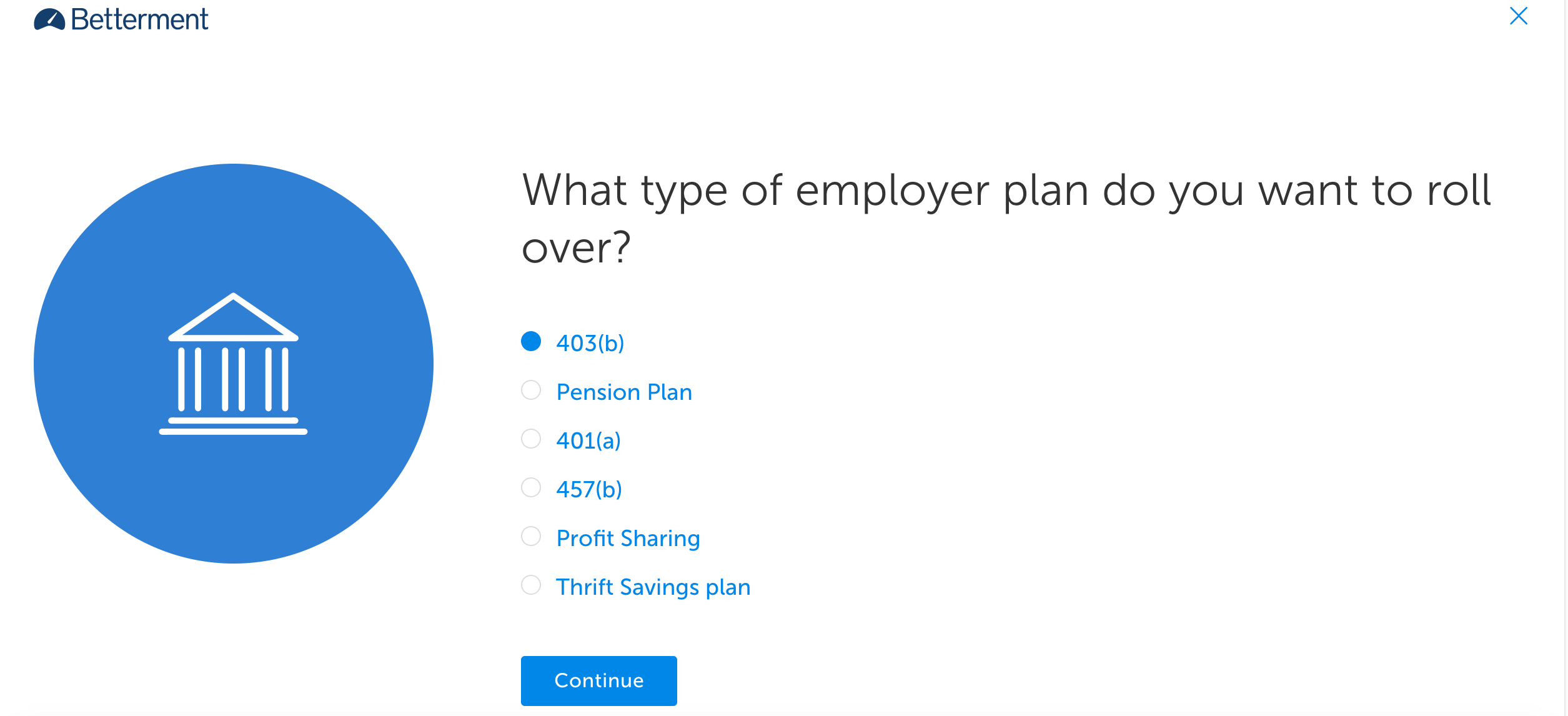 Betterment will then send you an email with details on how to complete the transfer. You'll want to contact your 403(b) provider and let them know that you're rolling over your funds to Betterment. Your provider will release your 403(b) funds by issuing a check—either directly to us, or sent to you, which you can then forward to us.
The same fund transfer process applies for any other employer-sponsored plan.
Apples to Apples
Remember that a traditional, tax-deferred 403(b) should be rolled over to a traditional IRA (otherwise your rollover funds may be subject to taxes). Though rarer, funds from a Roth 403(b), can be rolled over to a Roth IRA. If you're not sure what type of retirement account you have, and which rollover account to set up, our guide makes it really easy and will help you find out your account type.
Knowing your account type is important. For example, if you try to roll over a 403(b) to a Roth IRA, it's considered a Roth conversion and you'll likely owe taxes on that transfer of funds.
Note that Betterment is not a tax advisor, and nothing in this article constitutes tax advice. If you have tax questions, you'll want to consult a tax professional.
(If you're wondering about how to roll over an existing IRA to Betterment, you can do that with Betterment, as well.)
Ask About Fees
While it's free to initiate a Betterment IRA rollover, your 403(b) provider may charge you for closing your account. As you're starting a partial rollover of your 403(b) funds, ask your current plan provider whether you will incur any fees.
Once your Betterment rollover account is setup, you'll begin to benefit from some of the lowest investing fees in the industry.
Whatever you do, don't procrastinate or let your investments sit idly by with your company's 403(b) provider. Roll your 403(b) over to Betterment now.
Disclaimer: When deciding whether to rollover a 403(b) account or other retirement account, you should carefully consider your personal situation and preferences. Relevant factors may include that: (i) 403(b) accounts may offer greater protection from creditors than IRAs. (ii) In some cases, the ability to take penalty-free distributions at an earlier age or to defer minimum required distributions. (iii) Some 403(b) accounts may also allow for loans or distributions in a broader set of circumstances than IRAs. (iv) Some 403(b) plans may also offer specific educational and advisory services to participants that are unavailable to some IRAs. (v) Some 403(b) plans may have lower fees and expenses than some IRAs. (vi) Some IRAs may offer a broader range of investment options than some 401(k) plans. (vii) Special tax rules may apply to the rollover of employer securities.
You should research the details of your 403(b) and speak to a tax and other advisors about whether the features of your 403(b) are relevant to your personal situation. The rollover process is currently automated for rollovers from select providers. If you have a provider that is not part of our automated process, you will receive an email with a checklist for completing your rollover to Betterment. In processing your rollover request, Betterment will be acting at your direction.