Every August my family and I would squeeze into our car and drive 18 hours straight from Philadelphia to visit my grandparents in retirement. They had picked an ideal "grandparent" location: Cocoa Beach, Florida.
Cocoa Beach is on a barrier island surrounded by both the Atlantic and intracoastal waterways. It's also close to Disneyland and Cape Canaveral, where NASA space shuttles launched (a big draw for me and my brother). It was warm, had an outdoor pool, and balcony overlooking the ocean. We went there every year for vacation, and it was glorious.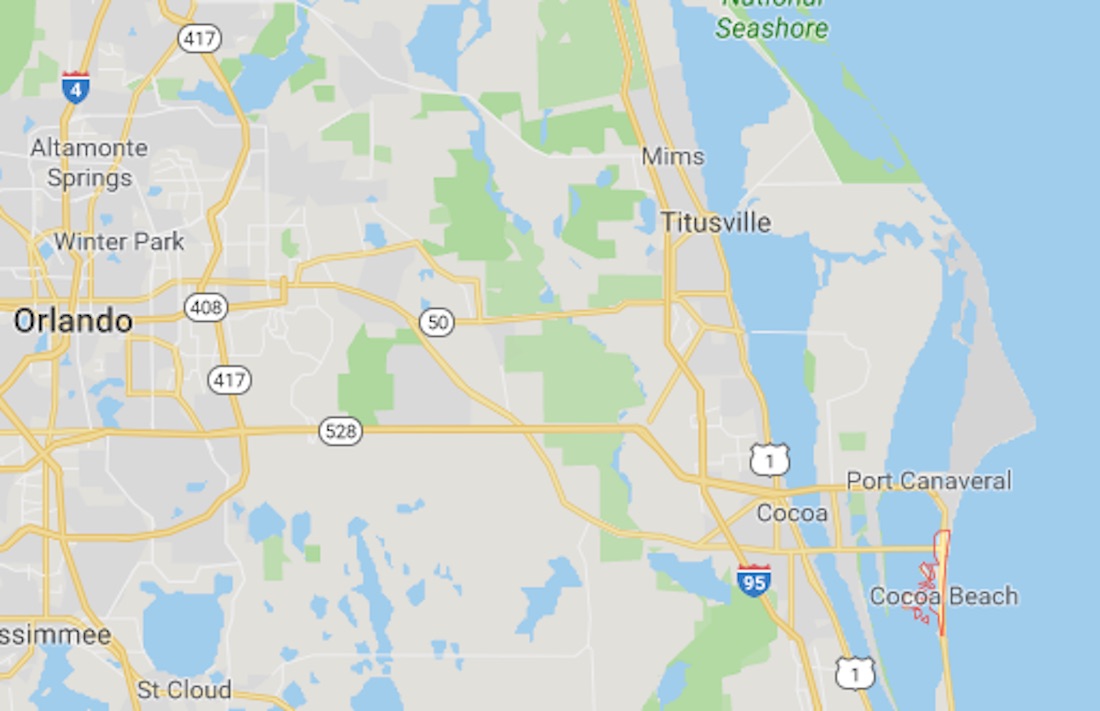 Source: Map data ©2019 Google
Retiring to Florida helped my grandparents before retirement as well. Planning to retire to a place where their money went further meant they could save less. With no state income tax and a low cost of living compared to many East Coast cities, their retirement money went further there.
I don't think I'll live in Manhattan when I retire, and I'd guess that's true for most of us. What makes us happy at 65 will probably be very different than at 35: plan accordingly.
How can we learn from how other people's preferences have changed, and factor that into our retirement plans? In this case, I want to specifically think about where we retire, and how that impacts our plans now.
Location Drives Your Retirement Savings Plan
One of the most significant factors driving retirement migrations is lower cost of living, especially housing.
One of the underrated parts of Betterment's retirement planner is that you can try different zip codes to see how retiring somewhere less expensive can change your financial requirements.
For example, let's assume I want to retire where my grandparents lived, in Cocoa Beach, Florida. The cost of living in Cocoa Beach is significantly lower than in Manhattan. In Manhattan, I'd need to spend $242,000 to match the $109,000 per year lifestyle in Cocoa beach.
As a simple calculation, multiply that by 25 years in retirement and it comes out to needing $2.8 million more dollars to retire comfortably. That's a huge difference in savings between now and then.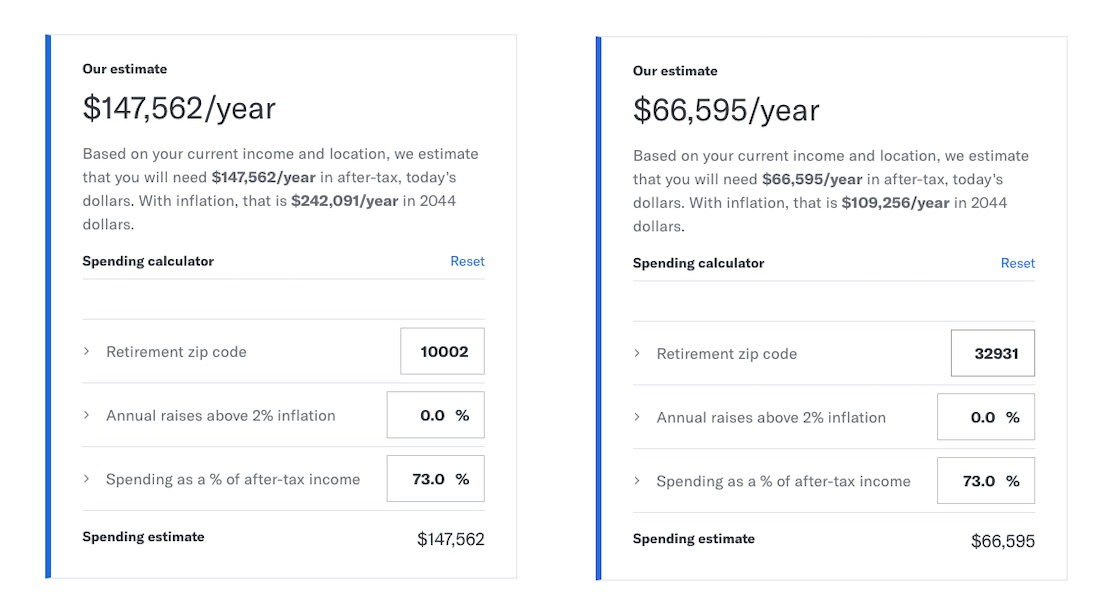 Caption: Above, you can see how Betterment projects the difference between living in New York City and Cocoa Beach Florida.
As kids leave the house and our joints get creakier, we probably want smaller, more manageable (and easier to clean) houses with fewer flights of stairs. The benefits to 'downsizing' our houses are multiple, and means that we can afford a better house for the money we want to spend. Consider the two listings below, both for $300,000.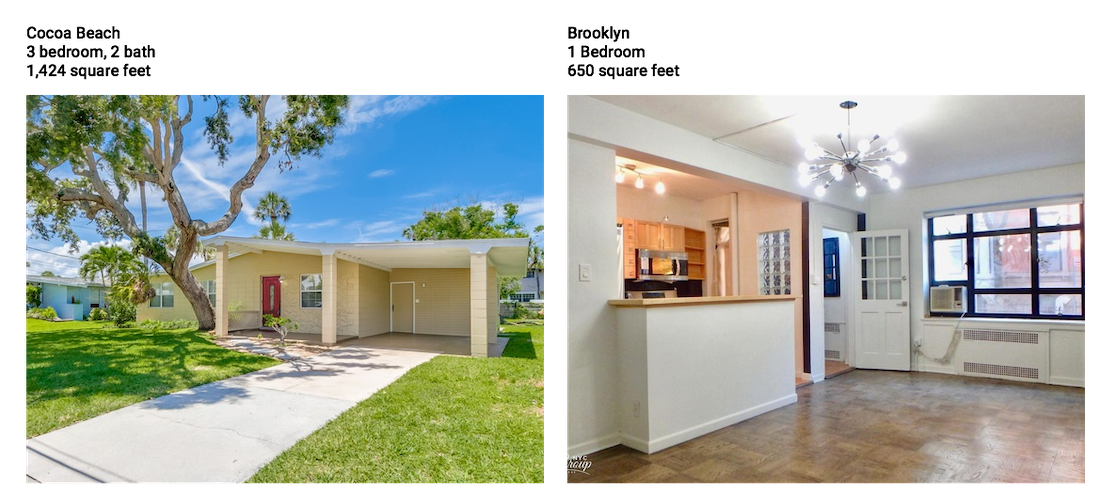 In 1941, the average flight from L.A. to Boston cost $4,540 per person in today's money, and it would have taken 15 hours and 15 minutes with 12 stops along the way. By comparison, a nonstop flight in 2015 cost $480 and took only six hours. As the cost and friction of living somewhere less central comes down over the years, a lower cost of living looks more and more attractive.
Moreover, as home delivery services improve and self-driving cars come along, the costs of living more remotely will continue to decrease. I look forward to the day when I can hop in a car to visit my grandchild and sleep the whole way there.
Think about what will make you happy.
I'd be remiss if I didn't push you to think about optimizing for future you. We tend to assume we're more static than we are, and often mispredict our own future preferences.
What makes us happy (including what we spend money on in retirement) might surprise you.
For example, this study from the Center for Retirement Research states: "unemployment is the single most important negative influence on life satisfaction." Even if you don't need to work, you might want to consider volunteering or mentoring in order to keep yourself challenged and contributing to society.
The more initial retirement planning you do, the more eventual retirement satisfaction you'll have.
The more you retire with friends, the better. The key is having people you can enjoy everyday activities with.
Think about how close you want to be to your family — would it make you happier to be close to them, or a little farther away from them?
General spending on social, leisurely activities were the best source of underlying satisfaction, as opposed to temporary happiness.
Consider a trial retirement in a new area ahead of time. You might be surprised by how different it is to live somewhere for a year, compared to vacationing there.
Finally, ask older people in your life. They're on the same track as you, just 20 to 30 years ahead. I highly recommend reading "30 Lessons For Living," which asks older people how they'd re-optimize their lives, and focus on what you can do now to make yourself happier then.
They'll love that you thought to ask them about their retirement planning, and hopefully you'll get to talk the ear off some kid when you're 70 in return.