We built our no-fee‡, hassle-free Checking account because we believe that you shouldn't have to pay to access your money. Now, with help from our friends at Dosh, you can make the most of the money you spend by getting automatic cash back at thousands of your favorite brands.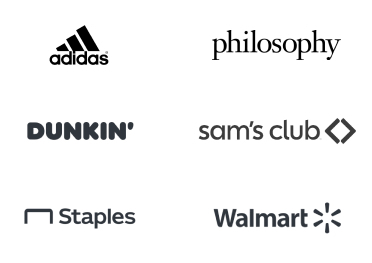 Plus thousands more brands
Before making your purchase, we recommend checking your app
to make sure a specific offer is still available. Merchants subject to change.
With cash back offers from Dosh, you can shop from thousands of personalized online and in-person offers within your Betterment account. Plus, there's no activation required—just shop, pay, and you can see your cash back come through as quickly as the next day.
"Our goal at Betterment is to continuously find new ways to help our clients make the most of their money and have their best interests at heart," said Katherine Kornas, Vice President of Growth at Betterment. "Providing Betterment Checking customers with a rewards program powered by Dosh builds upon this mission, by helping people save more money on everyday purchases. We're excited to work with Dosh on implementing this benefit for our users."
"We're passionate about putting cash back in the wallets of consumers when they shop, dine and travel, while making it a frictionless and delightful experience," said Ryan Wuerch, CEO and founder at Dosh. "We're so proud to provide Betterment Checking customers with automatic cash back at more than 10,000 of their favorite brands and retailers."
Interested in seeing where you could be earning cash back? Open a Betterment Checking account, browse our offers, and start earning.
Cash Back
Eligible when using your Betterment Checking Visa Debit Card. Cashback merchants and offers may vary. You'll see rewards, which are deposited back into your Checking account, in as little as one day after making the qualifying purchase, but it may take up to 90 days depending on the merchant. In order to find you relevant offers, we share your Betterment Visa Debit Card transaction information (and location, if you choose) with our rewards partner, Dosh. Shared data is anonymized and Dosh is prohibited from selling shared data to any third parties. See Terms and Conditions to learn more.
Any references to other merchants or merchant websites are offered as a matter of convenience and are not intended to imply that Betterment or its authors endorse, sponsor, promote, and/or are affiliated with the owners of or participants in those merchant sites, or endorses any information contained on those merchant sites, unless expressly stated otherwise.