It gives me great joy to announce that you can now skip any individual recurring deposit before it happens. You can now skip any recurring deposit you've set up before it happens from a link in the email sent before your recurring deposit occurs.
We've heard scenarios like this many times:
I have an unusually high credit card bill I want to pay off (rather than save).
I need to put a deposit down on my kids' school tuition and need to skip this month.
I need to pay taxes but otherwise want to continue saving regularly.
Until today, if you had set up a recurring deposit with Betterment and didn't want it to proceed, you needed to turn off your recurring deposit completely. This not only meant you needed to remember to come back and turn it on later, it also meant your plan would (incorrectly) be off track simply because you don't want to save for one deposit.
One of the cardinal rules of behavioral finance is never make someone make more decisions than necessary. If clients want to skip just one deposit, they should be able to do it.
So from now on, you can skip any individual recurring deposit, so long as it is before 4 PM EST on the scheduled deposit date.
How To Skip An Individual Deposit
There are two places you can go to skip a recurring deposit.
First, Betterment sends you an email a day before your scheduled recurring deposit takes place. In this email, you'll find a link directly taking you to Betterment's site where you can skip your upcoming deposit. Just click on it, sign in, and confirm.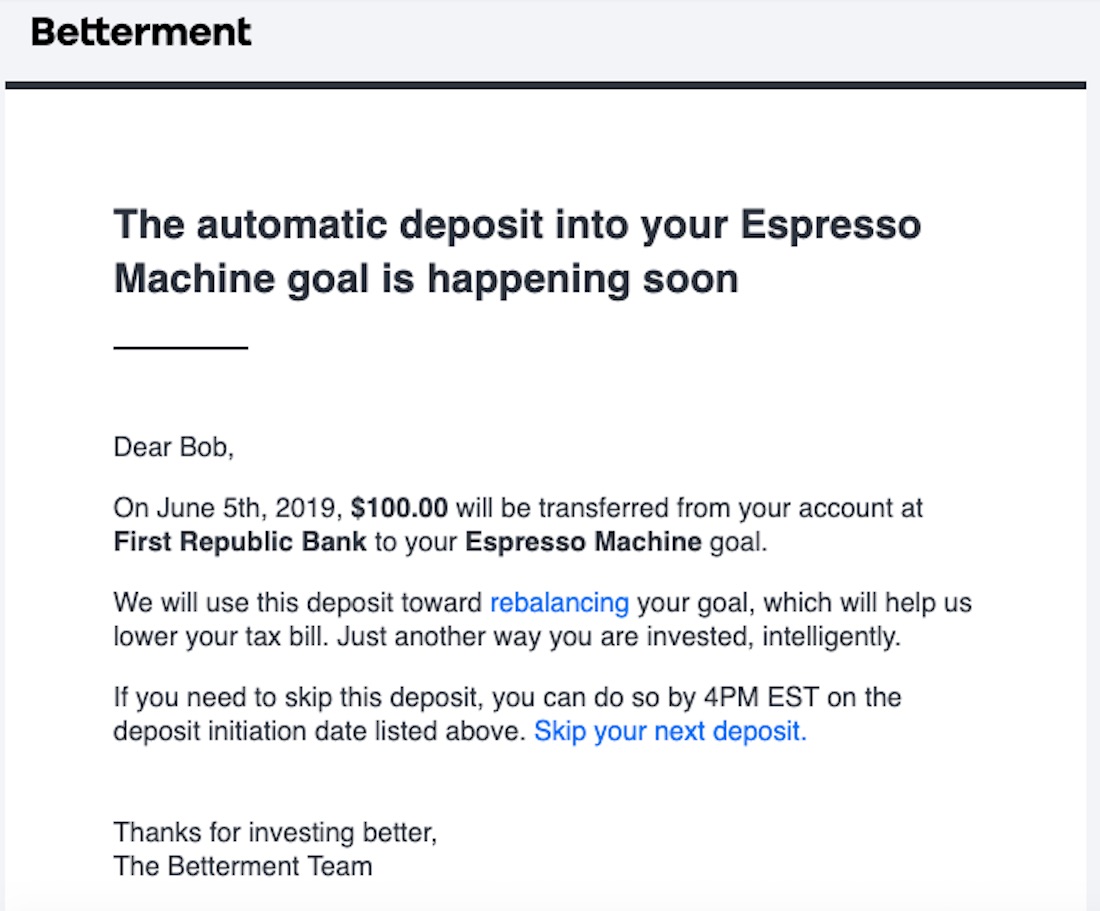 Second, you can see all pending recurring deposits on the "Transfer" tab of your Betterment homepage. So long as it is before 4PM EST on the deposit initiation date, you will have the option to hit the "skip" button on the right.

Then, you'll see: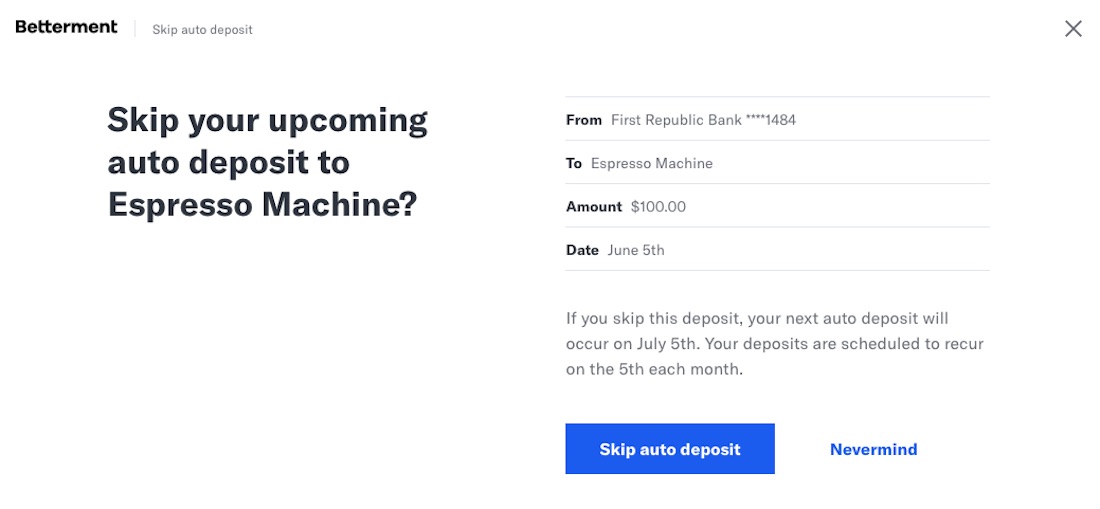 Too many skips can knock you off track.
For the vast majority of goals, missing one deposit won't be enough to knock you off track. Our advice will automatically update to consider your new balance and the skipped deposit, and may slightly increase the recommendation for remaining recurring deposits (as you'd expect).

But it is possible that skipping many recurring deposits will reduce the confidence that you'll reach your target balance on the target date. However, you can always defer the goal a bit in order to make up for your current circumstances.