If you have a cell phone with app capabilities, you can choose to set up an authenticator app instead of receiving 2FA codes via SMS text message or phone call.
To edit 2FA, please log in on a web browser and head to Settings > Security. Then select 'Edit' under "Two-Factor Authentication."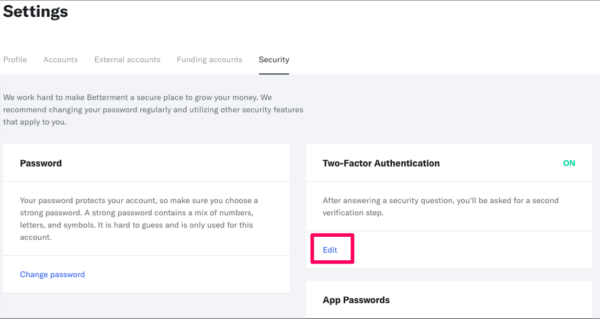 You will be prompted to receive a code via text. If you can receive a code via text, select 'Send Code.' If you cannot receive a code, you can also select Authenticate your account in a different way.
Once you have authenticated your account, scroll down to select 'Set up' or 'Edit' where you see Authenticator App.
Please then either open or download the authenticator app of your choice on your mobile device or computer. Select 'Set up an account' in the app and scan the barcode that Betterment provides. Make sure the codes start appearing in your authenticator app, then click Next.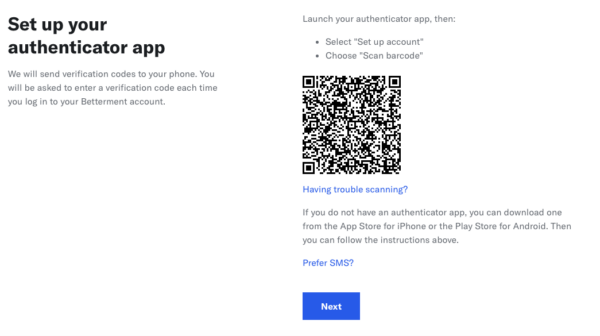 Enter the code you see on your authenticator app to verify the connection.
The next time you log in, it will prompt you to enter a code from your authenticator app instead of an SMS text message.
How can I remove an authenticator app?
To remove the authenticator app, go to Settings > Security > Edit Two-Factor Authentication and select 'Remove' in the authenticator app after going through the authentication screen. Once the authenticator app is removed, we'll text you a code via SMS or you can request a code via a phone call to authenticate instead.