It makes sense that some investors try to align their investments with the values and social ideals that shape their worldview. The way you live, the career you choose, and the people you care about align with your personal values; shouldn't your investments do the same?
Socially responsible investing (SRI) is an approach to investing that reduces exposure to companies that are deemed to have a negative social impact—e.g., companies that profit from poor labor standards or environmental devastation—while increasing exposure to companies that are deemed to have a positive social impact—e.g., companies that foster inclusive workplaces or commit to environmentally sustainable practices.
The Betterment SRI portfolio strategy aims to maintain the diversified, low-fee approach of Betterment's Core portfolio while increasing investments in companies that meet SRI criteria. Betterment has constructed three SRI portfolios, each with a different focus within the realm of Environmental, Social, and Governance (ESG) investing. Betterment's Broad Impact portfolio offers increased exposure to companies that rank highly on all ESG criteria equally, while Betterment's Climate and Social Impact portfolios focus on increasing exposure to companies with positive impact on a specific subset of ESG criteria. To learn more about how and why we've built the Betterment SRI portfolios, read on to the following sections. The technical details of our approach can be found in our full portfolio methodology as well as in our SRI disclosures.
Why Did Betterment Develop SRI Portfolios?
Betterment is dedicated to offering a personalized experience for our customers. This means providing options that help customers align our advice to their personal values. We decided to develop SRI portfolios because, currently, there are three major ways that investors attempt to execute an SRI strategy, and none meets an investor's full needs:
Some investors buy SRI mutual funds, settling for unreasonably high fees compared to performance and often losing out on important tax and cost optimization opportunities.
Others opt for one of several SRI-specific investment managers whose SRI portfolios may fulfill the investors' desire for SRI screening but do not always provide proper diversification against risk.
Still others try to pick their own basket of SRI investments—a challenging, time-intensive, and inaccessible approach for most everyday investors.
We set out to do better for SRI investors. You should not have to choose between holding an SRI portfolio and following a low-cost, diversified investment strategy with tax optimization in order to make sure your investments reflect your personal values.
The Betterment SRI portfolio strategy is designed to achieve this balance. We allow socially conscious investors to express that preference in their portfolios without sacrificing the aspects of Betterment's advice that protect their returns the most: proper diversification, tax optimization, and cost control.
What Is Betterment's Approach To SRI?
While SRI has been around for decades, especially for institutions like churches and labor unions, the SRI funds available to individual investors have only emerged in the last 20 to 30 years. And most of these SRI products have been actively-managed mutual funds with high fees. Only recently have lower cost options, like ETFs for SRI, emerged in the market.
As we developed each of Betterment's SRI portfolios, we analyzed all low-cost ETFs available which align with the SRI mandate of each portfolio, searching for products that could replace components of our core strategy without disrupting the diversification or cost of the overall portfolio. In each of our SRI portfolios, some bond asset classes are not replaced with an SRI alternative either because an acceptable alternative doesn't yet exist or because the respective fund's fees or liquidity levels make for a prohibitively high cost to our customers.
Broad Impact Portfolio
In 2017, we launched our original SRI portfolio offering, which we've been steadily improving over the years. With this release, our original SRI portfolio benefits from a number of additional enhancements, and becomes our "Broad Impact" portfolio, to distinguish it from the new specific focus options, Climate Impact and Social Impact. As we've done since 2017, we continue to iterate on our SRI offerings, even if not all the fund products for an ideal portfolio are currently available.
Figure 1 shows that we have increased the allocation to funds screened for ESG criteria each year since we launched our initial offering. Today all primary stock ETFs used in our Broad Impact, Climate Impact, and Social Impact portfolios are screened for some ESG criteria.
100% Stock Allocation in the Broad Impact Portfolio Over Time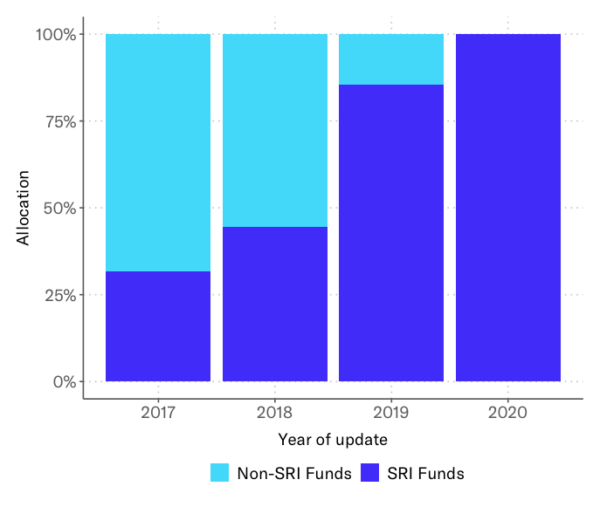 Figure 1. Calculations by Betterment. Portfolios from 2017-2019 represent Betterment's original SRI portfolio. The 2020 portfolio represents a 100% stock allocation of Betterment's Broad Impact portfolio. As additional SRI portfolios were introduced in 2020, Betterment's SRI portfolio became known as the Broad Impact portfolio. As your portfolio allocation shifts to higher bond allocations, the percentage of your portfolio attributable to SRI funds decreases. Additionally, a 100% stock allocation of the Broad Impact portfolio in a taxable goal with Tax Loss Harvesting enabled may not be comprised of all SRI funds because of the lack of suitable secondary and tertiary SRI tickers in the developed and emerging market stock asset classes.
Betterment's Broad Impact portfolio is Betterment's general ESG investing option. The portfolio seeks to give investors greater exposure to all of the different dimensions of social responsibility, such as lower carbon emissions, ethical labor management, or greater board diversity. By investing in funds that consider all aspects of ESG investing, we create a portfolio that grades well with respect to a number of dimensions that socially responsible investors consider when making investment decisions.
When creating the Broad Impact portfolio, the asset classes (i.e., portfolio component) that we can confidently replace with an SRI alternative are:
U.S. Stocks
Emerging Market Stocks
Developed Market Stocks
U.S. High Quality Bonds
U.S. Investment Grade Corporate Bonds
Five asset classes use SRI-specific funds—the rest remain similar to the Betterment Core portfolio—and that difference has an impact on the social responsibility of your overall portfolio. For one, many investors are most concerned about the social responsibility of the largest U.S. companies in their portfolios, which often set standards for acceptable corporate behavior that other companies try to emulate.
In our Broad Impact SRI portfolio, stocks of companies deemed to have strong social responsibility practices, such as Microsoft, Google, Proctor & Gamble, Merck, CocaCola, Intel, Cisco, Disney, and IBM may make up a larger portion of the SRI portfolio than they do for Betterment's Core portfolio.
In addition, a major reason why there are no acceptable SRI alternatives for other asset classes is that the demand for these products has not been sufficient to encourage fund managers to create them. By electing to use the Betterment SRI portfolio strategy, you signal to the investing world that there is a demand for high quality SRI investment options and may help to encourage the development of well-diversified, low-cost SRI funds in a wider variety of asset classes.
If you're interested in a more quantitative understanding of how the Broad Impact portfolio compares to our Core portfolio in terms of social responsibility, you can review the SRI ratings published by MSCI, shown below. MSCI's ratings for the SRI funds used in Betterment's SRI portfolio are higher than the ratings for the funds used in the Betterment portfolio. For more information on what the numbers mean, read our full whitepaper.
MSCI ESG Quality Scores
U.S. Stocks
Betterment Core Portfolio: 5.94
Betterment Broad Impact Portfolio: 7.31
Emerging Markets Stocks
Betterment Core Portfolio: 4.22
Betterment Broad Impact Portfolio: 6.31
Developed Markets Stocks
Betterment Core Portfolio: 6.81
Betterment Broad Impact Portfolio: 8.33
US High Quality Bonds
Betterment Core Portfolio: 6.13
Betterment Broad Impact Portfolio: 6.91
Sources: MSCI ESG Quality Scores courtesy of etf.com, values accurate as of August 25, 2020 and are subject to change. In order to present the most broadly applicable comparison, scores are with respect to each portfolio's primary tickers exposure, and exclude any secondary or tertiary tickers that may be purchased in connection with tax loss harvesting.
Climate Impact Portfolio
Betterment's Climate Impact portfolio offers investors an SRI portfolio that is more focused on being climate-conscious rather than focused on all ESG dimensions equally like the Broad Impact portfolio. The portfolio achieves this objective by investing in ETFs with a specific focus on mitigating climate change.
When compared to the Core portfolio, all of the stock positions have been replaced with more climate-conscious alternatives. Half of the stocks in the portfolio are invested in a global low-carbon stock ETF, which systematically overweights companies with lower carbon emissions, while also underweighting their high-carbon emitting peers.
The other half of the stocks in the portfolio are invested in fossil fuel reserve free ETFs. These ETFs replicate broad market indices, while divesting from owners of fossil fuel reserves, defined as crude oil, natural gas, and thermal coal. By investing in the Climate Impact portfolio, investors are actively divesting assets away from holders of fossil fuel reserves while cutting their investments' carbon emissions.
Carbon emissions per dollar of revenue in the 100% stock Climate Impact portfolio are half of those in the 100% stock Betterment Core portfolio, based on weighted average carbon intensity data from MSCI.
The other change from the Core portfolio, is that the Climate Impact portfolio replaces our International Developed Bond and US High Quality Bond exposure by investing in a global green bond ETF. Green bonds, as defined per MSCI, fund projects that support alternative energy, energy efficiency, pollution prevention and control, sustainable water, green building, and climate adaptation.
Social Impact Portfolio
Betterment's Social Impact portfolio offers investors an SRI portfolio that is more focused on supporting social equity and minority empowerment compared to the Broad Impact portfolio. The portfolio achieves this objective by augmenting the ESG exposure achieved in the Broad Impact portfolio with two additional ETFs each with a unique focus on diversity, NACP and SHE.
NACP is a U.S. stock ETF offered by Impact Shares that tracks the Morningstar Minority Empowerment Index. The National Association for the Advancement of Colored People (NAACP) has developed a methodology for scoring companies based on a number of minority empowerment criteria. These scores are used to create the Morningstar Minority Empowerment Index, an index which seeks to maximize the minority empowerment score while maintaining market-like risk and strong diversification. The end result is an index which provides greater exposure to US companies with strong diversity policies that empower employees irrespective of race or nationality. By investing in NACP, investors are allocating more of their money to companies with a better track record of social equity as defined by the NAACP.
SHE is a US Stock ETF that allows investors to invest in more female-led companies compared to the broader market. In order to achieve this objective, companies are ranked within each sector according to their ratio of women in senior leadership positions. Only companies that rank highly within each sector are eligible for inclusion in the fund. By investing in SHE, investors are allocating more of their money to companies that have demonstrated greater gender diversity within senior leadership than other firms in their sector.
Let's Make Investing More Socially Responsible
As you review our SRI portfolios, you might ask yourself, "Is it more important that my portfolio is well-diversified with reasonable costs, or should my money be exclusively invested in SRI funds, regardless of the cost or level of diversification?"
These are insightful questions that get at the heart of the tradeoffs involved in socially responsible investing today. Currently, most accessible SRI approaches make investors choose between a well-diversified, low-cost portfolio and an inadequately diversified and/or higher cost portfolio comprised of SRI funds.
Diversification and controlled costs are investing fundamentals that all investors—SRI or not—deserve. They're principles that live at the heart of fiduciary advice. The only reason other SRI solutions settle for higher costs and less diversification is because the industry isn't challenged to offer something better. We at Betterment believe we can create a future that does not ask SRI investors to choose.
We are committed to achieving more socially responsible investing through our research over time and are tracking the availability of better vehicles for these purposes. Since originally launching the legacySRI portfolio in 2017 (and now the Broad Impact portfolio) with ESG exposure to only U.S. large cap stocks, we've been able to expand the exposure to now cover also developed market stocks, emerging market stocks, and US high quality bonds. We've also been able to launch the Climate and Social Impact portfolios which add exposure to focused ESG issues by allocating to assets such as green bonds or gender-diverse U.S. Stocks. As always, we will continue to monitor additional ways to improve our portfolios.
In the future, we will improve our SRI portfolio even further, iterating and adding new SRI funds that satisfy our cost and diversification requirements as they become available.
Get started with the Betterment SRI Portfolio.
Get started with our approach to SRI today, and join us as we work to expand our SRI approach together.
If you don't yet have a Betterment account, open an account to explore the portfolio options available to you.
If you already have a Betterment account, you can enable a SRI portfolio when adding a new goal or by updating your existing goal's portfolio strategy via the "Portfolio Analysis" tab of your Betterment account.
Once on your "Portfolio Analysis" tab, you will see an "edit" option under the "Portfolio Strategy" section. Once you select "edit" you will be sent to the "Portfolio Strategy" flow where you can opt into a SRI portfolio.