2020 was an unprecedented year in many regards, with the COVID-19 pandemic leaving millions of Americans out of work as businesses were forced to close and many states issued shelter in place orders and other restrictive measures. It was also an unprecedented year for Betterment's Charitable Giving feature, with new records in both the number of donations and the amount donated by our customers who chose to give back to those who are most in need. Many of our customers make generous gifts to charities in a variety of ways—whether it's by spending their precious time, or by donating their hard-earned money.
Our customers also have the choice to donate their invested securities to charities through their Betterment accounts. When securities are donated, the value of those assets is transferred directly to the charity. This is advantageous because the donor doesn't pay taxes on the gain, and the recipient organization generally doesn't pay taxes on the gain, either.
In 2020, our customers donated over $2 million dollars to charity through their appreciated shares. Let's aim for even more in 2021.
Skip to the instructions for how to donate.
Since launching our Charitable Giving feature in 2017, our customers have donated over $7.5 million dollars in appreciated shares to support causes near and dear to them. We are proud to support a community of smart investors with big hearts. This year, consider a smart giving strategy that can help you maximize your gifts while minimizing your tax liability. We'll walk you through how it works.
Donating securities should be as easy as donating cash.
You're trying to make a positive difference, so we believe you shouldn't have to do any math or sign any forms. We want to keep it easy—as easy as giving cash. No snail mail, and no walking into an office.
Here is a behind-the-scenes look at how we help make it easy.
On your behalf, we track how much of your account is eligible to give to charity. You typically should only donate assets that you've held for more than one year, but we don't expect you to sort through all the assets and pick which ones you can give. We'll track those assets for you.
We'll estimate the tax benefits of your gift. Before you complete your gift, we'll let you know the estimated tax benefits, including the expected deductible amount and potential capital gains taxes saved.
We move assets from your account to a charitable organization's account without any paperwork. With a traditional broker, a charitable gift has to move from your account to the organization's brokerage account, which can take time and paperwork. Betterment is offering charities investment accounts without any advisory fees—on up to $1 million of assets—to make the gift process seamless.
After the donation is complete, we provide a tax receipt. The receipt is emailed to you, and it will also be available in your Betterment account at all times. What's more, we take much of the heavy lifting in reporting off of our partner charities. This means they can devote their resources more efficiently to the causes you are supporting, rather than to administrative tasks.
Donating securities helps maximize your charitable impact.
There are two tax advantages investors may be able to take advantage of when donating eligible shares.
Eliminate capital gains taxes on donated shares.
Deduct the value of the gift on your annual tax return.
As long as you itemize your deductions, the entire value of your donated securities is deductible on your income tax return, just like any cash donation would be—as long as you've held the securities for more than one year.
As an example, let's say you make $150,000, are single, and live in New York. Your income places you into the current (2021) 15% long-term capital gains bracket, the 24% federal bracket, and the 6.41% state bracket.
If you donate $3,000 worth of shares to a charitable organization, and you bought those shares two years ago for $2,100, then you would save $192.69 in capital gains taxes. The full $3,000 could then be deducted on your tax return, saving you an additional $912.30. Overall, you end up with $1,104.99 in tax savings, which is about 21% more than if you had just donated the cash and taken the deduction.
You can then use the extra tax savings towards future donations, helping to further maximize your impact.
| | Value now | Purchase value, two years ago | Capital gains tax saved | Deductible amount on tax return | Total potential tax savings |
| --- | --- | --- | --- | --- | --- |
| Donating shares | $3,000 | $2,100 | $192.69 | $3,000 | $1,104.99 This is 21% more than a cash donation. |
| Donating cash | $3,000 | n/a | n/a | $3,000 | $912.30 |
The table above assumes the following about a hypothetical person donating to a charity: (1) The person itemizes the deductions on their tax return, and (2) The federal Alternative Minimum Tax does not apply to the person.
Charitable giving works in tandem with our other tax-smart strategies.
Our charitable giving capabilities automatically work in tandem with our other tax-smart strategies, such as Tax Loss Harvesting+.
Imagine you started using Betterment two years ago. If any holdings in your portfolio took a loss in the first year—which is common—Tax Loss Harvesting+ (TLH+) would kick in, if you have it turned on. TLH+ would benefit you by harvesting those losses and selling the assets, which allows you to deduct up to $3,000 from your income at tax time. This practice essentially defers the tax liability from any future gains to a later date.
If by the calendar year after the harvest, those same shares appreciated above the original purchase price, then they would be eligible to donate to charity. You could then avoid the taxes altogether because you will not owe the standard capital gains taxes you would otherwise be subject to.
Donate while also keeping your financial goals on track.
Once you donate shares from an investing goal, your goal's overall account balance will naturally be lower. Immediately after you donate, we will ask you if you'd like to make a new cash deposit to promptly replenish your investment goal.
If you redeposit, we can smartly rebalance your portfolio and help keep it on track to meet its goal. If you think of your replenishing deposit as the cash you otherwise would have given to charity, the process of giving and then redepositing ends up serving as a tax-optimized and cost-efficient cycle for transferring funds to charity.
The graphic below, which visually represents this cycle, is for illustrative purposes only.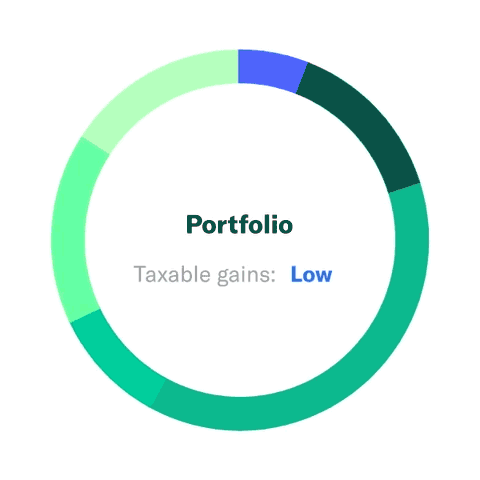 If you do not redeposit after your donation, your account balance will, of course, remain lower—and we may rebalance your account as usual.
Smart Investors + Big Hearts = Effective Altruism.
You may already be familiar with effective altruism, which is the simple idea that you can increase how much value you create when you help others if you more thoughtfully apply your resources.
We offer access to a dozen charities, including GiveWell.org which carefully vets and directs donations to the most impactful causes, and Against Malaria Foundation, which protects low-income families from one of the largest killers in the world—mosquitos that carry malaria.
See a full list of supported charities. Please note that we give no special preference to or endorse any one charity in particular, and the activities of each charity are not directly associated with or connected with Betterment.
How to Donate Shares From Your Betterment Account
To donate shares from your Betterment account, simply navigate to "Transfers" on the left and select "Give to Charity" under "Transfers from Betterment."
If your account has appreciated shares that have been held for more than a year, you can specify an amount to give, and then select which charitable organization(s) will receive your donation. Shortly after the transfer completes, you'll receive a tax receipt via email.
You can choose from the following charities:
Don't see your charity? See below...
If you don't currently see a charity you'd like to donate to, you can request a new charity be added. When you're instructed to select a charity, there is an option to request a new one at the bottom of the page. In time, we will work with the requested charities to try to add them as an option.
Qualified Charitable Distributions
Qualified charitable distributions can be made from most IRAs (excluding SEP and SIMPLE) if the owner is age 70½ or over. These distributions can be used to satisfy part or all of your required minimum distribution and these donations will not be counted as taxable income. Betterment can support QCDs from IRAs if you meet certain criteria. Please reach out to our team for further instructions.
2021, Here We Come
Let's maximize our ability to give back together, and help support those who are most in need this year. Our altruistic and tax-smart customers have donated over $7 million dollars to charity, with over $2 million dollars donated in 2020 alone. Can we beat that for 2021?
---
For more information, see IRS Information for Charitable Contributions. Betterment is not a tax advisor, nor should any information herein be considered tax advice. Please consult a qualified tax professional.