You may have participants who enjoy Betterment for Business but would like to change aspects of the portfolios recommended to them by our investing team.
At Betterment for Business, we believe that every participant should have access to high quality, financial advice. By using a managed account as our default investment option, we can help ensure that every single participant has access to financial advice as a starting point in their relationship with Betterment. In the past, we found that using a managed portfolio as a default investment option dramatically increased the percentage of participants invested in a risk-appropriate portfolio, strengthening our belief in the power of this tool.
However, we also received feedback directly from plan sponsors that some participants wanted to change aspects of the portfolios recommended to them by our investing team. Questions and comments like:
"I like my Betterment portfolio in general, but I wish I could make some adjustments."
"I hold a lot of large-cap stocks outside of my 401(k). Can I adjust the weight of my small- and mid-cap holdings to accommodate this?"
"While I understand the benefits of a Betterment portfolio, I'd like to have the ability to make adjustments as my personal financial situation changes in the future."
In response to this feedback, we developed a feature for adjusting any 401(k)'s portfolio called Flexible Portfolios. A Flexible Portfolio enables participants to adjust the individual asset class weights in the Betterment Portfolio Strategy.
At Betterment, our investment philosophy states that investors should be aligned to their investments through a personalized financial plan. If participants have views on their investments that differ from Betterment's default advice, we know it can be challenging for them to pursue their retirement plan effectively. Just as we give participants personalized control to follow our allocation advice or not, Flexible Portfolios helps participants follow Betterment's retirement advice without being limited to the specific individual asset class weights recommended in our default portfolio.
How do Betterment Flexible Portfolios work?
Participants start with the Betterment Portfolio Strategy.
Betterment's financial advice has several layers, and the portfolio we recommend to any participant is just one of them. At the core is Betterment's evidence-based approach to building a diversified, risk-efficient portfolio strategy and our cost-aware selection of ETFs. A Flexible Portfolio then allows every participant to benefit from our evidence-rich approach to building portfolios, but turns the control over to the individual for the weight of each asset class. Participants can also select certain additional asset classes to include in their Flexible Portfolio (commodities, REITs, and U.S. high-yield corporate bonds).
Participants can still take advantage of automation.
When participants use Flexible Portfolios, they deviate away from using Betterment's portfolio recommendation, but they can still take advantage of Betterment's automation and advice that can help them reach retirement success. This includes features such as automatic rebalancing or managing their 401(k) accounts as part of a more holistic investment strategy incorporating multiple account types.
Participants will get principled feedback on their Flexible Portfolio.
For those participants who want the control offered by Flexible Portfolios, Betterment still provides immediate feedback on their adjustments. For any Flexible Portfolio created in a 401(k), Betterment automatically rates the resulting diversification and the relative risk of the portfolio before a participant makes any investment switches. We want any of your participants who wish to use a Flexible Portfolio to fully understand the risks of a portfolio that is outside of Betterment's recommendation.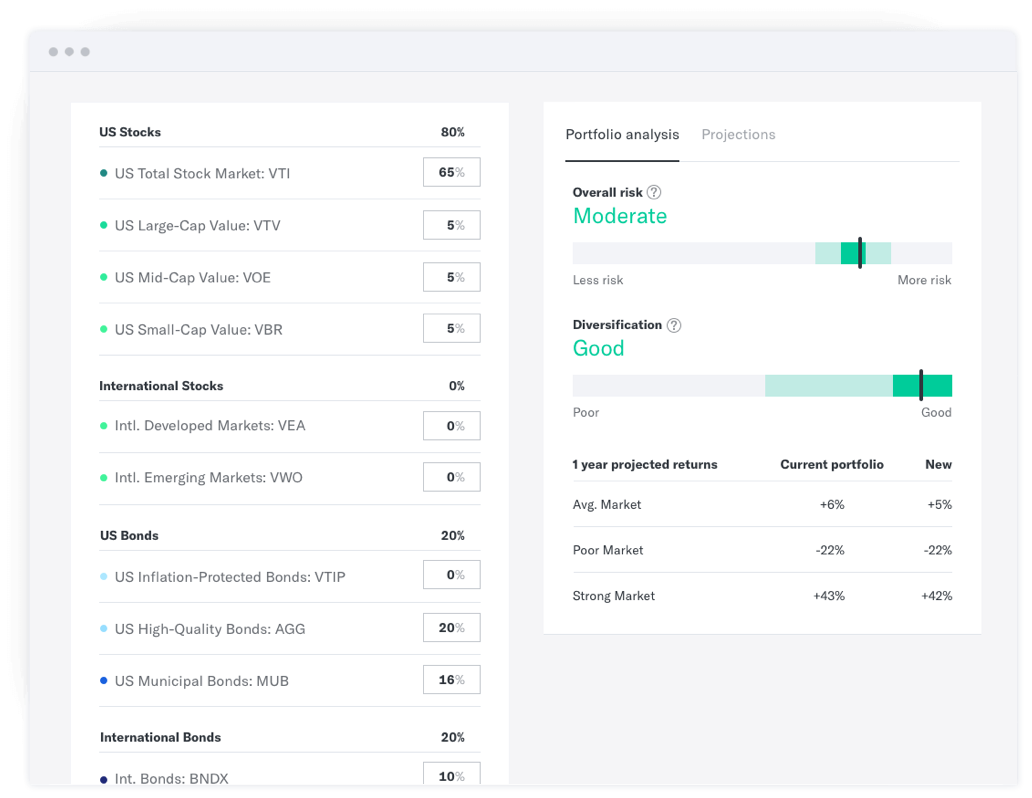 When does a Flexible Portfolio make sense?
You can think of a Flexible Portfolio as a participant's decision to take personalized control of their portfolio and deviate from Betterment's recommendation. While small changes should not cause dramatic shifts in a participant's expected outcome, this feature is intended for experienced participants—and only those who have acceptable reasons for building a Flexible Portfolio.
Our intention in offering Flexible Portfolios is to give participants the ability to tailor their portfolios, while still benefiting from the rest of the features of a Betterment for Business 401(k). It's part of our broader methodology of personalizing 401(k)s: We offer guidance personalized to participants for the aspects of your life we can reasonably help with, but we also give participants a degree of control. Flexible Portfolios is one more way we're working to provide participants with advice and guidance while giving participants the right amount of control when they want it.