We've built Betterment to offer immediate value no matter why you came to us—whether for just an IRA or Checking, or everything we offer.
Still, customers often ask us, "how do I get the most value from my money?" What are the "pros" doing with their accounts? What does a complete Betterment user account look like? Today, we're going to break down a full answer to all those questions, showing you a glimpse of what the ultimate Betterment user looks like.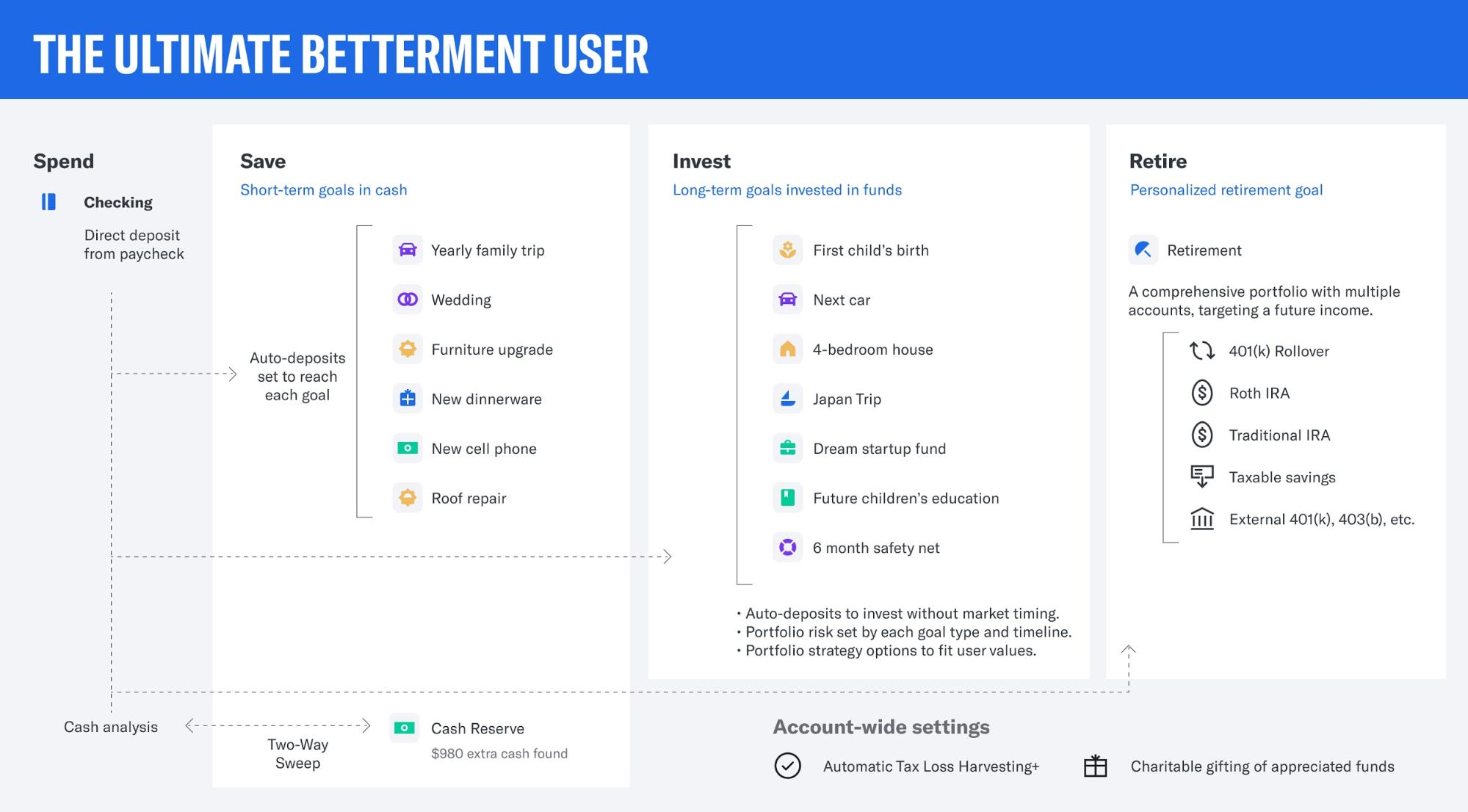 Tax Loss Harvesting+ is automatic, but must be turned on within your account.
To start with, let's review the fundamentals of Betterment today. Since our release of Betterment Checking early in 2020, Betterment has been set up to mirror the four major aspects of a person's financial life: Spending, Saving, Investing, and Retirement.
While we'll dive into each of those aspects later, the first thing to know is that an ultimate Betterment user leverages all four of these offerings at Betterment. That's where our magic happens: You have a full picture of your financial goals in a single place and we help you achieve that reality with our automated optimization techniques and low fees.
The first step to Ultimate: Embrace savings goals.
What's the difference between most users and the "ultimate Betterment user"? Fully adopting the idea of goal-based saving and investing. Every new Betterment user starts by answering questions about what they're trying to do. Are you trying to save for a car? Do you want to invest for retirement? Our aim is to get you thinking about what you want in life—your financial goals.
The users who are likely to get the most value from Betterment adopt a wholly goal-focused mindset. They think, "What are the major things I want in life?" And they add those things as goals in the Betterment platform—with all the trappings of a well-defined goal: specific dates, target amounts, a thoughtful name.
Here's an example of what it looks like to become goal-focused. Take those future life decisions that will cost you (that are expensive enough that they might be financially stressful if you don't save for them ahead of time) and turn them into clear, concrete savings goals that you can get on track to achieve.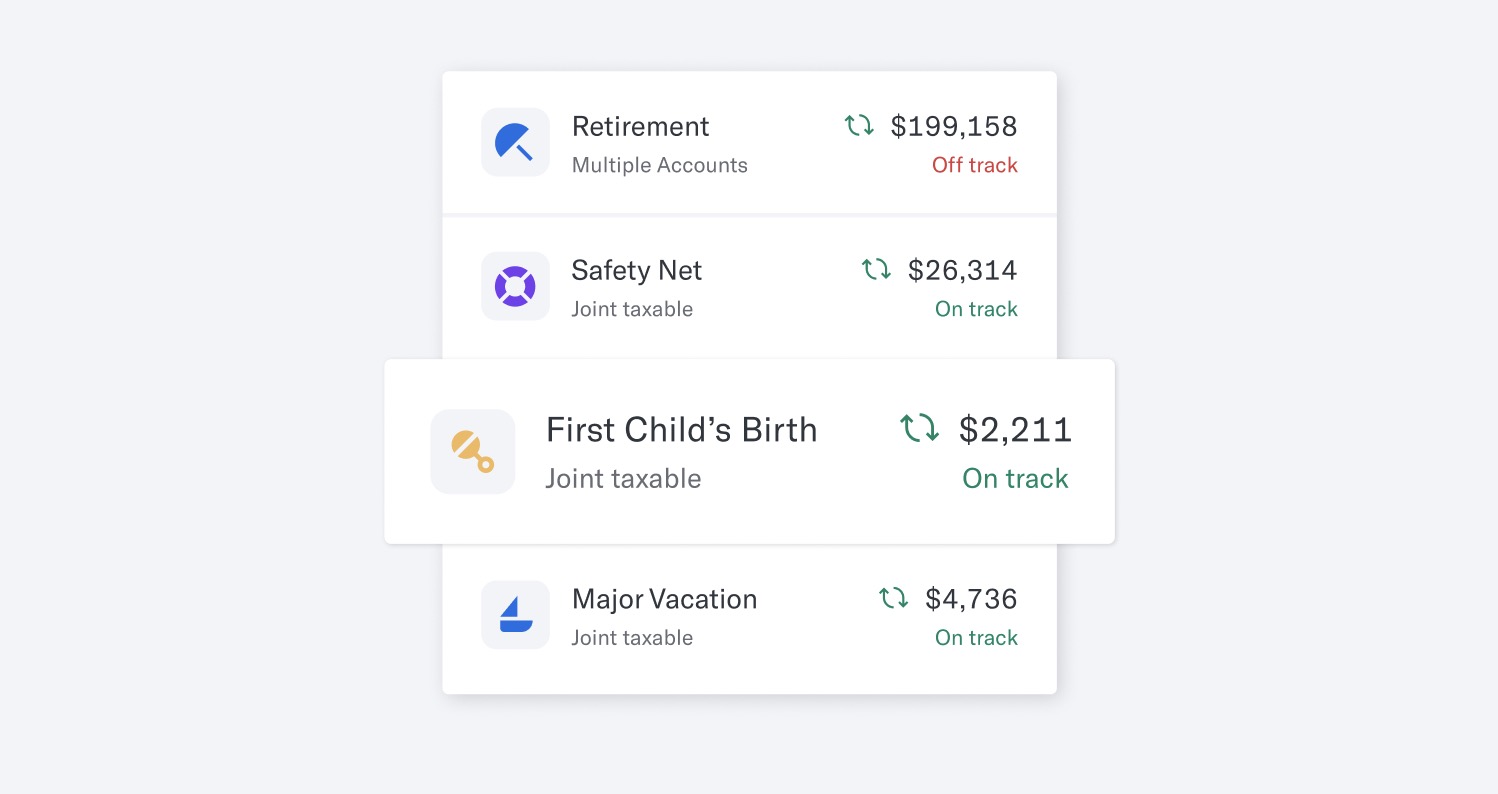 Keep planning with short-term cash goals and long-term investment goals.
The ultimate user won't have just one vague goal, they will have as many goals as they feel they need for their life. Some people start with the longest term, largest goals, like retirement, and work back to the present. Others like to think about what major purchases they're looking to make in the next few years, and work toward the deeper future. Whatever your style, you want to get it all set up. If you're a couple, you should probably do this together.
Goals are also helpful because they help you decide how to invest. For the short-term goals in life (money you plan on spending in a year or less), you can save into our yield-earning FDIC-insured goals (i.e you'll earn interest). For the longer-term goals (those of a year or more), we'll advise you on a portfolio allocation that adjusts from riskier to more conservative, the closer the goal gets. For the in-between goals, you can make choices based on how you plan to spend your money.
What does this look like? Take a peek at just how comprehensive and well thought out your goal-setting can get...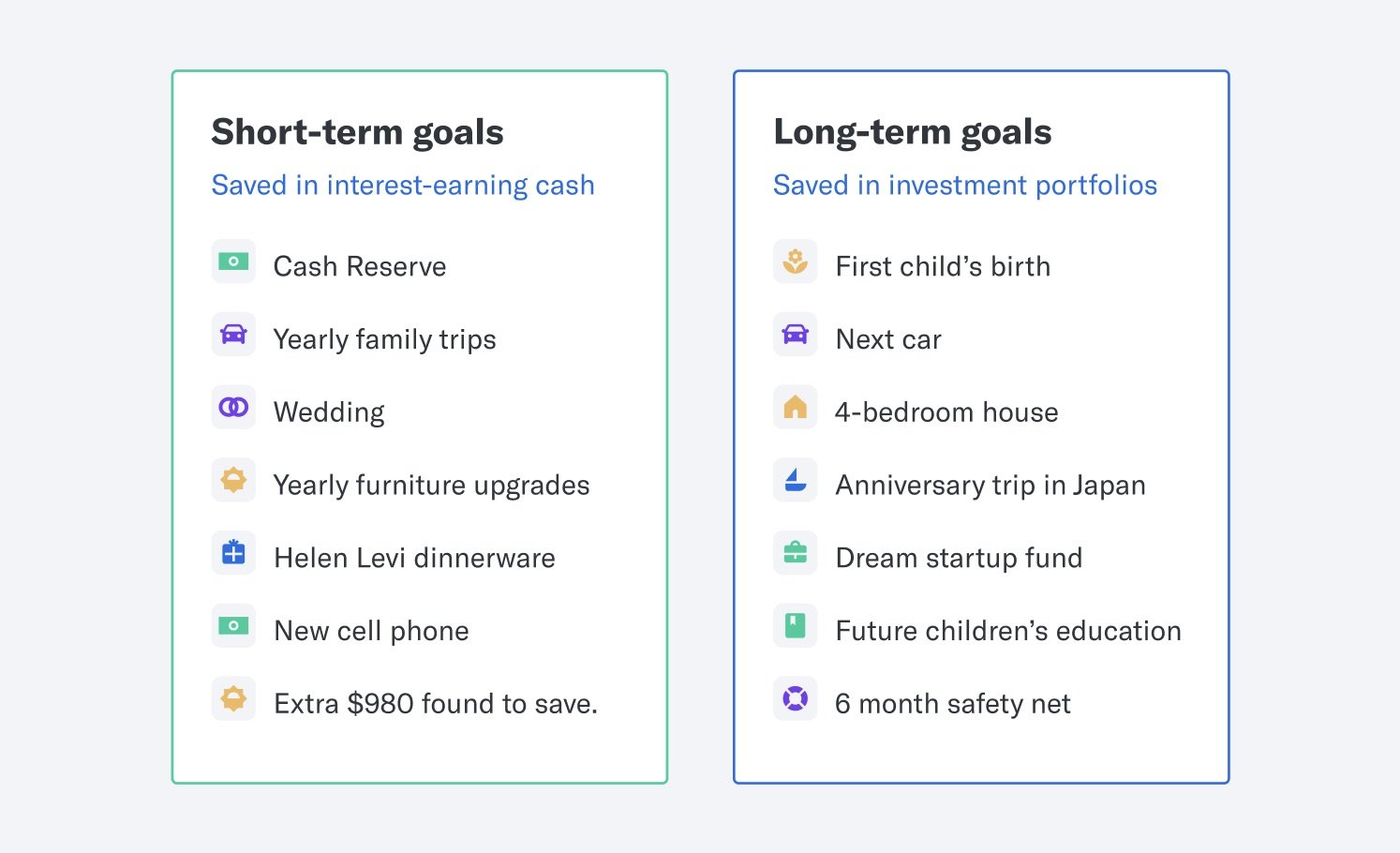 Next, stretch your savings potential by auto-saving as you earn.
Ultimate Betterment users don't just set goals; they fund them out of every paycheck to automate their savings habits and keep their goals on track. Preemptively saving for something concrete can help make it easier to resist spending away your hard-earned money. Plus, auto-deposits ensure you invest as you earn, rather than becoming tempted to try and time the market (a task that even the professionals often fail to do well).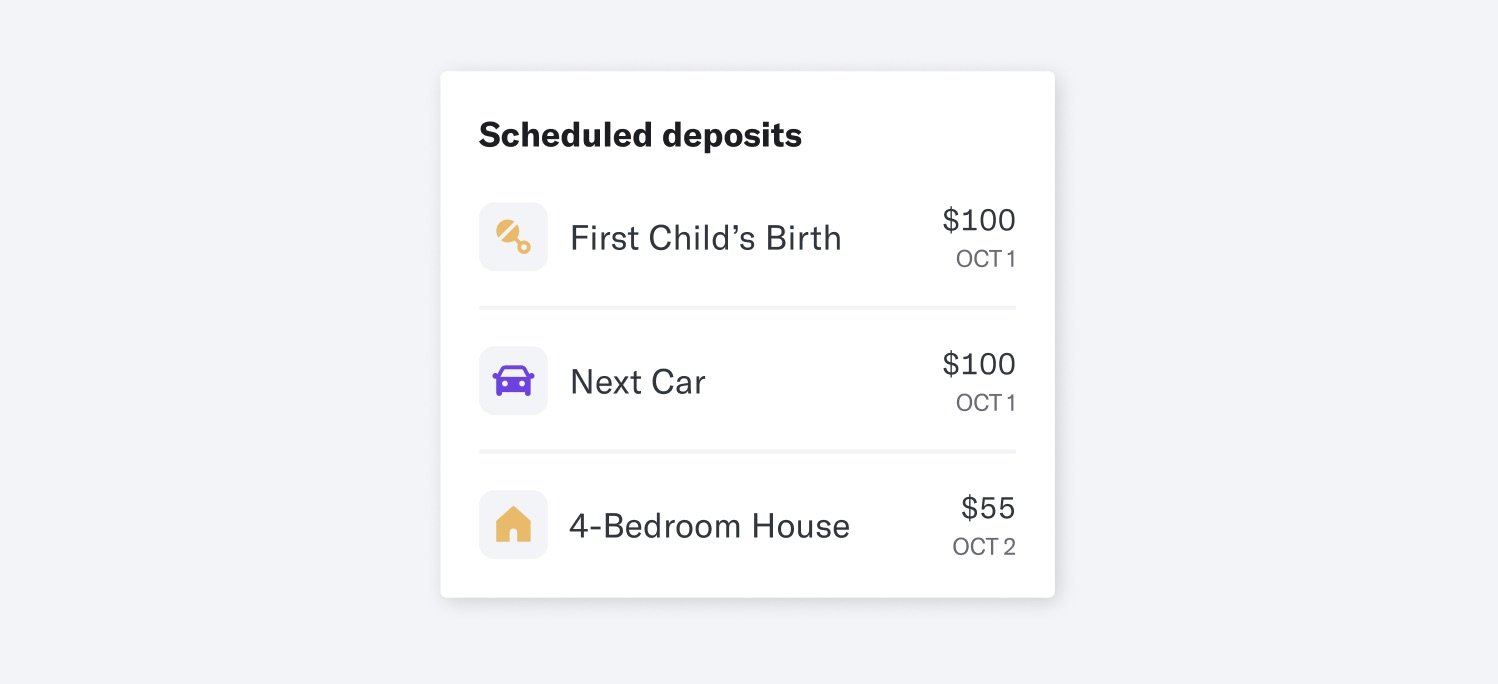 Take it up a notch by using Checking to spur even more saving.
Here's where top-notch Betterment users really start standing out from others. They don't just use auto-deposits to save; they minimize the extra cash they might normally spend away using the full power of Betterment's spending and saving technology.
Lean into complexity where it matters: Your retirement goal.
Retirement is the longest-term goal most users set with Betterment. It's also the most complex. Your retirement plan at Betterment can house multiple accounts types and external holdings, forecast how much you need to save based on the income you'll want to withdraw, and manage your Betterment-held retirement accounts with Tax Coordination, which shelters some investment types from taxes.
The most complete Betterment users let our technology advise them on how to save for retirement (e.g. which IRA type to use) while taking on the hard work of bringing their retirement savings into the goal itself. That can mean syncing an existing 401(k) plan, rolling old 401(k)s into an IRA, or moving outside IRA dollars into Betterment.
The idyllic retirement goal at Betterment is holistic but straightforward: a single goal with a unified investment portfolio managed across account types. Tax Coordination (also known as asset location) moves more highly taxed assets into tax-advantaged accounts and lower-taxed assets into non-tax-sheltered accounts. Underlying IRA account rules offer tax-free growth, and where assets live outside of Betterment (but synced), they're taken into account for determining how close you are to reaching your retirement goal.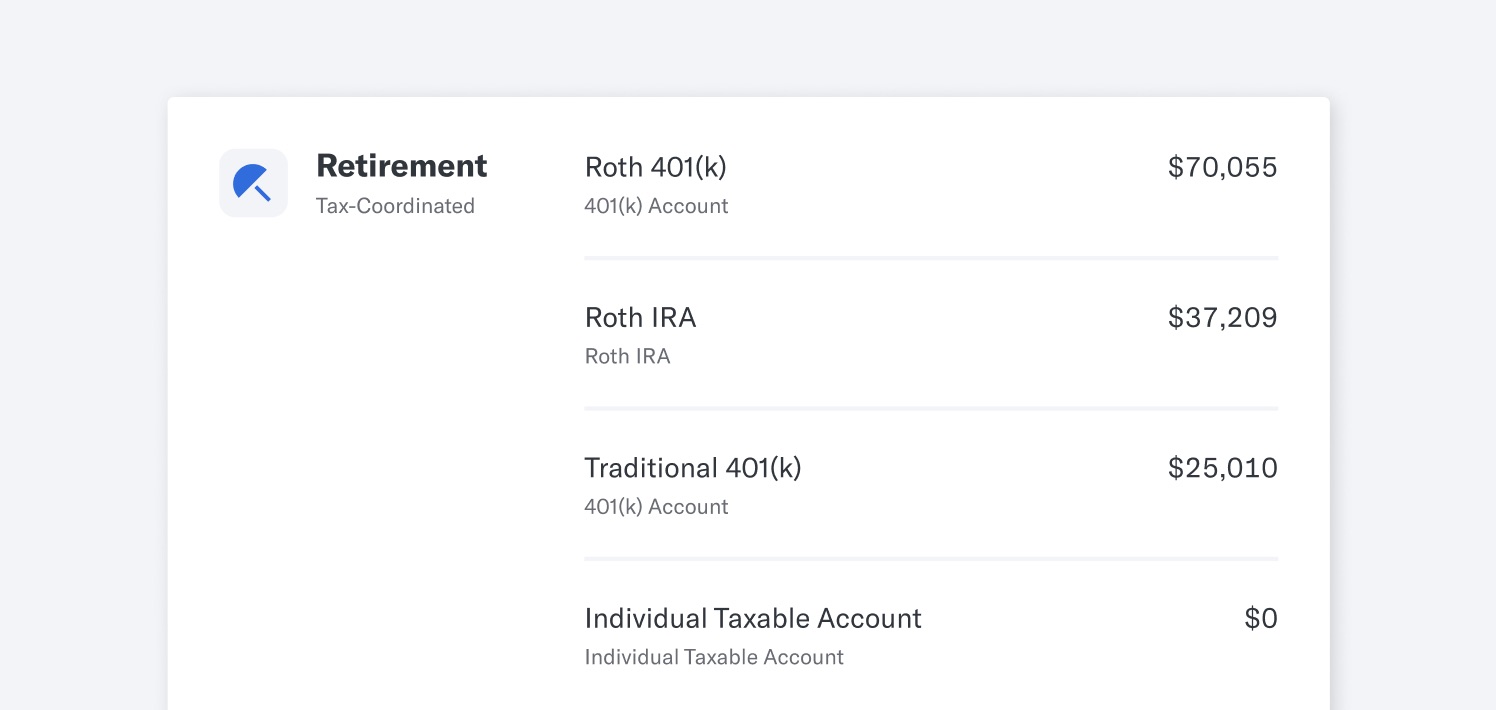 Beyond saving: Turn on investment optimizations.
The key to financial success is saving. Once saving is well underway, the optimizing gets interesting.
Especially for retirement goals and other long-term investment goals, users can try one of several maneuvers Betterment can help you handle: tax loss harvesting, charitable giving, and personalized portfolio strategy choices.
Taking advantage of our automated Tax Loss Harvesting+ (TLH+) is as easy as switching it on with our app. It applies to all goals in personal and joint taxable accounts. Betterment recommends TLH+ to individuals that make more than $40,000 in annual income and married users who make more than $80,000 and file their taxes jointly.
When long-term investments realize taxable capital gains, we let you give them away to charity, enabling you to claim a double tax benefit.
For any goal, users can optimize their accounts for their views and preferences with portfolio options beyond just Betterment's core recommendation. These options include Socially Responsible Investing or even designing your own "Flexible Portfolio" using our preset building blocks. Across strategies, Betterment has over 300 portfolio allocation targets you can choose from.

Ultimately, we want Betterment users to feel the value of using technology to make their financial lives easier.
From supporting your spending needs with Checking to helping you set up goals and invest for them effectively, we at Betterment know the best way to help people do what's best for their money is to enable their full financial lives. Our biggest fans get this.
Use Checking, Cash Reserve, Investing and Retirement together to initiate strong goal-based savings habits, reinforce them with automation and easy transfers, and optimize the rest of the way. That's what the future of money management looks like. That's the magic we work to create at Betterment. If you haven't start with Betterment, get started.