Growing up, I watched my dad work as an electrical engineer. Every time I went with him on Take Your Child to Work Day, it became more and more clear that I wanted to be an engineer, too.
In 2012, I graduated from the University of Portland with a degree in computer science and promptly moved to the Bay Area. I got my first job at Intel, where I worked as a Scala developer. I stayed there for several years until last May, when I uprooted my life to New York for Betterment, and I haven't looked back since.
As an engineer, I not only love building products from the ground up, but I'm passionate about bringing awareness to diversity in tech, an important topic that has soared to the forefront of social justice issues.
People nationwide have chimed in on the conversation. Most recently, Isis Wenger, a San Francisco-based platform engineer, sparked the #ILookLikeAnEngineer campaign, a Twitter initiative designed to combat gender inequality in tech.
At Betterment, we're working on our own set of initiatives to drive the conversation. We've started an internal roundtable to voice our concerns about gender inequality in the workplace, we've sponsored and hosted Women in Tech meetups, and we're starting to collaborate with other companies to bring awareness to the issue.
Cassidy Williams, a software engineer at mobile payments company Venmo, recently came in to speak. She gave a talk on impostor syndrome, a psychological phenomenon in which people are unable to internalize their accomplishments.
The phenomenon, Williams said, is something that she has seen particularly among high-achieving women—where self-doubt becomes an obstacle for professional development. For example, they think they're 'frauds,' or unqualified for their jobs, regardless of their achievements. Williams' goal is to help women recognize the characteristic and empower them to overcome it.
Williams has been included as one of Glamour Magazine's 35 Women Under 35 Who Are Changing the Tech Industry and listed in the Innotribe Power Women in FinTech Index. As an engineer myself, I was excited to to speak with her after the event about coding, women in tech, and fintech trends.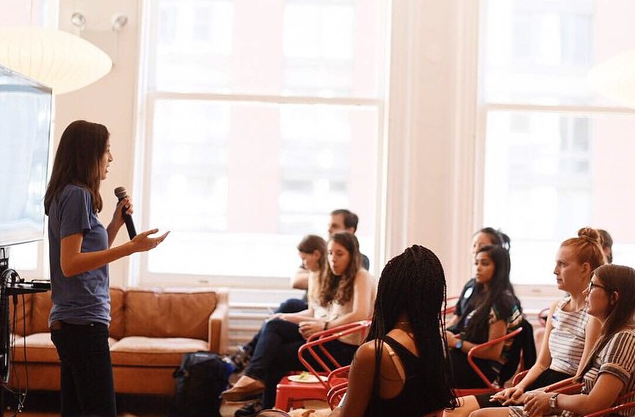 Cassidy Williams, Venmo engineer, said impostor syndrome tends to be more common in high-achieving women. Photo credit: Christine Meintjes
Abi: Can you speak about a time in your life where 'impostor syndrome' was limiting in your own career? How did you overcome that feeling?
Cassidy: For a while at work, I was very nervous that I was the least knowledgeable person in the room, and that I was going to get fired because of it. I avoided commenting on projects and making suggestions because I thought that my insight would just be dumb, and not necessary. But at one point (fairly recently, honestly), it just clicked that I knew what I was doing. Someone asked for my help on something, and then I discussed something with him, and suddenly I just felt so much more secure in my job.
Can you speak to some techniques that have personally proven effective for you in overcoming impostor syndrome?
Asking questions, definitely. It does make you feel vulnerable, but it keeps you moving forward. It's better to ask a question and move forward with your problem than it is to struggle over an answer.
As a fellow software engineer, I can personally attest to experiencing this phenomenon in tech, but I've also heard from friends and colleagues that it can be present in non-technical backgrounds, as well. What are some ways we can all work together to empower each other in overcoming imposter syndrome?
It's cliché, but just getting to know one another and sharing how you feel about certain situations at work is such a great way to empower yourself and empower others. It gets you both vulnerable, which helps you build a relationship that can lead to a stronger team overall.
Whose Twitter feed do you religiously follow?
InfoSec Taylor Swift. It's a joke feed, but they have some great tech and security points and articles shared there.
In a few anecdotes throughout your talk, you mentioned the importance of having mentors and role models. Who are your biggest inspirations in the industry?
Jennifer Arguello - I met Jennifer at the White House Tech Inclusion Summit back in 2013, where we hit it off talking about diversity in tech and her time with the Latino Startup Alliance. I made sure to keep in touch because I would be interning in the Bay Area, where she's located, and we've been chatting ever since.
Kelly Hoey - I met Kelly at a women in tech hackathon during my last summer as a student in 2013, and then she ended up being on my team on the British Airways UnGrounded Thinking hackathon. She and I both live in NYC now, and we see each other regularly at speaking engagements and chat over email about networking and inclusion.
Rane Johnson - I met Rane at the Grace Hopper Celebration for Women in Computing in 2011, and then again when I interned at Microsoft in 2012. She and I started emailing and video chatting each other during my senior year of college, when I started working with her on the Big Dream Documentary and the International Women's Hackathon at the USA Science and Engineering Festival.
Ruthe Farmer - I first met Ruthe back in 2010 during my senior year of high school when I won the Illinois NCWIT Aspirations Award. She and I have been talking with each other at events and conferences and meetups (and even just online) almost weekly since then about getting more girls into tech, working, and everything in between.
One of the things we chatted about after the talk was how empowering it is to have the resources and movements of our generation to bring more diversity to the tech industry. The solutions that come out of that awareness are game-changing. What are some specific ways in which companies can contribute to these movements and promote a healthier and more inclusive work culture?
Work with nonprofits: Groups like NCWIT, the YWCA, the Anita Borg Institute, the Scientista Foundation, and several others are so great for community outreach and company morale.
Educate everyone, not just women and minorities: When everyone is aware and discussing inclusion in the workplace, it builds and maintains a great company culture.
Form small groups: People are more open to talking closely with smaller groups than a large discussion roundtable. Building those small, tight-knit groups promotes relationships that can help the company over time.
It's a really exciting time to be a software engineer, especially in fintech. What do you think are the biggest trends of our time in this space?
Everyone's going mobile!
What behavioral and market shifts can we expect to see from fintech in the next five to 10 years?
I definitely think that even though cash is going nowhere fast, fewer and fewer people will ever need to make a trip to the bank again, and everything will be on our devices.
What genre of music do you listen to when you're coding?
I switch between 80s music, Broadway show tunes, Christian music, and classical music. Depends on my feelings about the problem I'm working on. ;)
IDE of choice?
Vim!
iOS or Android?
Too tough to call.