TABLE OF CONTENTS
---
Personalizing your overall investment strategy is critical to maximizing your money and achieving your financial goals. At Betterment, we aim to give you sound financial advice that we've personalized to how you plan to use your money. Then, we let you further personalize your portfolio by allowing you to adjust the risk level (your allocation) to suit your personal risk tolerance.
As with our entire approach to personalization, our portfolio recommendations are meant to be personalized for the aspects of your life we can accurately understand based on the information you give us. But for a variety of reasons, some investors—especially those with a large pool of assets—may want or need further personalized control over their portfolio. There may be personal nuances to your life that only you know, or perhaps you disagree with certain aspects of Betterment's evidence-based approach to portfolio construction.
Betterment will now enable you to modify your portfolio by adjusting the weights for each of the individual asset classes available in the Betterment Portfolio Strategy. In this paper, we'll explain which scenarios may lead to a valid of use of a Flexible Portfolio.
I. Following Betterment's Advice vs. Adjusting a Portfolio
Adjusting your portfolio allows you to express your views or circumstances, but it also means that you may be taking on additional risks.
Betterment's recommended portfolio strategy is exactly what it sounds like—our professional recommendation based on a great deal of evidence and testing. When you use a Flexible Portfolio, our role becomes similar to a personal fitness trainer who lets you decide your diet, while only supporting you in matters related to your exercise. We know that if you want to take control in an area of your plan, we can still help prevent bad behavior and keep you motivated to reach your goal.
We want investors to take advantage of the broader elements of Betterment's financial advice, even if you have reasons not to follow our exact portfolio recommendation. Small deviations from our recommended portfolio weights, although not advised, are likely okay in moderation.
That said, Betterment's default recommendation is right for most customers in most circumstances. But there may be some parts of your life that we don't know enough about, or that you simply have not told us that we cannot reasonably know without you telling us. Generally, we think of these conditions as either an:
Investor view: a personal opinion or preference towards a particular way of investing.
Investor circumstance: a concrete fact about your life.
Let's review some of these views and circumstances in more detail.
II. Adjusting Portfolios to Express Your Views
You may enjoy some Betterment features, like smart rebalancing and tax-loss harvesting, but you come to us with your own investment views you'd like to put into action. These views should be ones for which you have a strong conviction and are committed to for the long haul.
There are a number of reasons you may have investment views that differ from ours. For example, you may have a different methodology for estimating future asset returns and volatilities. Some views have more merit than others. That's why we provide live feedback within the app while you build your portfolio. This feedback comes in two main forms.
Overall Risk Assessment
This measure shows you how the overall volatility of the portfolio you designed compares to the overall volatility of the recommended Betterment portfolio. The recommended risk level is based on your stated goal and time horizon. Taking too much or too little risk can decrease the likelihood of achieving your goal.
goes a step further and provides guidance on not only how diversified you are, but also on whether you are positioned to seek high expected returns over time.
These two important measures will update as you adjust your portfolio to help you make good investment decisions.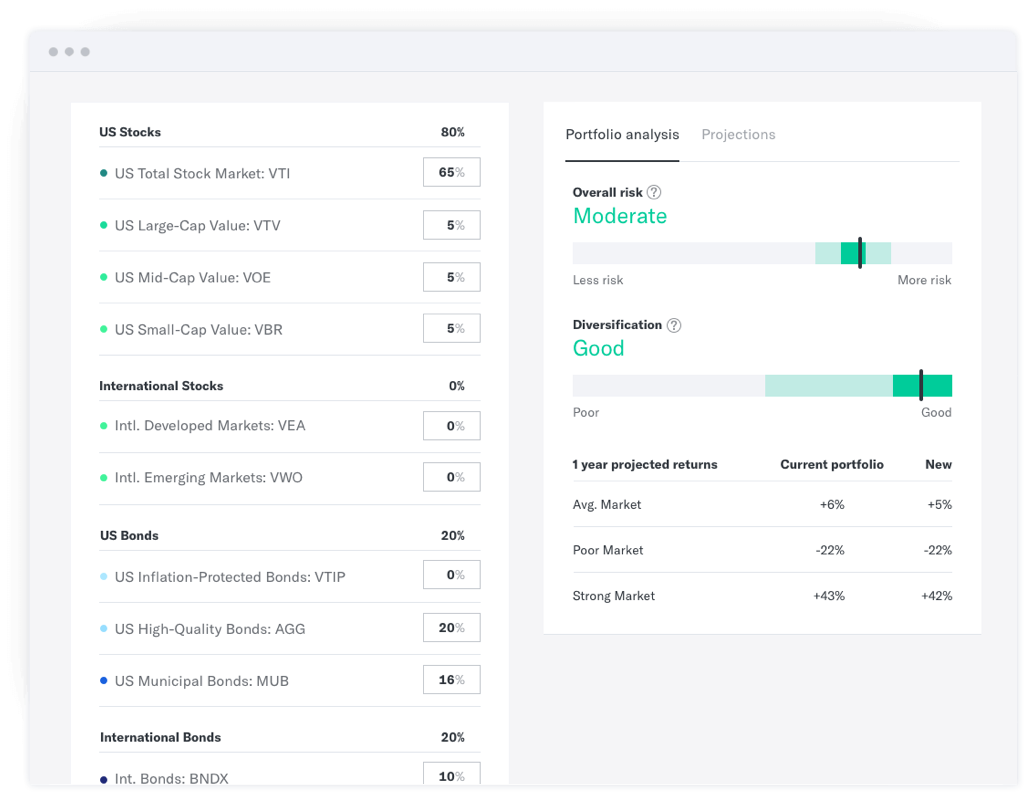 The figure above shows Betterment's application experience for providing overall risk and diversification feedback ratings.
Regardless of how you express your views, Betterment recommends any investor focus on following the fundamental investing principles of controlling your overall risk and being properly diversified.
III. Personalizing a Portfolio Based on Your Circumstances
Unlike investor views—which are subjective—circumstances tend to be fairly stable, objective reasons for modifying our recommended portfolio. The most common circumstance we see that warrants using a Flexible Portfolio is to factor in outside accounts and their holdings. By adjusting your Betterment portfolio to reflect the fact that you have holdings, you can make sure that your overall risk across all your investments is properly aligned to your goals.
How to Factor in Outside Accounts
It's not uncommon to have investment accounts at multiple companies. Remember that no portfolio is an island. Even if one portfolio looks good on its own, it may have overlapping investments with your other accounts. This may lead to you taking too much or too little risk.
The easiest way to fix this problem is to consolidate accounts, or at least make sure they are all invested similarly. But sometimes, this isn't possible. If you're still working, rolling over your current 401(k) isn't an option. And adjusting some accounts may cause unnecessary tax consequences. When situations like this arise, your best option may be to compensate within your Betterment account.
Let's say you own some U.S. stock investments that have greatly increased in value since the 2008 recession. Selling them will likely cause a huge tax bill, so instead you can reduce the U.S. stock exposure within your Betterment account.
Or maybe you have a ladder of individual US bonds that makes up the majority of your fixed income portfolio. You can reduce the US bond exposure within your Betterment account, while keeping international bonds to stay diversified.
A more advanced use case might be "asset location" or determining which assets to hold in which accounts based on the expected returns of the assets and the tax status of the accounts. We use this tax strategy across your long-term Betterment accounts, but you may want to also factor in your current 401(k).
In these situations, adjusting your Betterment portfolio based on your non-Betterment accounts can lead to a more personalized investment strategy.
Questions about Developing a Flexible Portfolio?
Investors have a variety of reasons for using a Flexible Portfolio. It may help to ensure you have an appropriate level of risk. It also may help you feel comfortable with your portfolio, which can help you stay committed to your investment strategy during times of market volatility.
In general, we recommend following Betterment's default advice. But making slight adjustments to reflect your views or circumstances is sometimes appropriate as long as you keep in mind the overall risk and diversification of your portfolio. That is why we give you feedback on those two measures when you design a Flexible Portfolio.
Flexible portfolios is available for new or existing accounts. However, making any allocation changes to existing taxable accounts may have tax consequences. As with any allocation change for any portfolio strategy, our Tax Impact Preview can help you to evaluate the consequences of making the change.