1. Your employees need help saving for retirement
In these uncertain times, people across the nation are worried about their health—and their finances. Now more than ever, your employees need help making well-informed decisions today to prepare for a brighter tomorrow.
33% distracted by finances while at work1
60% say they won't retire by 652
20% of younger workers save less than $100 monthly—including their 401(k)3
2. The SECURE Act offers you major tax incentives
The Setting Every Community Up for Retirement Enhancement Act of 2019 (the SECURE Act) is a game-changer for employers. In fact, it's never been more cost-effective to start a 401(k) plan.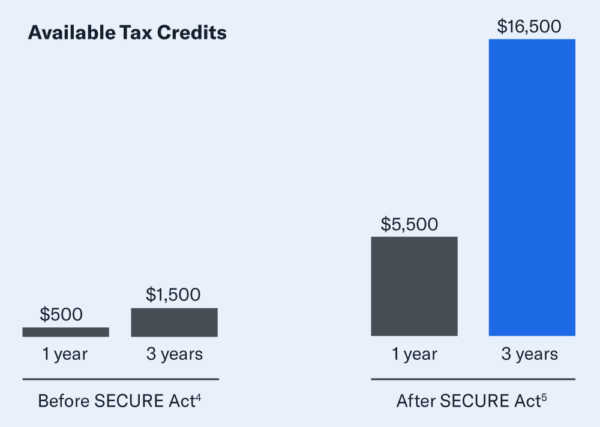 Get up to $16,500 in tax credits!
3. A Betterment 401(k) plan is easy to get up and running and easy to maintain—for a fraction of the cost of most providers
As little as 1 hour

Our quick onboarding process takes under an hour—even less if you're starting a new plan.

Payroll integrations

Betterment is integrated with some of the most commonly used payroll providers to help streamline your administrative processes.

$125/mo base fee + $4/ participant/month
With more than $19 billion in assets and more than half a million investors, Betterment can help your employees do what's best with their money so they can live better. Ready for a better 401(k) plan? Talk to Betterment today.
1 2019 PWC Financial Wellness Survey
2 Americans Are Clueless When It Comes to Personal Finance, New York Post, Jan. 18, 2018
3 Employee Retirement and Preparedness: Millennials and Gen Z, Betterment for Business, 2019
4 Through the Small Employer Automatic Enrollment Credit, you may be able to claim a tax credit of $500 for each of the first three years an automatic enrollment feature is active.
5 As part of the SECURE Act, effective January 1, 2020, you may be able to claim additional tax credits for the first three years of a plan of 50% of the cost to establish and administer a plan, up to the greater of a) $500; or b) the lesser of $250 per eligible non-highly compensated employee eligible for the plan and $5,000.