Offering employees a 401(k) plan is a great first step toward helping them build a better future. But the next step is to make sure they're taking advantage of the plan. Wish your 401(k) employee participation rates were higher? You're not alone.
According to the U.S. Bureau of Labor Statistics, in March 2019, 77% of workers in private industry with access to a retirement plan were taking advantage of it. However, this rate varies dramatically by employee characteristics, industry, income level, and company size. In particular, lower wage workers (54%) and companies with fewer than 100 employees (71%) had lower 401(k) participation rates.
How do your employee participation rates compare to these average rates? Take a closer look at the data at the U.S. Bureau of Labor Statistics.
Why does 401(k) participation matter?
For business owners, running a successful 401(k) plan is a significant investment of time and money. But if current (and prospective) employees appreciate the value of their retirement benefits, it's well worth the investment. In fact, according to a Betterment for Business survey, 67% of plan participants said that a good 401(k) was very important or important when evaluating a job offer. However, if employees aren't participating in the plan, this great benefit can fall flat.
Plus, many studies have shown that personal financial stress negatively impacts employees' performance, productivity, and ability to focus. This can have a damaging impact on business output, lead to higher employee turnover, and increase costs associated with hiring and retention. By encouraging employees to make the most of the retirement savings plan, you can help reduce their financial stress and allow them to focus on what matters most.
So how do you turn things around and boost employee participation? Consider these 6 simple ways to boost your 401(k) plan participation rates:
1. Take the easy way out—Yup, that's right—add automatic enrollment to your 401(k) plan and see your participation rates skyrocket! It's a great way to help your employees save for their future without lifting a finger. (And pick a higher initial deferral rate—such as 5% or 6%—to help employees save more.) There are three different types of auto-enrollment arrangements:
Basic Automatic Contribution Arrangement (ACA) When employees become eligible to participate in the 401(k) plan, they will be automatically enrolled at preset contribution rates. Prior to being automatically enrolled, employees have the opportunity to opt out or change their contribution rates.
Eligible Automatic Contribution Arrangement (EACA) EACA is similar to ACA, but the main difference is that employees may request a refund of their deferrals within the first 90 days.
Qualified Automatic Contribution Arrangement (QACA) QACA has basic automatic enrollment features. However, it also requires both an annual employer contribution and an increase in the employee contribution rate for each year the employee participates. For this reason, a QACA 401(k) plan is exempt from most annual compliance testing.
2. Try again—If employees opt out of automatic enrollment, that's it, right? Well, not quite. According to the Plan Sponsor Council of America, in 2018, nearly 8% of plans annually re-enrolled employees who had previously opted out (that's up from 4% that did so in 2013). Want to learn more about automatic enrollment? Read this article.
3. Give away "free money"—A 401(k) match, safe harbor, or profit sharing contribution offers a way to reward your employees and incentivize them to save for their future through your 401(k) plan. A matching contribution may not only increase your participation rate, but may help employees contribute enough to maximize the match (so think hard about how to structure that match!).
4. Eliminate or reduce the waiting period—Do you require employees to wait six months or longer before they join the 401(k) plan? Consider eliminating or shortening the waiting period. This way, you can promote the 401(k) plan during new employee orientation meetings and offer them the opportunity to sign up right away.
5. Offer employees the advice and guidance they need—The decision to invest in your 401(k) plan is a lot less intimidating if employees know they're going to have help. Betterment offers personalized guidance to help employees make strides toward their long- and short-term goals ranging from paying down debt to saving for retirement.
6. Let employees know they can access their money in an emergency—If your employees are nervous about investing in the plan because they won't have access to their money, consider adding loan and hardship withdrawal provisions. While taxes and penalties will hopefully discourage employees from using the funds unless they really have to, just knowing these features exist may provide the comfort some individuals need to participate.
7. Make the 401(k) plan participation rate known—Make the 401(k) plan participation rate part of your internal reports to help promote engagement. Consider assigning goals to encourage management (including those beyond human resources) to assist in boosting those numbers.
8. Communicate (and communicate some more)—Get the word out about your 401(k) plan. By promoting the benefits of the plan, you'll likely be able to boost your plan participation rates (and even increase contributions). Consider showing the impact of plan contributions with compelling savings rate charts like this one: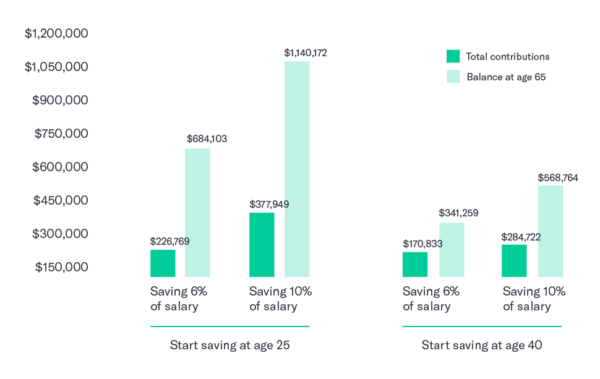 When it comes to selling the benefits of the plan, be sure to highlight things like contribution limits, the impact on income taxes (and how they'll likely pay fewer tax dollars), and more.
And find creative ways to encourage participation: talk up your own 401(k) plan participation as an example of what to do and what got you started. Consider asking respected and/or more tenured employees to talk about the importance of starting early.
Betterment can help
If you're struggling with participation rates, take a hard look at your 401(k) plan. It may be time for a change. A Betterment 401(k) offers:
More for your money—Our fees are well below the industry average, and we always tell you what they are so there are no surprises for you or your employees. Plus, lower fees mean that more money is staying invested for your employees.
An easy-to-use platform—Our intuitive platform and goals-based approach help employees see their entire financial picture, with the ability to link outside accounts.
Personalization for your employees—Our tech-forward solution takes into account employees' age, savings, and retirement goals to create a personalized plan to help them save for the retirement they envision.
A Betterment 401(k) plan can be better for your small business—and better for your employees.