For over 20 years, WatchGuard has been a pioneer in developing cutting-edge cybersecurity technology for small to mid-sized businesses around the globe and delivering it as an easy-to-deploy and easy-to-manage solution. So it was no coincidence that the company sought to deliver retirement security to its employees packaged in a user-friendly solution.
WatchGuard first introduced a 401(k) plan in 1998, and prior to choosing a new provider, the company had more than 355 employees and over $27 million in plan assets. The head of HR felt it was imperative to turn the 19-year old plan into an effective part of WatchGuard's employee benefits package.
Not only did the head of HR want to make the plan easier to participate in, but he also wanted to encourage better investing behavior for his employees. The company's internal evaluation revealed three major opportunities:
WatchGuard could encourage more employees to save: The plan participation rate of 64%1 was suboptimal, especially given that the employee base is comprised of well-educated technologists.
Participants could stand to save more: Of those participating in the plan, the median deferral rate was 7.5%, which only marginally exceeds the national average of 6-7%.2 More importantly, the head of HR wanted WatchGuard to aim higher than the national average.
Participants could likely reach better investing behavior: Navigating a 22 fund line-up with little to no financial advice, 60.3% of employee accounts were invested at improper risk levels given their personal demographics.3
As you'll see in this case study, WatchGuard effectively improved on all three fronts, leading to better retirement security for its employees. After searching for a 401(k) provider offering managed accounts that operate as a qualified diversified investment alternative (QDIA), re-enrolling all non-participating employees, and adding automatic enrollment for new hires, the head of HR supervised the following results for WatchGuard's new 401(k) plan. The new 401(k) plan started on February 28, 2017, and the results were analyzed on August 23, 2017. The numbers below were provided by the plan based on their transition.
More employees saving: A 51.4% increase in the number of employees saving for retirement, resulting in a 92.9% participation rate and $42,199,741 in potential retirement wealth created within the plan.
Employees saving more: An increase in median deferral rate to 10% among employees who were already contributing and $8,193,044 in potential retirement wealth created.
Better investing behavior: An increase from 40% to 91% of employees with appropriate risk levels4—helping participants improve their investing behavior and generating $5,287,892 more in potential retirement wealth created.
In the following sections, we'll describe in detail how WatchGuard's new 401(k) plan achieved such positive results.
Re-enrollment helped more employees save
Behavioral nudges are effective in encouraging employees to take advantage of the financial benefits of a 401(k).5
Prior to developing the new plan, Watchguard reported that only 64% of employees contributed to their 401(k) plan. As part of the transition to a new provider in 2017, the company re-enrolled all non-participating employees and added automatic enrollment for new hires, ensuring that all employees were equipped to contribute to their 401(k) account (unless they intentionally chose to opt out).
After re-enrollment, 92.9% of employees were contributing to the plan, a 51.4% increase in participation across the well-educated, technologist employee base.
This meant that 89 employees who were not previously saving for retirement using their 401(k) were now making regular contributions to their plan. Forward-looking analysis6 of these 89 employees' savings predicted that a total of $42,199,741 of new potential wealth would be created in aggregate within the plan.
Re-enrollment and a company match encouraged employees to save more
WatchGuard saw a significant opportunity to increase the average employee deferral rate, meaning that more of each employee's paycheck would be allocated to the 401(k) plan. Since WatchGuard's plan offered a generous company match, the head of HR felt strongly that some employees were losing out on the full benefit of having a 401(k) plan.
Out of 179 employees who were saving before the plan switch and also saving after, 32 participants elected a higher contribution rate. Among this group, the median deferral rate was 7.5% prior to implementing the new plan, and afterward, the median rate increased by 33.3% to a rate of 10%.
What drove this group of people to increase their deferral rate? Watchguard expected that the aggressive company match of 25% on contributions up to $10,000 was one motivator, but since the company match pre-dated the new plan, the other likely factor was the company's choice to implement re-enrollment for all employees saving less than 6% in the previous plan. When participants face re-enrollment, they are primed to reconsider their current retirement savings and can make a positive choice to defer more to their 401(k).
We can also show the impact of higher deferral rates on the aggregate effect on WatchGuard's plan. Across all 32 employees who increased their deferral rate after re-enrolling in the new plan, a total of $8,193,044 million in potential wealth was expected to be generated.6
Using a managed account as a QDIA developed better investing behavior
When evaluating 401(k) providers, the head of HR was particularly concerned about the confusion new participants face when navigating a conventional 22-fund line-up within a 401(k) plan.7 In his view, there was already enough stress in just starting a new job; employees should not have to make important investing selections without guidance.
In consulting financial experts, WatchGuard's head of HR learned that more than 60% of participant accounts were improperly allocated across the funds available,8 given their age and the remainder of time until retirement—assuming a retirement age of 65.
When transitioning to a new provider, WatchGuard introduced a managed account for each employee that qualifies as a QDIA. This approach defaults each employee into an age-appropriate, globally diversified portfolio.
After implementation, WatchGuard saw that the vast majority of employees seemed to welcome and adhere to personalized portfolio advice over selecting their own investments. Prior to the new plan, only 40% of participants had their savings allocated with appropriate exposure to risk. After introducing a QDIA in the form of managed accounts, 91% of WatchGuard's participants relied on investment advice that properly allocated their savings to an appropriate level of risk.
Before: Employee 401(k) Account Deviation from Target Allocation3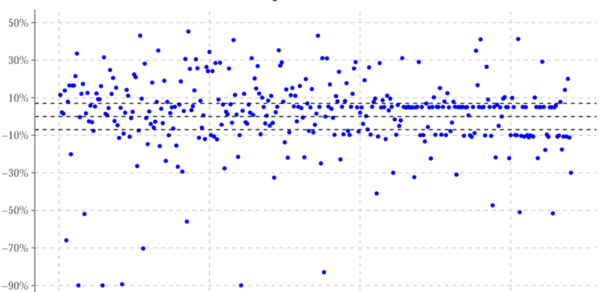 After: Employee 401(k) Account Deviation from Target Allocation3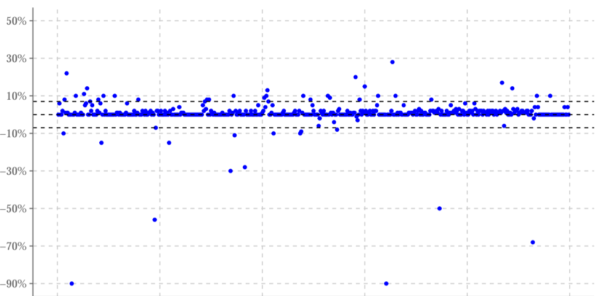 Companies with an authentic concern for employee retirement success and a desire to clearly position their 401(k) plan as a valuable benefit to employees should aim to execute a 401(k) plan with as much as thoughtfulness as WatchGuard did.
The key to WatchGuard's positive results was the head of HR's leadership in HR and his focus on developing a truly employee-centric 401(k) plan. His approach to identifying three areas of focus enabled the company to set clear criteria for envisioning a future 401(k) plan.
As seen above, the results are impressive. More employees started saving. The rate of savings increased, and with QDIA in the form of a managed account, each employee had the advice they needed to help maximize their money.
With a clear focus on employees and decisive execution, WatchGuard made its employees' retirement future more secure and the company's plan a differentiating benefit.
Citations
| | |
| --- | --- |
| 1 | Based on a common sample of individuals employed by WatchGuard before and after implementation. Out of 282 employees at WatchGuard prior to February 28, 2017, 179 employees were participating in the 401(k) plan. |
| 2 | Based on the Deloitte 2017 Defined Contribution Benchmarking Survey. www2.deloitte.com/us/en/pages/human-capital/articles/annual-defined-contribution-benchmarking-survey.html |
| 3 | Analysis is reflective of employee accounts, not individual participants. Some participants could have multiple accounts, and some accounts may be left in the plan from past employees. Improper risk levels defined as ±7% from Betterment's stock allocation advice specific to the individual's age. |
| 4 | Appropriate risk is based upon Betterment's stock allocation advice for the employees' individual ages, with the assumed retirement age of 65. |
| 5 | Published examples include Save for Tomorrow: www.ted.com/talks/shlomo_benartzi_saving_more_tomorrow |
| 6 | Forward-looking analysis for expected returns and total wealth created in WatchGuard's plan is based on a Betterment-generated return projection. This assumes actual stock allocations by participant as of Aug. 28, 2017, with annual return and volatility assumptions. The analysis includes reinvestment of dividends. The impact of trading and other income is not considered. Actual results may differ significantly from the value shown. The analysis is hypothetical in nature, does not represent actual returns attained, and does not take into account any possible economic or market conditions. This hypothetical illustration does not reflect the potential for loss or gain. This comparison uses WatchGuard's specific fees paid to Betterment for Business. |
| 7 | WatchGuard's previous 401(k) plan had 22 funds for employees to choose from. Other plans may have more or less funds, but fund selection is a convention of most non-QDIA plans. |
| 8 | 88 accounts in the plan had stock allocations that fell below Betterment for Business' stock allocation advice range (underinvested in stocks). Seven plan participants who were near or at retirement (64-67 years of age) had 90% stock allocations or higher, 34 to 45% higher than Betterment for Business' stock allocation advice. In total 205 accounts (60.3%) were considered improperly allocated according to the advisor. |
Disclaimer
This study was analyzed based on results in 2017 and may not apply to all clients, as past performance is not indicative of future performance.