Since Betterment launched in 2010, our mission has been to improve the way people save and invest through smarter technology.
For individual investors, Betterment offers automated investing and personalized advice based on specific goals, such as retirement, college savings, or building wealth. For financial advisors, Betterment for Advisors provides an automated service so that advisors can increase efficiency and spend more time building relationships with their clients. Betterment for Business helps people save and invest in workplace 401(k)s.
While the number of U.S. adults enrolled in 401(k) plans has grown quickly, roughly half of Americans don't work for an employer that sponsors a retirement savings plan. The main reason: The plans are too expensive and too time-consuming for their employers to implement.
People who do have employer-sponsored plans don't always have it much better. No matter how little the funds cost, typical plans often offer little guidance, can be hard to navigate, and may not be personalized to the employee's circumstances and goals. Meanwhile, employers want to manage the costs, risks and administrative burden of providing a plan.
We wanted something better. So we built it.
Betterment for Business combines the power of efficient technology with personalized advice so that employers can provide a benefit that's truly a benefit, and employees can know that they're invested correctly for retirement. The era of expensive, impersonal, unguided retirement saving is over.
The Traditional 401(k) Landscape: Confusing and Expensive
Even before we started Betterment for Business, we knew that the system was broken. But we didn't realize how bad it was until we were searching for our own plan.
High-Cost and Tedious for Employers
In 2014, we set out to find the best 401(k) plan for Betterment employees. We wanted to offer this benefit to help our team save for retirement and to help us attract and retain good talent; in a recent survey of Betterment 401(k) participants, 67% said that a good 401(k) was very important or important in their evaluation of a job offer.
But as we explored the 401(k) landscape, we were faced with a myriad of confusing options that included mountains of paperwork and ongoing administrative and compliance duties. While we were lucky to be in the business of investing and have experts to rely on, for the average employer, setting up a 401(k) for the first time can be akin to navigating the Wild West.
And then there were the fees. As we talked to our fellow employers who were in a similar position, it seemed like not one person could answer what I had at one point thought was a simple question: "How much does your 401(k) cost you and your employees?"
As it turns out, it's not that simple.
Why are Most 401(k) Plans So Expensive?
Most people might guess that the way 401(k) fee structure works is:
The employer pays the fee to a plan provider to administer a 401(k).
The employee pays fund fees, which are just the costs of the fund manager.
But it turns out that most of the time, 401(k) fees are much more complicated than that. The graphic below from a Deloitte study breaks down the service providers involved in generating plan costs.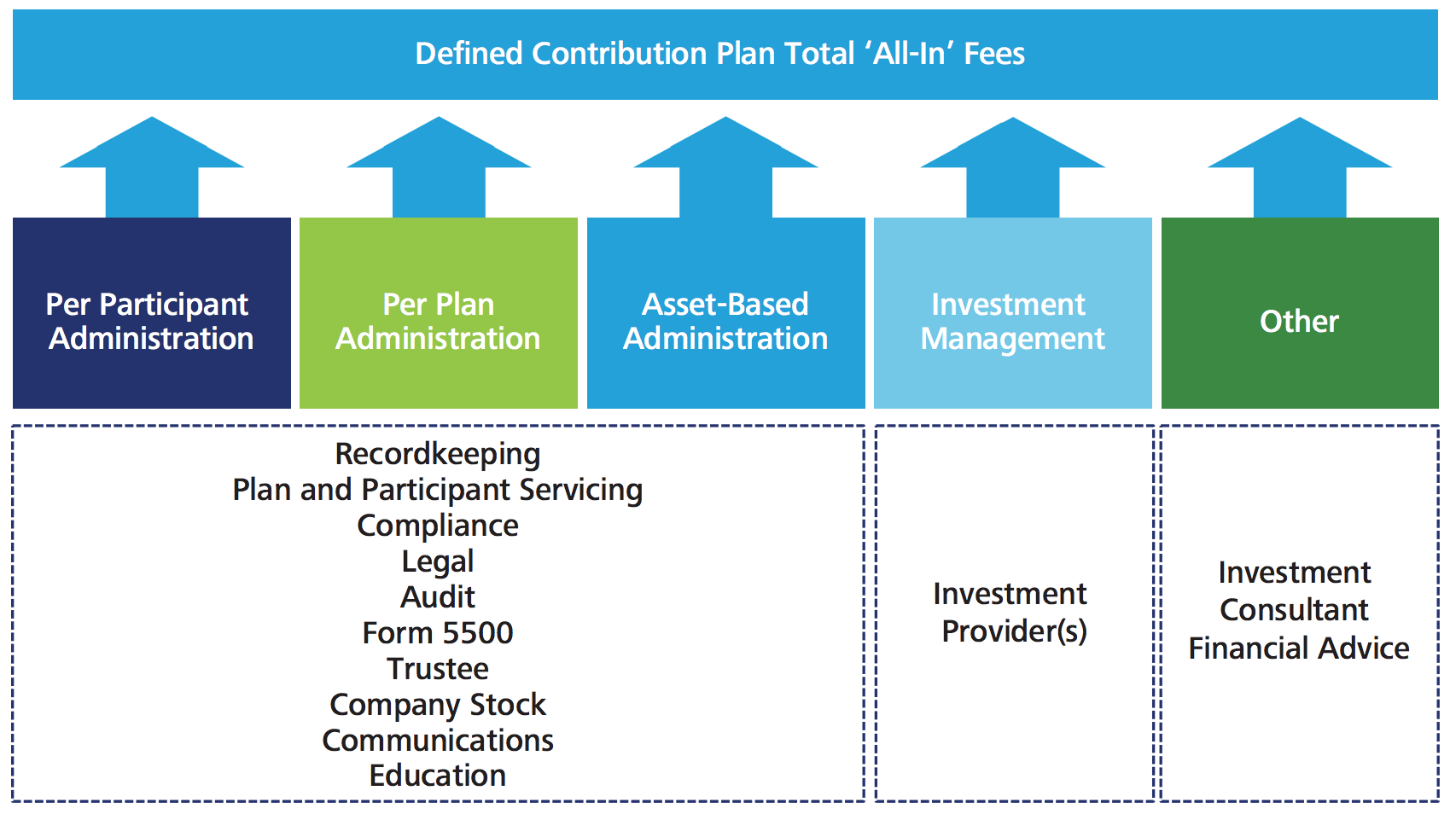 There are actually quite a few moving parts, most of which are done by hidden third parties, all of whom have to integrate with each other. All that coordination and friction drives up costs, not to mention the potential for errors in plan administration.
Why do all these middlemen exist? And what exactly do they do? Most of them exist as a result of the ever-changing workplace retirement landscape that has developed over the past several decades. Similar to the healthcare industry, many providers have legacy processes and technology that would be unlikely to exist if you were designing it from scratch today.
It wasn't all that long ago that 401(k)s didn't even exist. And in fact, they came about almost by accident in 1978 when Congress passed a provision that allowed employees to avoid being taxed on deferred compensation. In 1980, a benefits consultant relied on this provision to create a retirement plan that enabled employees to save on taxes, and in 1981, the IRS allowed 401(k)s to be funded via payroll deduction, leading to the phenomenal growth in 401(k) plans nationwide.
As the 401(k) market grew in the 1990s, competition for services increased. Plan sponsors could bid for the best recordkeeper, the best investment manager, the best participant communications firm, and any other third-party service they wanted. All of this competition led to an increase in the number of financial services companies entering the 401(k) marketplace.
Meanwhile, new regulations kept coming: 404(c), the Economic Growth and Tax Relief Reconciliation Act of 2001, Sarbanes-Oxley Act of 2002, and The Pension Protection Act of 2006, among others. With each new regulation came an additional set of compliance requirements, and more companies sought to provide solutions to employers to help meet the increasing demands. But more providers only continued to complicate the picture, adding a web of specialized services, each charging a fee that increases 401(k) costs and results in lower investment returns for the plan participant.
Unfortunately, retirement saving isn't optional for most Americans. And one of the best ways to save is in a tax-deferred account. But with so much compliance regulation and so many players involved in the process, the industry has made most 401(k)s more expensive than they have to be.
Hidden Fees
These costs are often passed to the employee through fund fees, and in fact, mutual fund pricing structures incorporate non-investment fees that can be used to pay for other types of expenses. Because they are embedded in mutual fund expense ratios, they may not be not explicit, thereby making it difficult for employees and employers to know exactly how much they're paying. In other words, most mutual funds in 401(k) plans contain hidden fees.
At Betterment, we believe in transparency. Our use of exchange-traded funds (ETFs) means there are no hidden fees, so you and your employees are able to know how much you're paying.
How Do These Fees Affect Employees?
Differences between low-cost and high-cost investments can have a significant impact on an individual's standard of living in retirement. In fact, according to Nobel Prize winner William Sharpe, "a person saving for retirement who chooses low-cost investments could have a standard of living throughout retirement more than 20% higher than that of a comparable investor in high-cost investments."
This means that a 401(k) plan is less of an "employee benefit" if it means employees are paying high fees.
In another study, a two-earner household at the median income level and paying typical 401(k) fees loses 30% of their savings, or $154,794, to fees over the course of 40 years of retirement savings. A higher-income household can expect to pay an even steeper price.
Employees Need More Guidance
Fees are not the only downside of many existing 401(k) plans; even with low-fee funds, the typical experience can still be sub-par and difficult to navigate. When employees enroll in a 401(k) plan, they often ask questions like, "Which funds should I pick?" "Should I roll over previous 401(k) assets to this new plan or an IRA?" "Should I save in a Roth or Traditional account?" And perhaps most importantly, "Am I saving the right amount?"
Solid retirement readiness comes from saving in the right types of accounts, at the right rate, across your household, and maximizing employer matches. It can be amplified by embedding tax rate diversification, making the most of how Roth and Traditional accounts are taxed now, versus in retirement. We realized that funds alone, no matter how low cost they were, would not entirely solve the problem that employees were not receiving the guidance and the advice they deserved.
Holistic, and Personalized Advice for Every Employee
With Betterment for Business, employees can use our built-in retirement planning advice to get personalized guidance on their retirement goals from a completely holistic view. Combining your employees' 401(k)s—both Roth and Traditional—IRAs, and any taxable retirement savings, our guidance tools tell employees how much they should save to have a comfortable retirement based on a number of factors:
Whether they're married
Where they live
Where they plan to retire
What their income is like
What their current savings are with other providers
Even their spouse's holdings.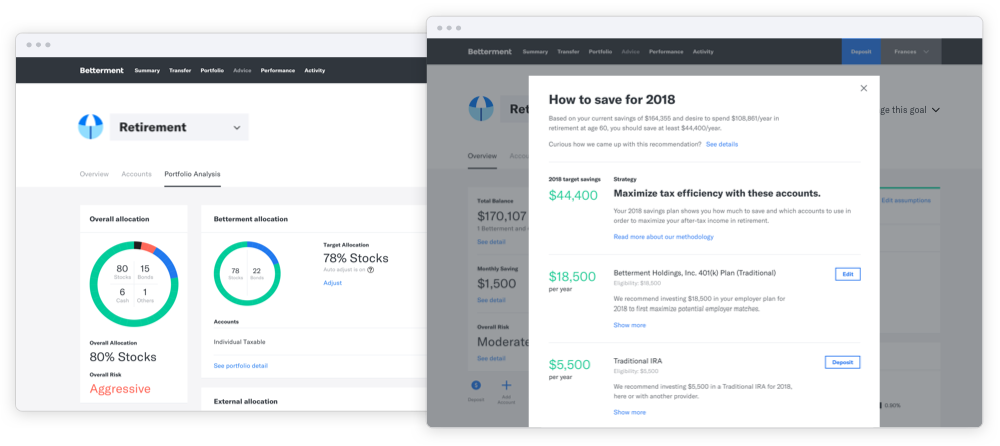 By capturing all of these elements of life to help plan for life's major goal of retirement, our guidance can help employees get on track with their savings and plan what accounts they may need to do so. Underneath the surface, the advice informs which specific portfolio we recommend to participants and how that portfolio allocation adjusts over time to the appropriate risk level. Remember, the tools are automatically built into every employee's experience using the Betterment 401(k).
---
CITATIONS
1 https://www.businesswire.com/news/home/20150826005265/en/Schwab-Survey-Finds-People-Prioritize-Wealth-Health#.VeeQyNNVikq
2 https://www.ici.org/pdf/rpt11dc401kfee_study.pdf
3 https://www.ici.org/pdf/ppr15dcplanprofile401k.pdf
4 https://www.demos.org/press-release/new-report-hidden-excessive-401k-fees-cost-retirees-155000