Smart portfolio management tools
A range of advisor-driven and pre-built portfolio solutions, plus automated tools to manage client portfolios effectively and efficiently.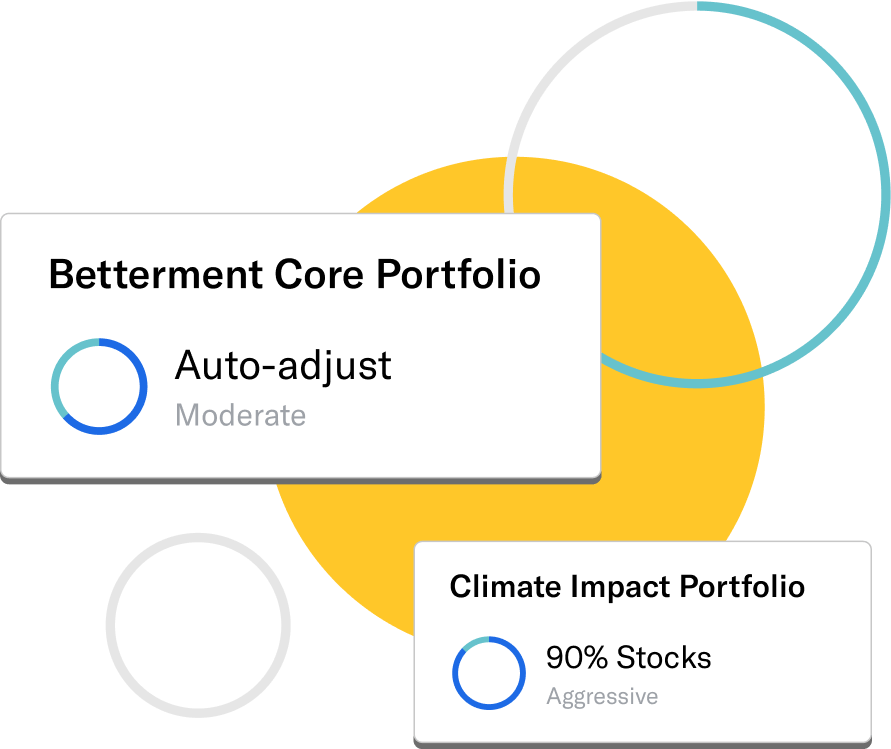 Advisor-driven

Custom model portfolios

Build your own custom model portfolios of ETFs while leveraging all of Betterment's sophisticated portfolio management features.

We'll work with you to incorporate your firm's capital market assumptions into our planning, advice, and projection features for a seamless client experience.
Automated rebalancing
Tax Loss Harvesting+ and asset location
Tax-optimized sales for withdrawals
Glide path rebalancing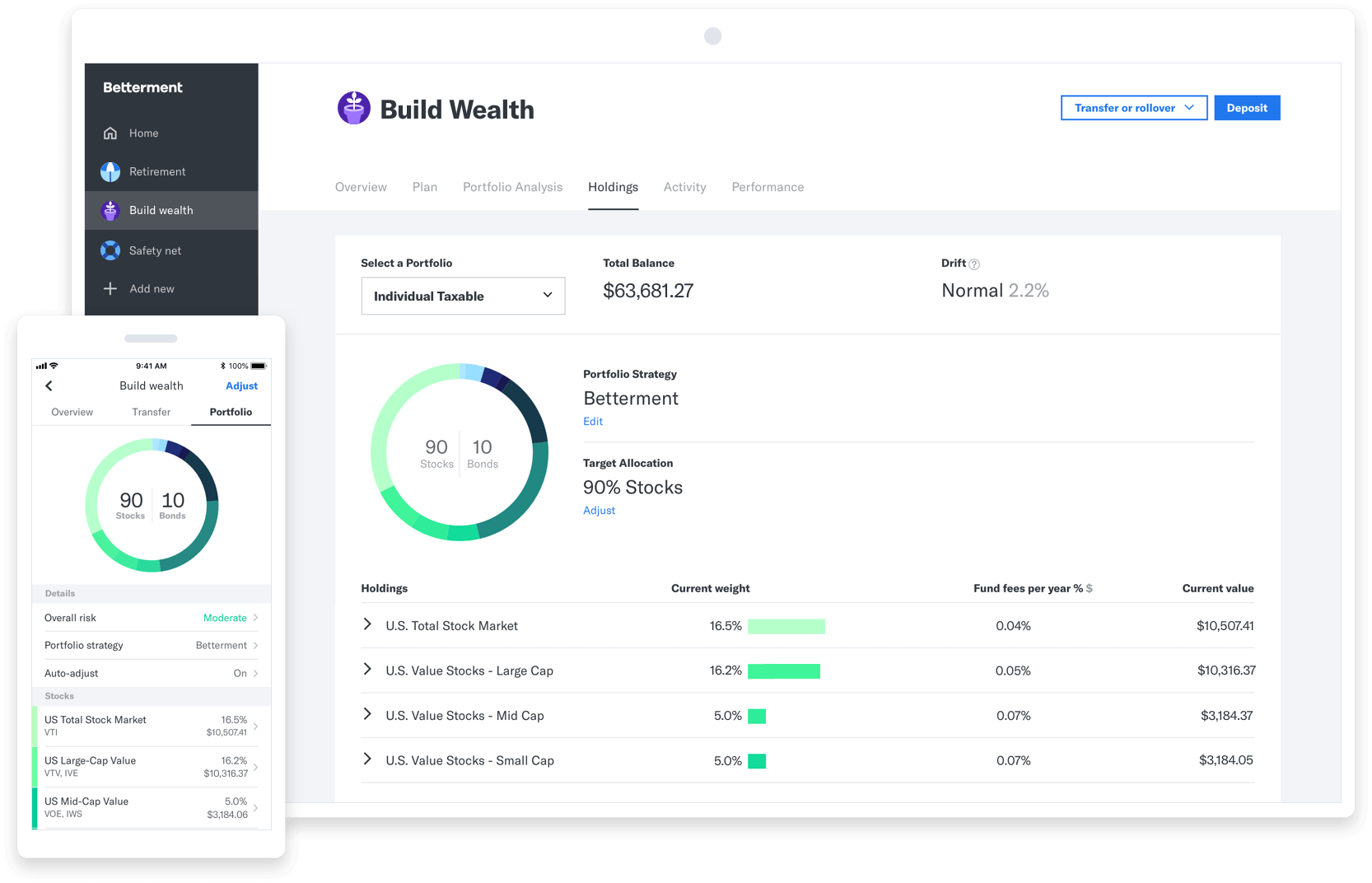 Pre-built portfolio solutions:
Socially Responsible Investing

We offer three diversified, low-cost SRI portfolios for clients who want their investments to reflect their values.

Broad Impact portfolio offers exposure to the three different dimensions of social responsibility: environmental, social, and governmental.
Climate Impact portfolio invests in companies that promote green projects or have lower carbon emissions and avoids companies with fossil-fuel reserves.
Social Impact portfolio includes a focus on companies that promote social equity and minority empowerment.

Goldman Sachs Smart Beta

Diversified, factor-driven portfolio strategy targeting outperformance over a conventional market-cap strategy.

Provides access to time-tested, institutional, multi-asset expertise delivered through a liquid basket of ETFs.
Designed to provide exposure to drivers of investment returns beyond market cap, with different risks.
Seeks to maintain tax efficiency and low cost similar to traditional, market cap-weighted strategies.

Vanguard portfolio (CRSP Series)

Long-term strategic model portfolios seeking total return through broad-market global equity and investment-grade fixed income exposures. Seeks to dampen return variability by closely tracking selected benchmarks.

The CRSP series provides broad diversification, holding 10 U.S. and international equity and fixed income Vanguard ETFs.
Low-cost and tax-efficient portfolio solution.

BlackRock Target Income

100% bond portfolio with different income yields. Helps insulate against the ups and downs of the stock market.

The portfolios are designed to generate income at levels above the broad bond benchmark that increase with the risk tolerance.
The most conservative portfolio aims to take less risk than the benchmark (Bloomberg Barclays Aggregate), and the most aggressive portfolio actively seeks income return by taking on higher risk.
All portfolios seek to actively manage duration and credit risk, selecting between funds and ETFs primarily with exposures among (but not limited to) Treasuries, credit, high yield, hard currency EM debt and mortgages.

Innovative Technology

Tap into high-growth potential technology companies as part of a well-diversified portfolio with increased exposure to risk. This strategy uses the Core portfolio as its foundation, with increased investment in innovative companies.

Broad exposure to future-focused economies in one portfolio
Regularly refreshes by investing in new early-stage innovators
More than just portfolios.
Advisors also value our automated money management tools that can make a real difference to investment outcomes.