Historically, our mobile app has been a light companion to the full web browser experience. Four years ago, we originally built the app around the basic features we thought users needed quick access to.
It turns out that smartphones are here to stay. Over the years, our customers have made it clear that they want to be able to do more on the mobile app.
Our mobile experience is not where we want it to be, and that must change if we're to provide a more convenient, consistent experience that we hope will become the hub of your everyday financial life. Jon Stein, Betterment's CEO
We're excited to announce that all the feedback we've received—and yes, we do read the mean comments—has compelled us to completely redesign both our iOS and Android apps.
This is not just a surface makeover. In the last six months, we've made leaps and bounds of progress towards turning features that were previously only available on the web browser into accessible features for the mobile app.
We're your financial partner, and we've refined a mobile app experience that we believe can now be the hub for your financial life.
We hope you like it.
Here's what we've done so far in 2019.
1. We created a new home page that focuses on you—not just on your investments.
While it's convenient to quickly check on how your investments are performing, it could be equally stressful in times of market volatility. The old mobile app's focus on just one summarized performance number wasn't working because it wasn't representative of the big picture.
The new mobile app home page has been specifically designed to encourage you to think about the big picture—your goals, your progress, and your future—but still allows you to quickly check in if you need to.
2. Any type of new goal can easily be added to your account.
We offer multiple types of personalized investment goals that help you save for any of your real life financial goals or life events. Previously, our mobile app only allowed for a small handful of those goals to be created. For the rest, you would've had to head to the web browser.
Not anymore. Life happens fast, and now you can open any new financial goal on the spot without waiting.
3. You'll save time by moving money with less clicks.
We admit that we heard a few complaints that it was hard to figure out how to deposit or withdraw from your goals after logging in. To fix this, we added easy-to-access action buttons so you'll quickly see how to move money in and out of your account.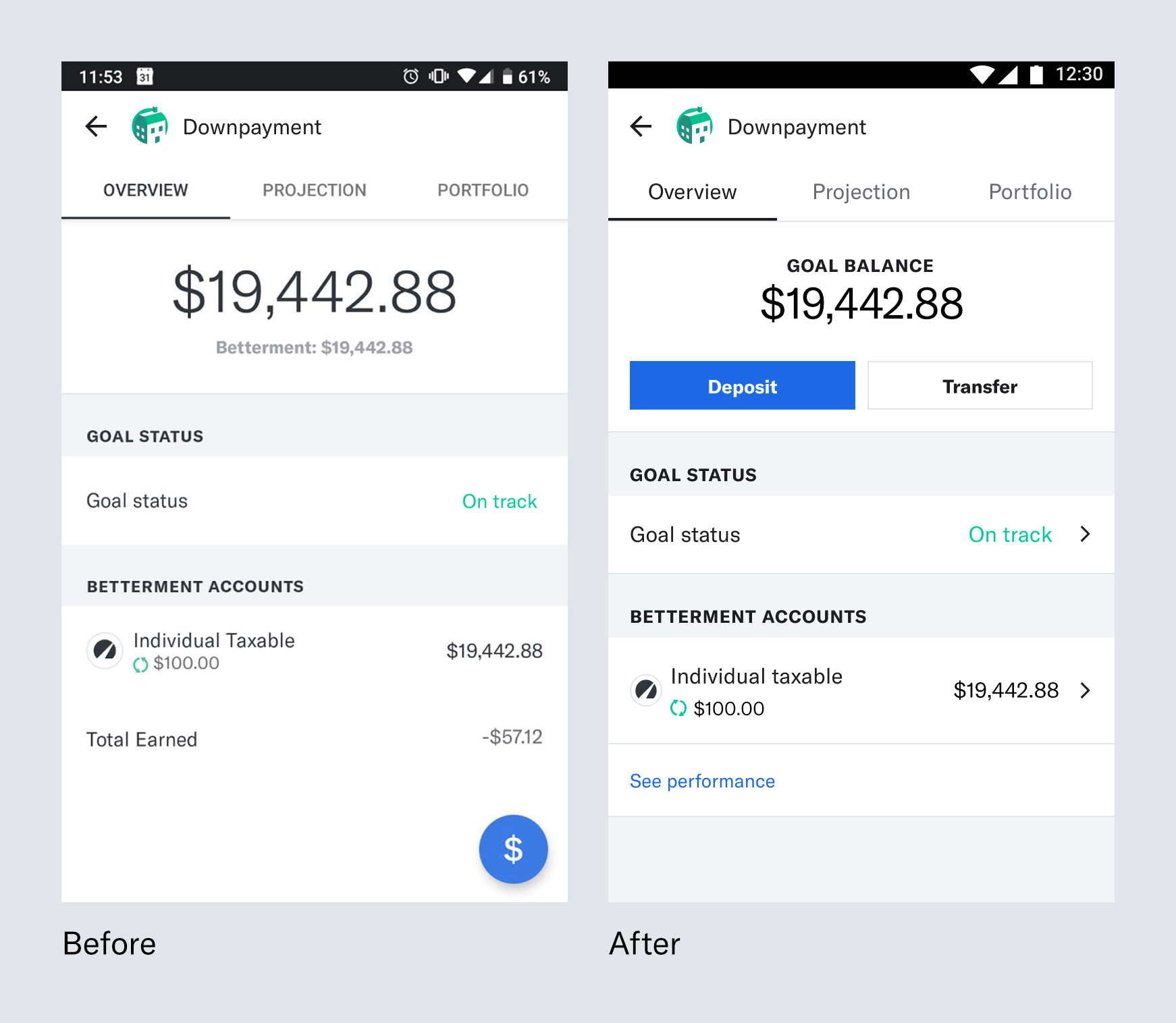 4. You're able to dive deeper into your performance data.
Investment performance information is complicated, to say the least. Markets are constantly fluctuating, and there are many ways you can measure returns.
On a web browser, you've always had access to performance information alongside visualizations, so that you could fully understand not only how your investments performed, but also how your behavior may have influenced it.
A majority of that same experience is now available to see right from your mobile app as well. Now that it's at your fingertips, just be careful that you don't fall into the habit of checking your performance too often.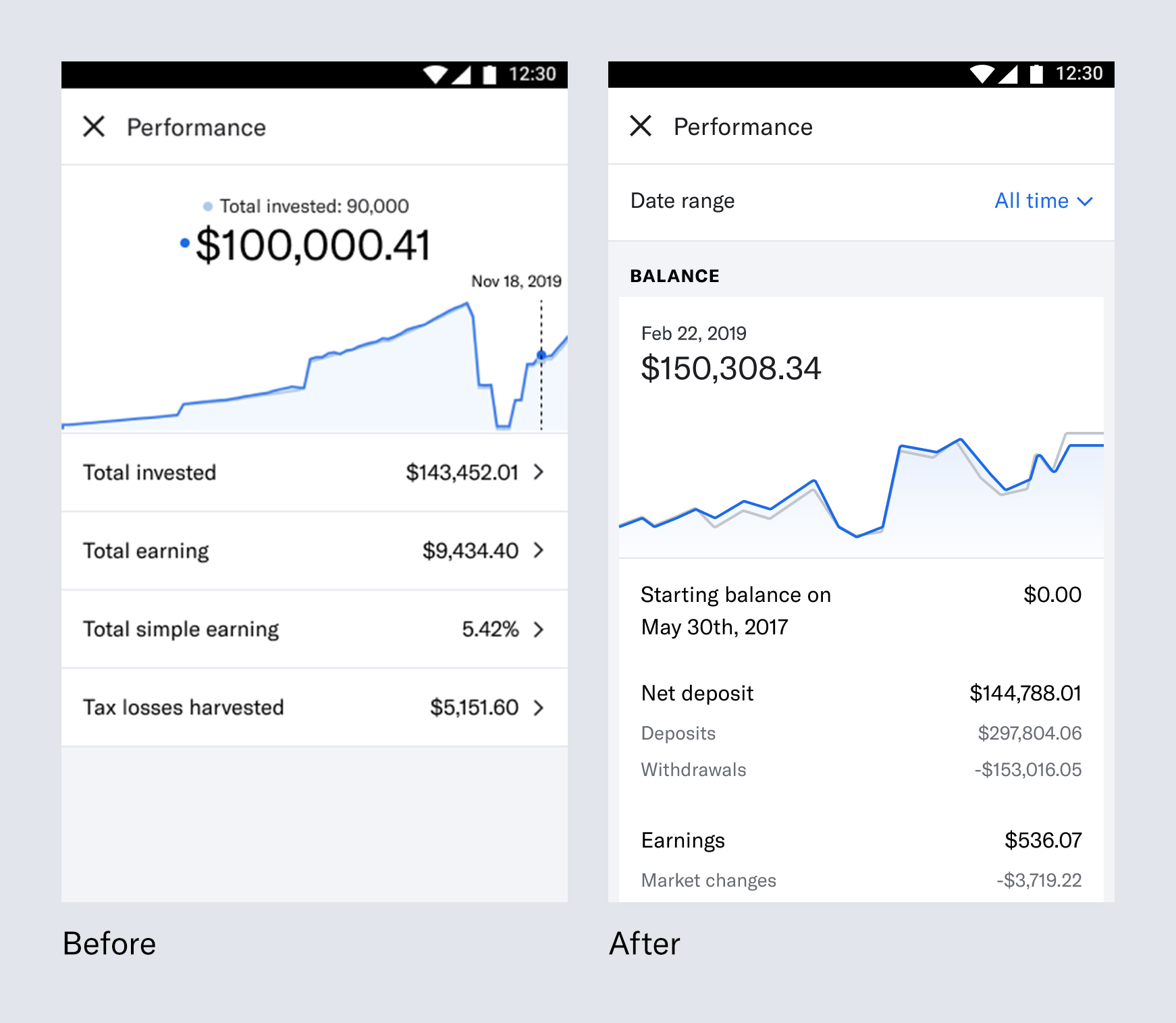 And we're not done yet.
We're always listening to our customers, and because of this, we've already got even more new and interesting ideas in the works that we believe will help us in our mission to empower you to make the most of your money, so you can live better.
You asked for an app that delivers what you need where you want it most: your phone. Message received.