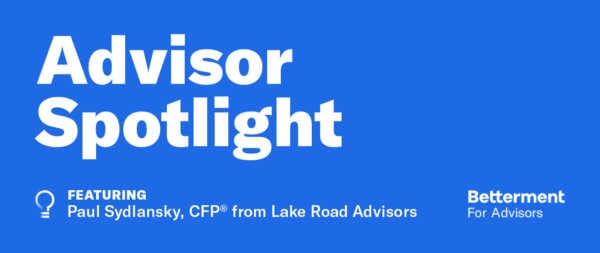 Advisor: Paul Sydlansky
Firm: Lake Road Advisors
Bio: Paul Sydlansky, founder of Lake Road Advisors LLC, has worked in the financial services industry for over 20 years. Prior to founding Lake Road Advisors, Paul worked as a relationship manager for a Registered Investment Adviser. Previously, Paul worked at Morgan Stanley in New York City for 13 years. While at Morgan Stanley, Paul was a senior-level manager within the Institutional Equities Department. In 2018, he was named to Investopedia's Top 100 Financial Advisors list. Paul received a Bachelor's degree in Economics from Marist College and holds an MBA from New York University Leonard N. Stern School of Business. Paul is a CERTIFIED FINANCIAL PLANNER™ and a member of the National Association of Personal Financial Advisors (NAPFA) and the XY Planning Network (XYPN).
Firm Bio: Lake Road Advisors LLC is an independent, fee-only financial planning firm, specializing in working with mid-career professionals to help make sure they are making the right decisions to live a smart financial life today as well as tomorrow.
Why did you decide to become an advisor?
There are really 3 main reasons why I decided to become a financial planner. First, I work in a field I have been interested in my entire life (finance/business/markets). Second, I get tremendous satisfaction from helping people feel confident in their own financial lives. Third, it allows me the flexibility to build my own schedule and spend time with my family.
What are some questions that you wish more clients would ask, and why?
I would like to see more clients ask about systems and techniques for developing better financial habits. There are no secrets or shortcuts to building wealth; it happens over time due to consistent and disciplined action.
What do you think is the biggest mistake people make with their money?
Having no financial plan at all for spending, saving, or investing.
What is the biggest money mistake you've ever made?
Too much Real Estate exposure in 2008-2009 as a percentage of my net worth.
What does your current technology stack look like?
Betterment & Vestwell for Investing, MoneyGuidePro and The First Step Cash Management System for Planning, Riskalyze for Risk, Wealthbox for CRM, and Calendly for scheduling.
How is technology impacting the way you and your clients interact?
Technology allows me to more efficiently and cost effectively serve my clients.
Which do you prefer: Billions, Wolf of Wall Street, or The Big Short?
Billions. I spent the first part of my career working with hedge funds and they do a tremendous job of putting you into that world.
If you won the lottery, what would you do with the money?
Definitely complete my current financial goals but I would absolutely need to sit down and reevaluate my personal goals. I wouldn't just retire because I really enjoy what I do.
What do you think is the biggest opportunity for advisors today?
Changing the way we are viewed as an industry. Often advisors and brokers are viewed as predatory and untrustworthy. We have a chance to really change the landscape and make the business more about helping people figure out their financial lives and have a plan, and less about selling products.
If you could only give one piece of financial advice, what would it be?
Start investing as much as you can as a percentage of your income as early as you can (I would aim for 20-30%).